Affiliate Disclaimer
We sometimes use affiliate links in our content. This won't cost you anything, but it helps us to keep the site running. Thanks for your support.
Earthworms are a great animal for your student to study. They are easily observed as they are found all over the world. Our Earthworm Lapbook study will help your student understand the valuable role this humble animal plays in our ecosystem.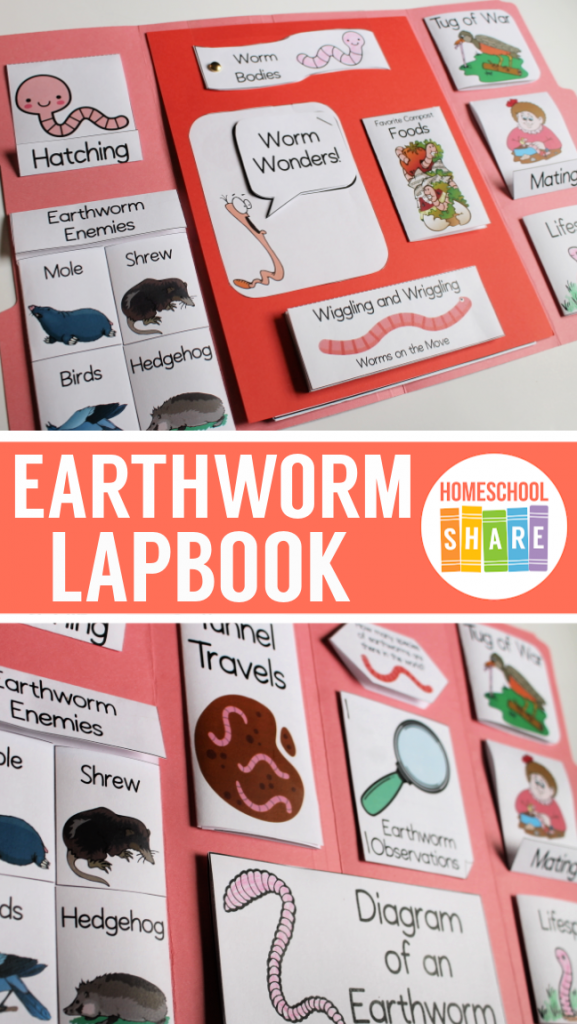 Thanks to Lynn Pitts for writing the research for this Earthworms Lapbook.
Earthworms Lapbook Lessons
Here are some sample lessons from the Earthworms Lapbook:
All About Tunneling
An earthworm makes tunnels by pushing its way into the soil and eating it. As the worm moves forward, it's body coats the soil with slime. This makes the soil (the tunnel) stronger.

Worm tunnels make airy spaces under the soil. These help rainwater drain away. As it drains, the soil becomes looser and finer, so it is easier for plants to grow.
Some worms burrow deeper underground when the weather is too cold or too dry. They push down a few feet below the surface, then coil up and go to sleep.
How Do Earthworms Move?
Worms have strong muscles to help them move. There are ring shaped muscles inside each segment. These make the worm's body shrink or spread out.
The dampness of its body make it move easily through the soil.
A worm moves by pointing its head in the direction it wants to go. It anchors its body and the head end becomes thicker. Then it stretches its body to push through the soil. It anchors the front of its body and brings up the rear. A worm's bristles are very important in helping it move. The worm digs them into the soil, using them like little anchors.
To access all of the lessons in this Earthworms Lapbook, subscribe to Homeschool Share's email list using the form in this post.
Earthworm Lapbook Printables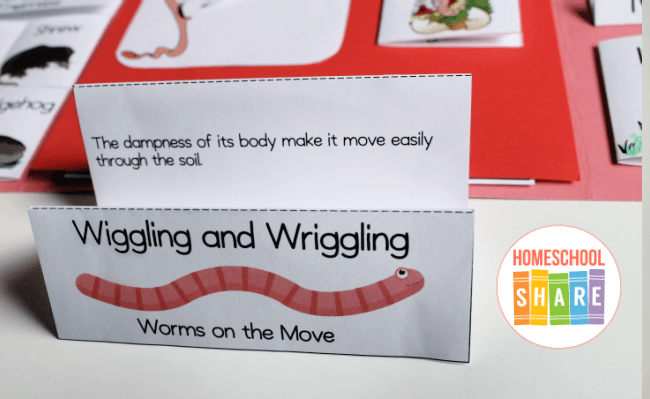 In addition to the research lessons, the file includes these mini-books for your student to create an Earthworms Lapbook:
Tunnel Travels Tri-fold Book
Number of Species Simple Fold Book
Worms on the Move Accordion Book
Worm Bodies Fan Book
Earthworm Enemies Shutterflap Book
Worm Wonders Book
Hatching Matchbook
Mating Matchbook
Tug of War Simple Fold Book
Lifespan of an Earthworm Simple Fold Book
Earthworm Diagram
Worm Words Pocket Folder & Cards
Earthworm Observations Mini-book
Favorite Compost Foods Hotdog Book
Find hotdog book folding instructions here.
Lapbook Example
You can use the mini-books in the Earthworm Lapbook to create a unique, individualized project. Here is an Earthworm Lapbook example to give you some ideas. This sample was made with one file folder and a center extension (a piece of cardstock taped to the middle section).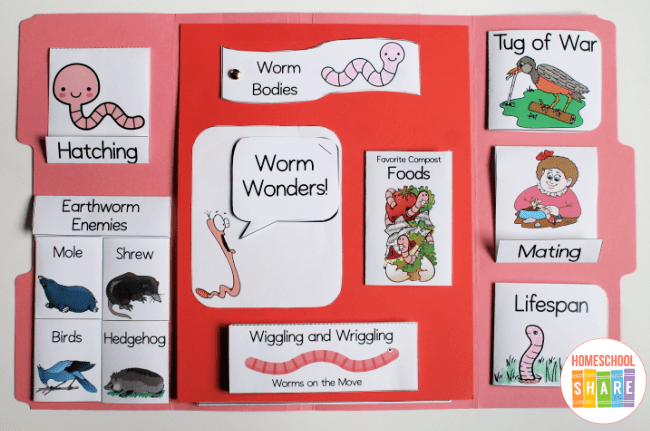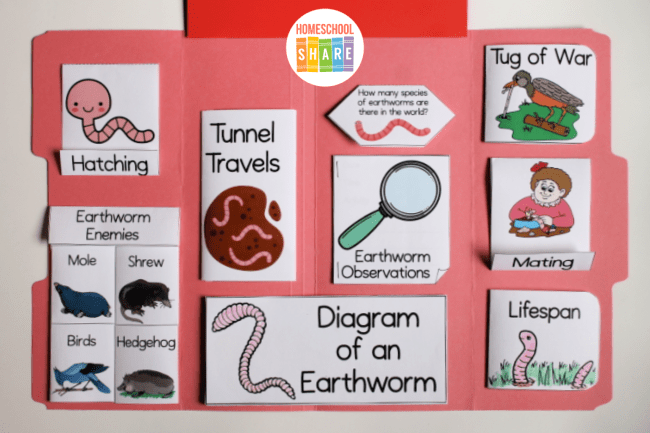 How to Get Started with Your Earthworms Lapbook
Follow these simple instructions to get started with the Earthworms Lapbook.
If you want, go to your local library and check out books about earthworms.
Print the Earthworms Lapbook.
Choose and prepare the mini-books you want to use with your student.
Enjoy a week of reading and learning all about earthworms!
Download Your Free Earthworms Lapbook
Use the form below to subscribe to the newsletter. Once you confirm, you'll receive an email with the link to the lapbook. If you are already confirmed, simply enter your name and email address below, and you will receive an email with the link.
Explore More Animal Lapbooks
When your student finished the Earthworm Lapbook, grab another animal lapbook!