Affiliate Disclaimer
We sometimes use affiliate links in our content. This won't cost you anything, but it helps us to keep the site running. Thanks for your support.
Take a deep dive into the ocean and find yourself surrounded by bright pink, purple, orange, yellow, and red coral. Learn all about the fascinating animals who call the reef home with our Coral Reef Lapbook.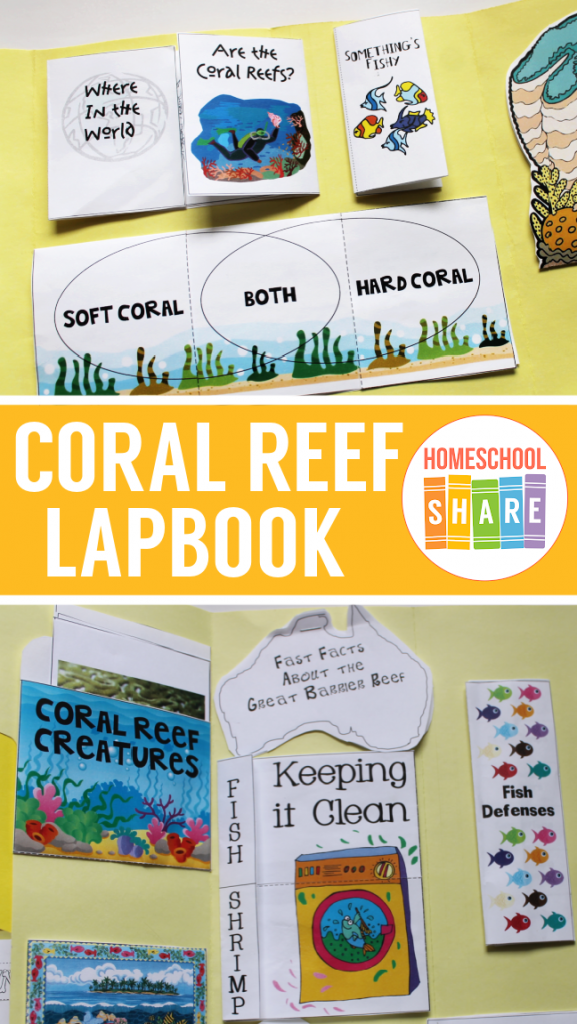 Coral Reef Lapbook Lessons
Here are some sample lessons from the Coral Reef Lapbook:
What Is a Coral Reef?
Coral reefs are large underwater structures made up of millions of tiny animals called coral polyps. Coral polyps look like plants but are in fact simple animals. They have a soft tube like body with a mouth surrounded by long tentacles. The tentacles grab its food.

Coral reefs grow in warm tropical seas where the temperature of the water stays above 65 degrees F. Most reefs lie near the equator in shallow waters (usually 100 feet deep or less). Coral reefs are sometimes called the "rainforest of the sea" because of the enormous diversity of plants and animals.

Find the locations of coral reefs around the world by doing a quick internet search.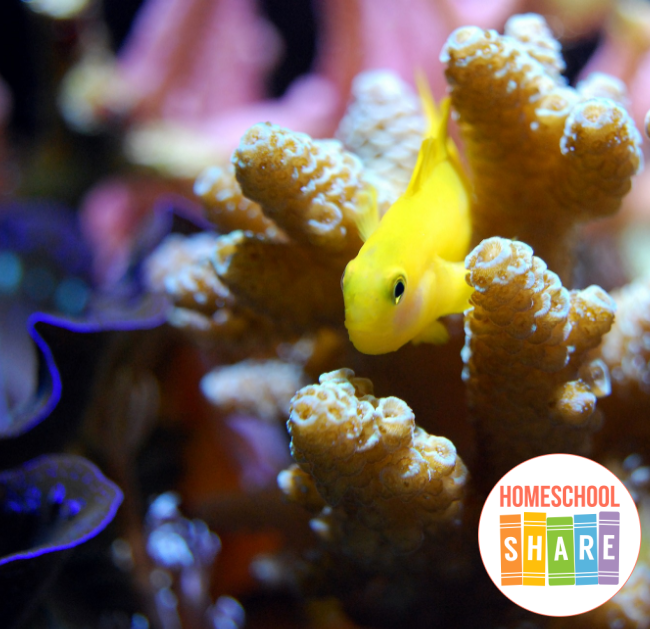 Hard Coral vs. Soft Corals
Hard corals are so named because they have a stony bases and/or hard outer skeletons. Hard corals live on the seafloor and on slopes. They feed only at night and are bright and colorful during feeding. Hard corals are reef building corals. See information below in How a Reef is Formed.

Soft corals do not have stony bases or outer skeletons; they are soft. They grow on overhangs and cliffs and feed during the day. They are very bright and colorful.

How a Reef Is Formed
When the hard coral polyps die, their skeletons are left behind. New polyps attach to the skeletons and when these new polyps die, their skeletons add another layer. So a reef is built over a long period of time and consists of layers and layers of coral polyp skeletons.
To access all of the lessons in this Coral Reef Lapbook, subscribe to Homeschool Share's email list using the form in this post.
Coral Reef Lapbook Printables
In addition to the research lessons, the file includes these mini-books for your student to create a Coral Reef Lapbook:
Coral Reef Creatures and Pocket
Cards include Butterfly Fish, Green Sea Turtle, Cowfish, Damselfish, Manta Ray, Eagle Ray, Lionfish, Triggerfish, Hawkfish, Goby, Sea Fan, Brain Coral, and more!
Keeping It Clean Matchbook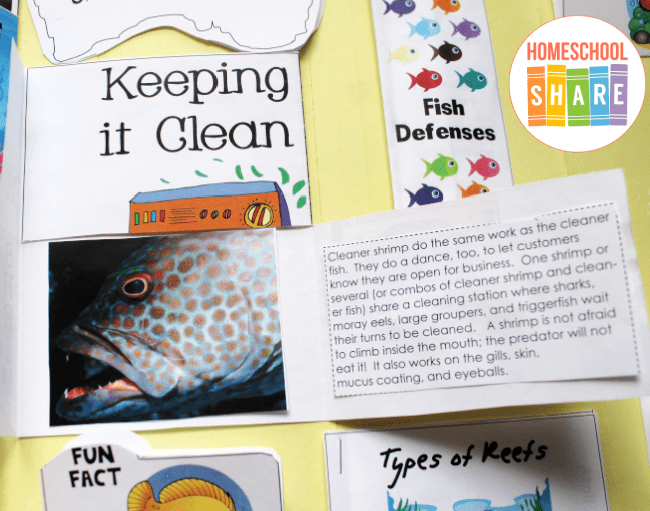 Giant Clam Shape Book
Hard Coral Skeletons and My Skeleton Shutter Book
What Is a Coral Reef Matchbook
Coral Reef Blank Book (use as desired)
Soft Coral vs. Hard Coral Venn Diagram Flap Book
Coral Reef Fun Fact File Folder Mini-books
The Parrotfish Story Mini-book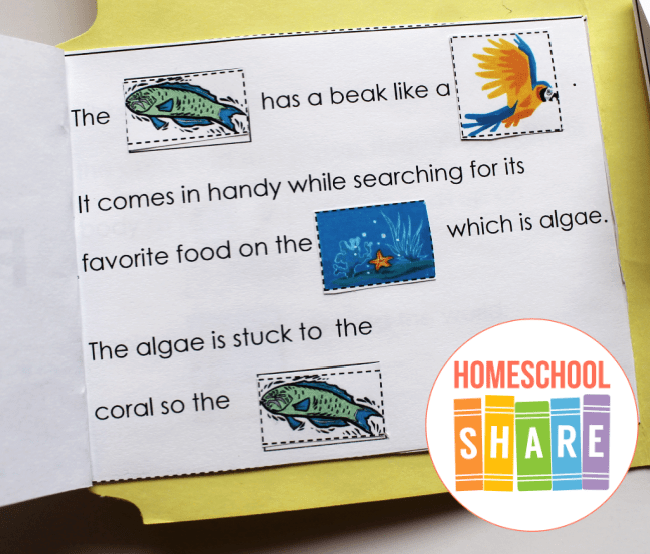 Coral Reef Map Shutter Book
Why Are Reefs Important? Envelope Fold Book
Something's Fishy (Fish Characteristics) Twice Folded Book
Fast Facts About the Great Barrier Reef Shape Book
Types of Coral Reefs Mini-book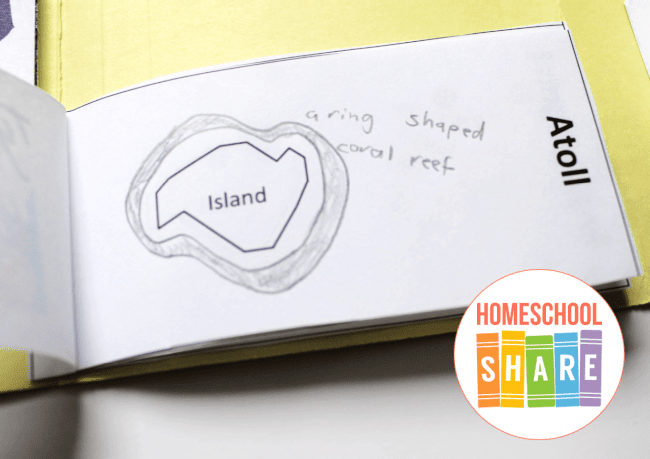 Coral Reef Food Chain
Fish Defenses Flap Book
And more!
Lapbook Example
This lapbook example was made with two file folders. If you are new to lapbooking, check out this How to Make a Lapbook Guide.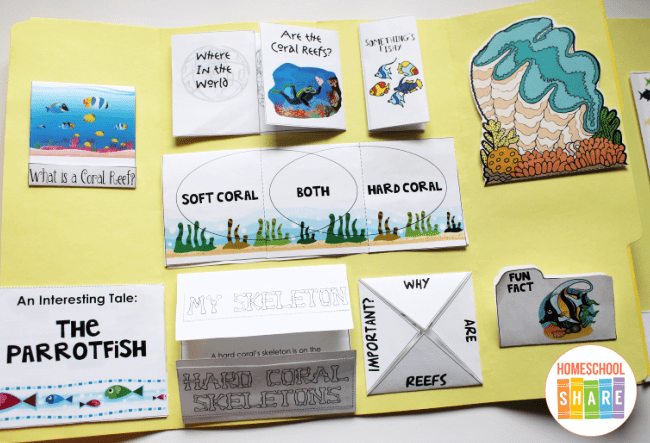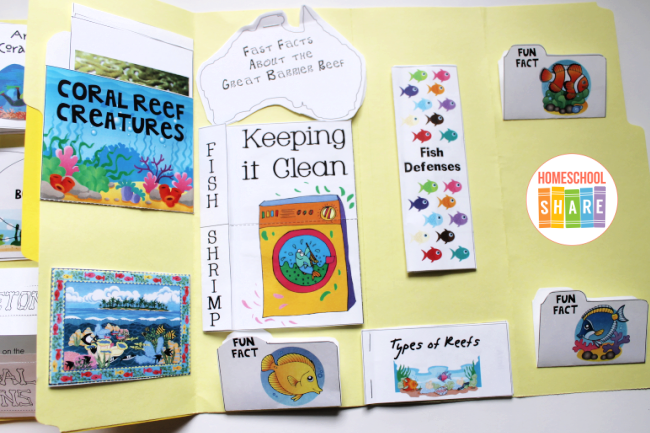 Coral Reef Books
The file provides enough information to complete the mini-books, but it's a good idea to read some books about coral reefs together, too. Here are our suggestions.
How to Get Started with Your Lapbook
Follow these simple instructions to get started with the Coral Reef Lapbook.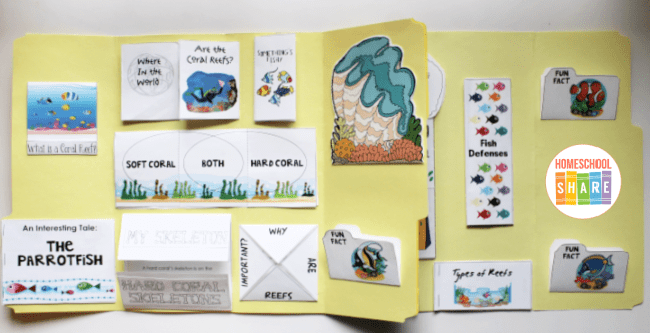 If you want, go to your local library and check out books about coral reefs and coral reef animals.
Print the Coral Reef Lapbook.
Choose and prepare the mini-books you want to use with your student.
Enjoy a week of reading and learning all about coral reefs.
Grab Your Free Coral Reef Lapbook
Use the form below to subscribe to the newsletter. Once you confirm, you'll receive an email with the link to the lapbook. If you are already confirmed, simply enter your name and email address below, and you will receive an email with the link.
Explore Other Related Animal Lapbooks
After you explore the coral reef, check out one of these animal lapbooks.