Affiliate Disclaimer
We sometimes use affiliate links in our content. This won't cost you anything, but it helps us to keep the site running. Thanks for your support.
Turn outside fun into a wonderful educational opportunity. Explore the woods and teach your child how to identify birds and bugs. Go stargazing. Build a campfire and enjoy yummy food together. Make some amazing memories with our Camping Lapbook.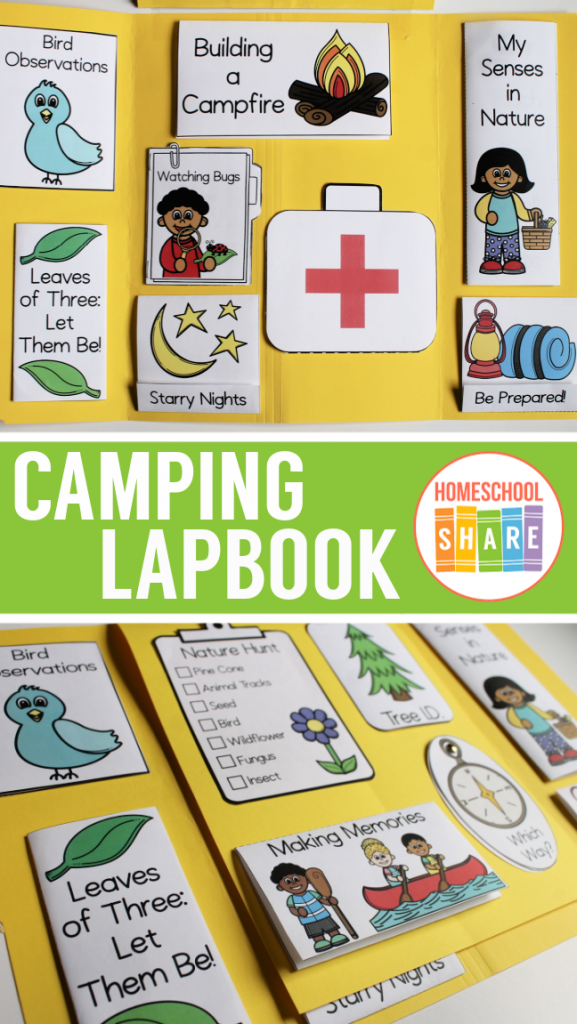 Thanks to Tammy Maddox for preparing the lessons for this Camping Lapbook.
Camping Lapbook Lessons
The Camping Lapbook includes lessons to help you teach your student all about the wonderful, wild outdoors. Here are a few of the sample lessons you'll find in the Camping Lapbook:
First Aid & Safety
Camping is a wonderful way to appreciate and enjoy the beauty of the great outdoors. It is also a time to learn about safety and being prepared for scrapes, bruises, bugs, and the sun. Before you leave, discuss basic first aid with your child and put together a kit that you will take with you camping. Discuss what things you will take and why you might need them. Your library and the Red Cross have excellent resources for this.

Be sure to include a whistle; it is very important to have in case you get lost or badly hurt and cannot walk back. A whistle is much louder than your voice and is easier to use. Blow three short bursts then wait a few minutes before blowing again. This should only be used for emergencies not as a toy.
It is a good idea to have a "traveling" first aid kit also. This would be smaller than the one you would keep at the campsite and would include items you may need when you are out on the trail or in the boat etc. We find it convenient to use a belt pack for our traveling kit. It includes smaller versions of our larger kit. I have found that film canisters are great to hold smaller amounts of sunscreen, petroleum jelly, etc.
My Five Senses and Nature
God has given us a beautiful world. Encourage your child to explore it with all five senses. However, unless you are an expert on what is safe to eat in the wild, taste should be limited to only the foods you have at the camp.
Be creative! What does the mud feel like squeezing through your toes? Is moss wet or dry? Can you hear the different animals; can you identify some of them? The sound of rushing water is very peaceful. The smell of a crackling of a campfire or the dampness of the morning air. What do you see? Evidence that an animal has been near, the bright open night sky, a waterfall, or little sister trying to catch a tadpole?
You can grab a copy of the entire Camping Lapbook in an easy-to-print file at the end of this post.
Camping Lapbook Printables
The following mini-books are included in the file for your student to create a Camping Lapbook.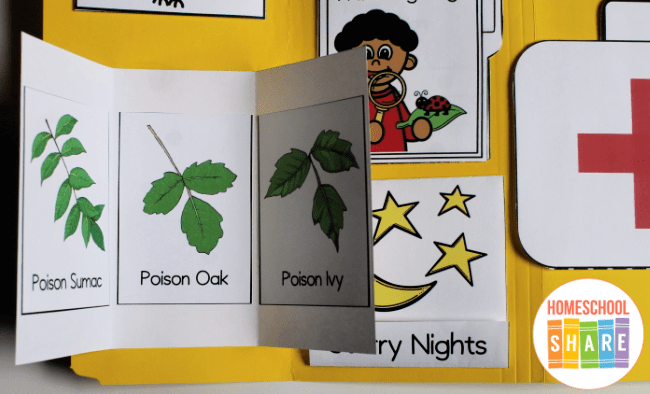 Building a Campfire Simple Fold Book
Trash Scavenger Hunt Pull-tab Book
Making Memories Trifold Book
Tree Identification Mini-book
Watching Bugs File Folder Shape Book
Nature Scavenger Hunt Clipboard
Starry Nights Matchbook
Be Prepared! Matchbook
Camp Style Cooking Recipe Pocket
Bird Observations Mini-book
First Aid Shape Book
Poisonous Plants Tri-fold Book
Psalm 19:1 Simple Fold Book
Which Way? Fan Book
My Senses in Nature Flap Book
Camping Book List
This unit was created to make camping a fun, educational, and memorable family time. There are many helpful books on this subject; these are a few of our favorite camping books:
Camping Lapbook Sample
The variety of mini-books in this Camping Lapbook allows you to tailor the study to your individual student.
Here is a Camping Lapbook sample. This sample uses one file folder and one center extension (a piece of cardboard taped to the center section).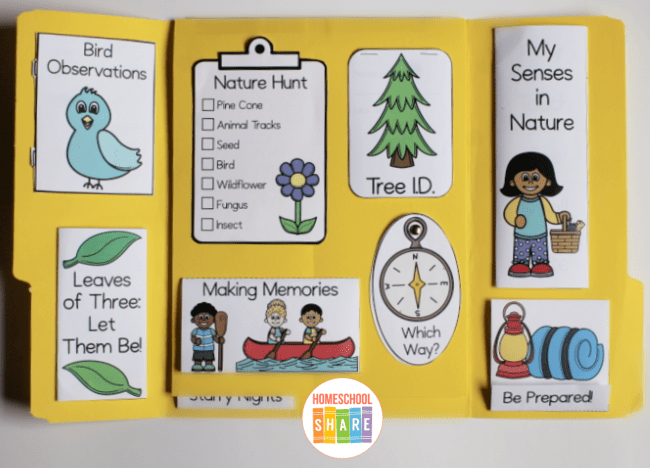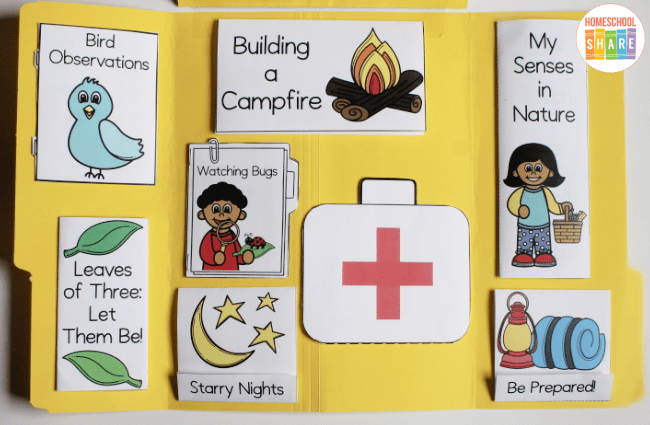 How to Get Started with the Camping Lapbook
Follow these simple instructions to get started with the Camping Lapbook.
Check out some camping books from your local library. Spend some time reading them together.
Choose and print the lapbook printables you want to use with your student.
Enjoy a week of nature learning with your student.
(Optional, but so fun!) GO Camping!
Download Your Free Camping Lapbook
Simply click on the image below to grab the free Camping Lapbook.
More Nature Based Resources
If your student loves to hang out outside, check out these other nature based resources. The entire world is your classroom!