Affiliate Disclaimer
We sometimes use affiliate links in our content. This won't cost you anything, but it helps us to keep the site running. Thanks for your support.
If you are looking for a free printable activity to keep the kids happy before the big meal, try this fun Thanksgiving Scavenger Hunt!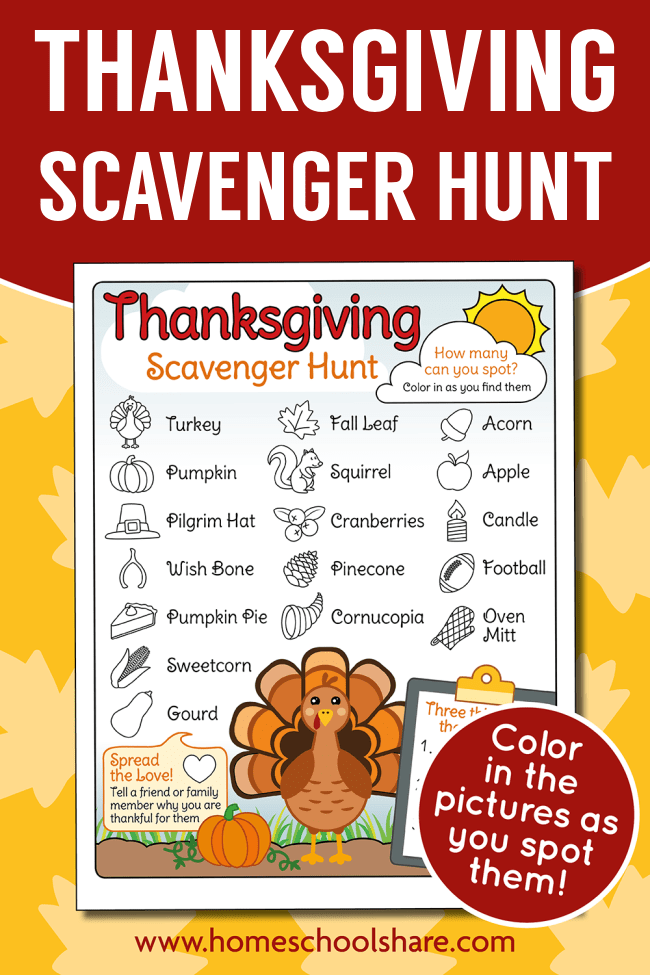 If you would like to browse all of our printable scavenger hunts, try our Scavenger Hunts for Kids page.
Items You Will Look for with the Printable Thanksgiving Scavenger Hunt
Your student will search around the house (inside and out!) or in a picture book for these Thanksgiving-related items:
As your student locates each item, have her color it on the printable page provided.
turkey
pumpkin
pilgrim hat
wishbone
pumpkin pie
sweetcorn
gourd
fall leaf
squirrel
cranberries
pinecone
cornucopia
acorn
apple
candle
football
oven mitt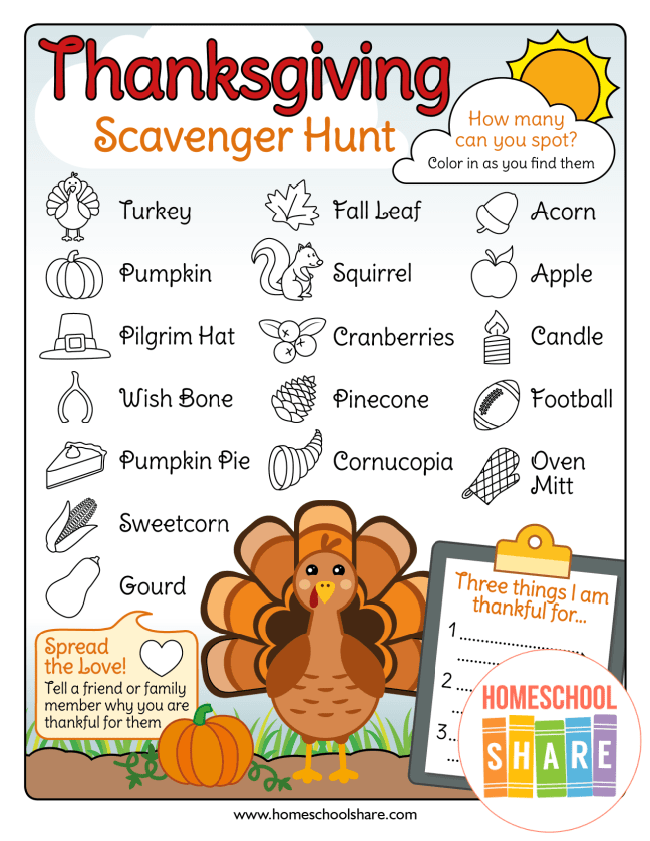 Bonus activities:
This printable Thanksgiving scavenger hunt also includes two bonus activities. The first is "Spread the Love." Your student is asked to tell a friend or family member why they are thankful for them. The second is a little list for your student to write "Three things I am thankful for."
Benefits of the Fun Thanksgiving Scavenger Hunt
This holiday scavenger hunt is great as a go-along with your Thanksgiving theme. It provides many benefits for your student.
Scavenger hunts boost observation skills. As your child looks for objects, he will develop better observation skills.
Scavenger hunts require movements; this promotes gross motor development.
A scavenger hunt can provide safe sensory input for your student (feel the bumpy pinecone, taste the apple, smell the turkey cooking in the oven, see the shiny red cranberries, etc.)
If you work on the scavenger hunt as a team, it will promote cooperation and social skills development.
Grab Your Free Printable Thanksgiving Scavenger Hunt
Grab the scavenger hunt by clicking on the image below.
More Thanksgiving Activities and Printables
You can find a Turkey Lapbook here and a I Am Thankful Lapbook here. You can also use any of these free studies below to learn more about being thankful and Thanksgiving.