Affiliate Disclaimer
We sometimes use affiliate links in our content. This won't cost you anything, but it helps us to keep the site running. Thanks for your support.
Would you like to learn about the largest country in the world? You're in the right spot. Grab our Russia Lapbook and get started with an interactive geography project.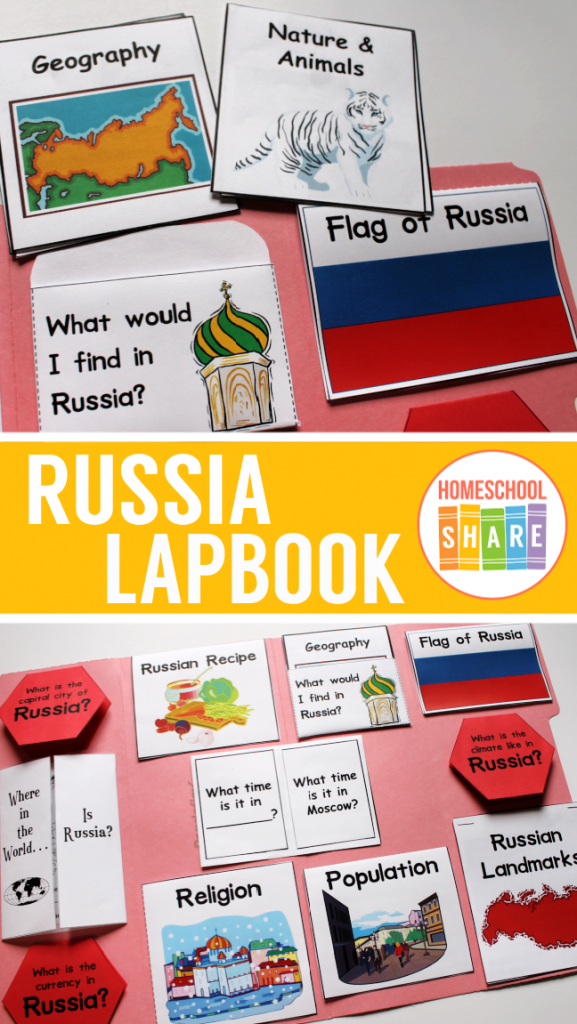 Russia Lapbook Information
Use this information and reliable websites or library books to complete the research for your Russia Lapbook.
Official Name: Russian Federation
Size: 6,601,668 square miles; the largest country in the world!
Capital: Moscow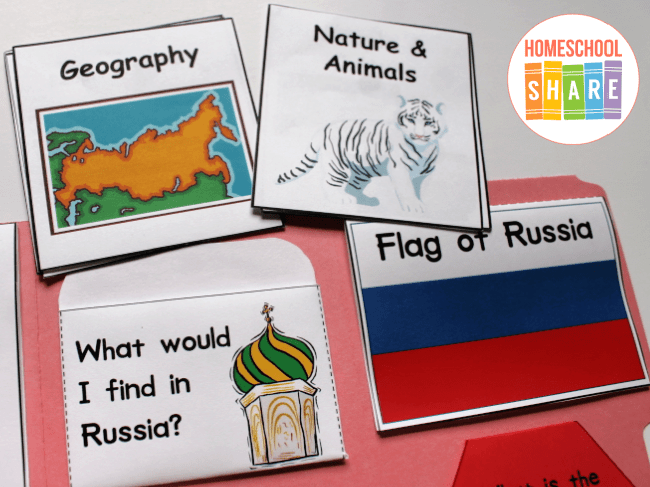 Official Language: Russian
There are more than 100 other languages and dialects spoken.
Products
Russia produces coal, gas, oil, chemicals, metals, timber, furs, vehicles, aircraft, weapons, machinery, beef, grain, and beets.
Currency: Russian ruble (RUR)
Climate: Russia's climate includes cold winters and mild summers; it is frigid in the Arctic regions of Russia.
Population: For current information, use this website: Population of Countries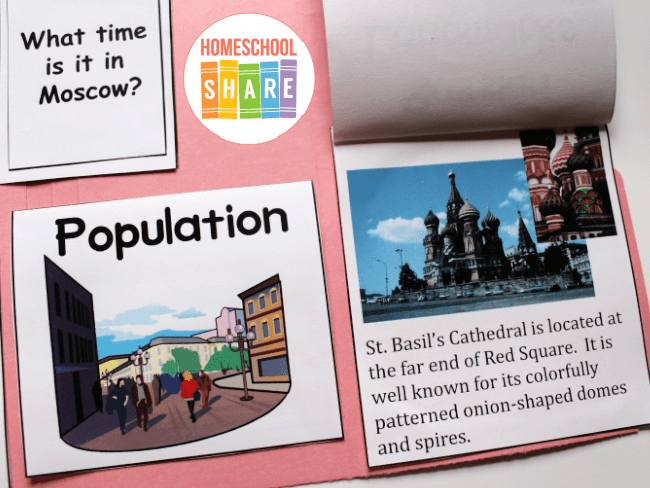 Comparing Times: To compare the time in the capital city to the time where you live, use this website: The World Clock
Religion: Orthodox Christianity is the main religion in Russia.
Russian Landmarks: Read through the information with your student. Cut out pages. Stack them together and secure with staples.
Russian Recipe: If you cook a Russian recipe with your student this week, be sure to include it in the mini-book provided.
Make a Salt Dough Map: Add to your Russia study by making a salt dough map of Russia.

National Geographic Site: National Geographic has an amazing Russia site for your student to explore.
Russia Lapbook Example
This lapbook example was made with one file folder.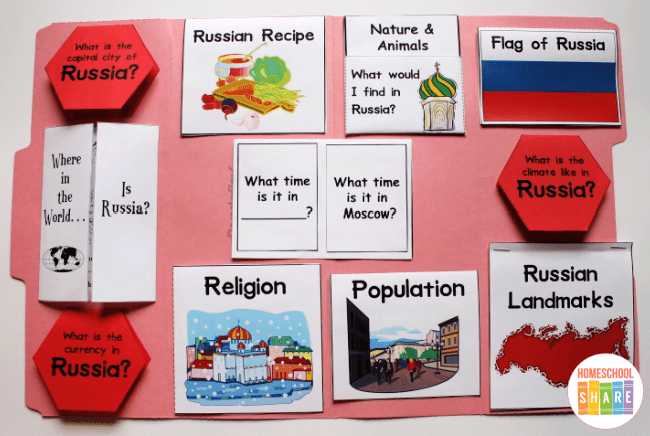 How to Get Started with Your Russia Lapbook
Follow these simple instructions to get started with the Russia Lapbook.
If you want, go to your local library and check out books about Russia. Children Just Like Me includes a profile for Yaroslav, a child from Russia. Rechenka's Eggs is a fabulous story set in Russia; you may also enjoy Another Celebrated Dancing Bear.
Print the Russia Lapbook.
Choose and prepare the lapbook mini-books you want to use with your student.
Enjoy a week of reading and learning all about Russia.
Download Your Russia Lapbook
Simply click on the image below to access your free Russia Lapbook.
Explore Our Russia Resources
Check out these two unit study that are set in Russia:
If you are looking for additional country lapbooks, try our geography lapbook index.