Affiliate Disclaimer
We sometimes use affiliate links in our content. This won't cost you anything, but it helps us to keep the site running. Thanks for your support.
Avast, me hearties! It's time to learn all about pirates with our Pirates Lapbook.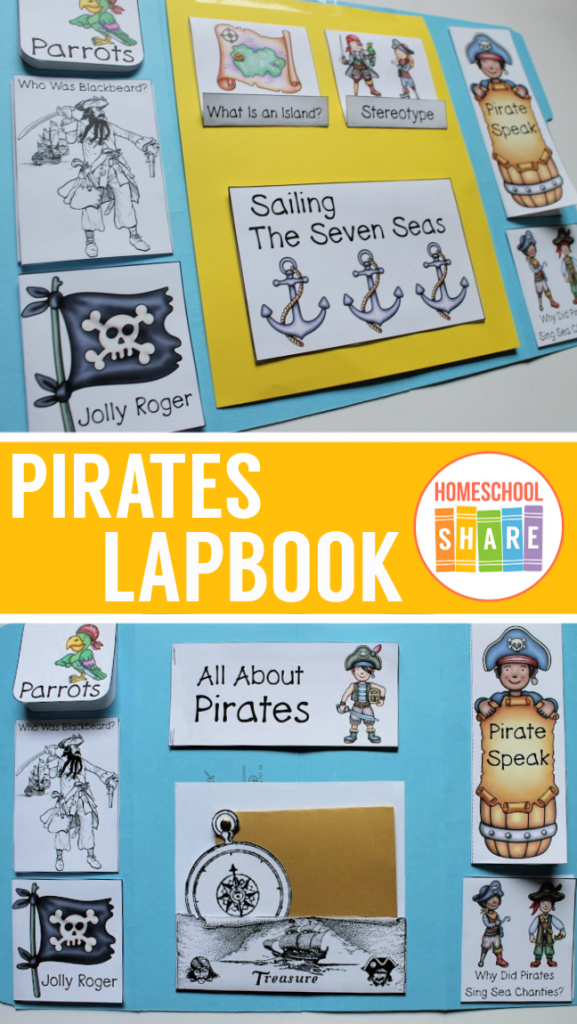 Thanks to Wende and Celia for helping me with the lessons for this Pirates unit study and lapbook.
Pirates Unit Study Lessons
Here are some sample lessons from the Pirates Unit Study:
Introducing Pirates
The wide western hemisphere of our world was explored and settled by adventure-filled people who were looking for something new. They came over the deep blue sea and have used the sea ever since. Pirates used these same seas to find adventure and wealth– plundering and robbing other ships.

Pirate Clothes– Much of the clothes pirates wore were obtained during attacks. The clothing worn was chosen for its comfort and durability, and ease of moving around and fighting. Kerchiefs were worn around a pirate's head to keep out dirt and dust, and to catch sweat. Sashes, usually of red, were pirate trademarks. And every once in a while, a pirate did wear an eye patch to cover the damage done in some altercation.
Pirate Weapons–Generally, pirates possessed whatever weapons they had stolen from victim ships, and usually had very well stocked arsenals. They had short weapons, such as a flintlock pistol, cutlass, and dagger, for fighting on board in close quarters. For attacking at a distance they used cannons, catapults, muskets, grenades, and stinkpots. Look through various pirate picture books with your student and discuss the weapons you see.

Pirate Ships- Pirates used whatever ships they could steal, as long as they were fast. They especially preferred small fast ships that were easy to steer, so they could sneak up on their victims and get away fast.
Gang Plank: a temporary bridge for passengers between a ship and land.
Helm: the steering apparatus of a ship.
Mainsail: the principal sail on a mainmast.
Mainmast: the second mast from the front of the ship (the bow).
Gunwale: the upper edge of the side of a ship.
Masts: a pole set upright in a ship to support the sails
Sail: a piece of material attached by ropes to a mast in a ship that catches the wind to help the ship propel forward.
Anchor: a heavy, hooked implement, usually of iron or steel that is attached to a cable and dropped from a ship to hold it in place.
To access all of the lessons in this pirates unit study, subscribe to Homeschool Share's email list using the form in this post.
Pirates Lapbook Printables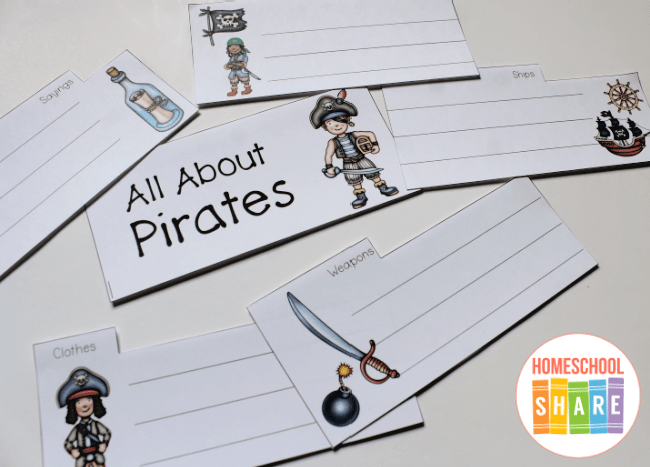 In addition to the unit study lessons, this file includes mini-books so your student can create a Pirate Lapbook.
All About Pirates Tab Book
Pirate Speak Flap Book
Parrots Simple Fold Book
Sailing the Seven Seas Map
What Is an Island? Matchbook
Stereotype Matchbook
My Compass Shape Book
Jolly Roger Simple Fold Book
Who Was Blackbeard Simple Fold Book
Treasure Map Pocket
Why Did Pirates Sing Sea Chanties Simple Fold Book
Eye Patch Pattern
Pirate Game
The Pirate Lapbook file contains a color version as well as a black and white version. Please choose your pages to print according to which version you'd like to use.
Pirates Lapbook Example
Here is a sample lay-out for your Pirates Lapbook. This sample was made with one file folder and one center extension (a piece of cardstock taped to the center section).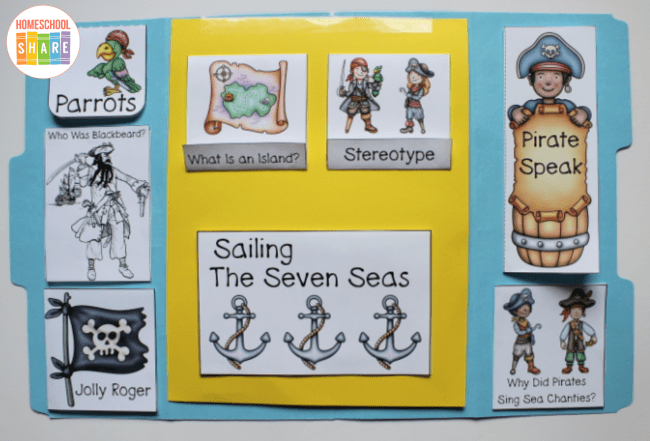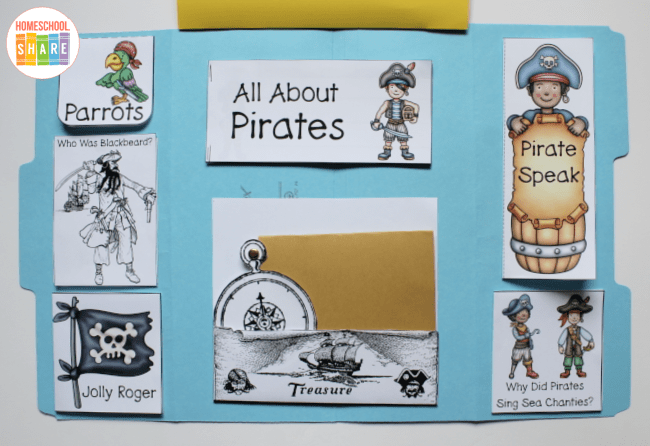 Suggested Pirate Books
This pirate unit study isn't dependent on certain books, but we recommend these titles for your young buccaneer.
How to Get Started with Your Pirates Unit Study & Lapbook
Follow these simple instructions to get started with the Pirates Unit Study and Lapbook:
Grab a stack of pirate-y books.
Print the Pirates unit study.
Choose the lessons you want to use with your student (a highlighter works great for this).
Choose and prepare the lapbook printables you want to use with your student.
Enjoy a week of sailing the seven seas and learning all about pirates.
Get Your Free Pirates Unit Study & Lapbook
More Pirate Themed Resources