Affiliate Disclaimer
We sometimes use affiliate links in our content. This won't cost you anything, but it helps us to keep the site running. Thanks for your support.
This Civil War story was passed from generation to generation and it serves as the base for so many lessons (about history and life). Grab our free Pink and Say activities and start learning with this amazing story.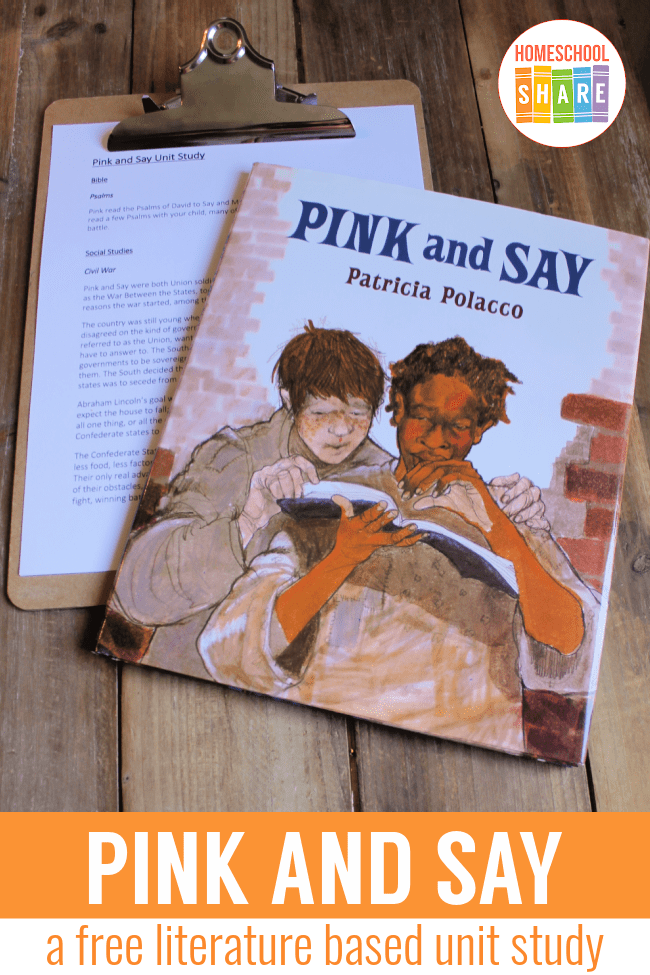 Thanks to Wende for preparing this Pink and Say Unit Study.
Pink and Say Story Summary
He was wounded in a fierce battle and left for dead in a pasture somewhere in Georgia when Pinkus found him. Pinkus' skin was the color of polished mahogany, and he was flying Union colors like the wounded boy, and he picked him up out of the field and brought him to where the black soldier's mother, Moe Moe Bay, lived. She had soft, gentle hands and cared for him and her Pink.

But the two boys were putting her in danger, two Union soldiers in Confederate territory! They had to get back to their outfits. Scared and uncertain, the boys were faced with a hard decision, and then marauding Confederate troops rode in.

from Pink and Say at amazon.com
Pink and Say Activities & Lessons
This unit study includes activities based on the book Pink and Say by Patricia Polacco.
Here is a sample of the lessons found in this Pink and Say unit study:
Social Studies: Abraham Lincoln
Your student has most likely heard of Abraham Lincoln, the 16th President of the United States. There are many books available, at varying reading levels, for your child to read during this unit. Encourage him to research Lincoln on his own. Here is a brief lesson about the life of this famous man.
Lincoln was born to a poor family on February 12, 1809 in a log cabin in the Kentucky wilderness. The Lincoln family moved around often, from Kentucky, to Indiana, to Illinois. Abe's mother died when he was nine years old. His father remarried, and his new stepmother was from whom Abe gained an interest in learning and reading.
Abe grew very strong and tall (6' 4"!), and at the age of twenty-one left home and began to study law. By 1836 he became a licensed lawyer and by 1846 he became involved in national politics. The Republican Party nominated him for President in 1860, and he was elected! Lincoln came into this position when the country was beginning to show much strife, the beginning of the War Between the States.
In 1863 he issued the Emancipation Proclamation and via the 13th amendment, abolished slavery. He was reelected for a second term as President in 1864. The Civil War ended on April 9, 1865, and five days later Lincoln was shot by John Wilkes Booth while watching a play.
Health: First Aid
A musket ball wounded Say's leg. Judging by the illustrations, there was external bleeding and possible tissue damage. It is a good thing Pink's mother knew some First-Aid. Say may have lost his leg to infection otherwise.
In addition to knowing some basic first aid skills, it is important that the person treating the injury keeps a cool head so that he can make the right decisions about treatment. With a wound such as a bullet wound, the first thing you want to do is cover the injured area with clean, sterile gauze to prevent further infection. If gauze is not available, any clean material will do. Then, the bleeding needs to be stopped by applying direct pressure to the wound. The pressure must be firm and constant, adding (not changing) layers of cloth as needed. The wounded limb should be elevated as high as comfortable, as Pink did propping Say's leg up with a blanket. A professional should then look at the limb, and the foreign object removed in a clean, sterile environment. Encourage your child to practice first aid on a sibling or parent.
Math: Graphing
Graphing is a way to organize information such as statistics in a way that is easy to read and compare. There are different kinds of graphs including pie graphs and bar graphs. Have your child design graphs to reflect the following information:
Population: 70% in North, 30% in South
Food Grains: 70% in North, 30% in South
Bank Deposits: 81% in North, 19% in South
Factories: 86% in North, 14% in South
Soldiers: 66% in North, 34% in South
Miles of Railroads: 71% in North, 29% in South
Many more ideas are provided in the download. You can grab a copy of the entire Pink and Say unit study in an easy-to-print file at the end of this post.
How to Get Started with the Pink and Say Unit Study Activities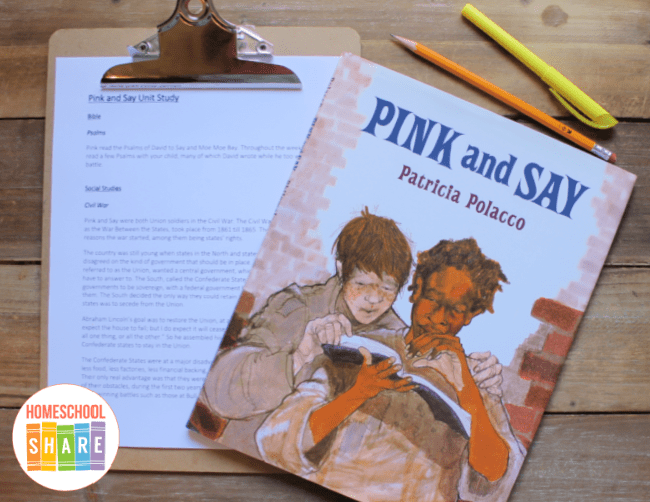 Follow these simple instructions to get started with the Pink and Say unit study:
Buy a copy of the book, Pink and Say, or borrow one from your local library.
Print the Pink and Say unit study.
Choose the lessons you want to use with your student (a highlighter works great for this).
Enjoy a week of book-based learning with your student.
Download Your Free Pink and Say Unit Study
Simply click on the image below to grab the free Pink and Say unit study.
More Civil War Related Resources