Affiliate Disclaimer
We sometimes use affiliate links in our content. This won't cost you anything, but it helps us to keep the site running. Thanks for your support.
This literature based unit study includes lessons and printables based on the book Petunia by Roger Duvoisin.
In a charming tale set in a farmyard, Petunia the silly goose believes she has become wise just because she finds a book.
This fun, classic story is a springboard into a variety of lessons on community helpers, the farm, first aid, caring for your teeth, and learning about wisdom. Grab our free Petunia unit study and lapbook and get started.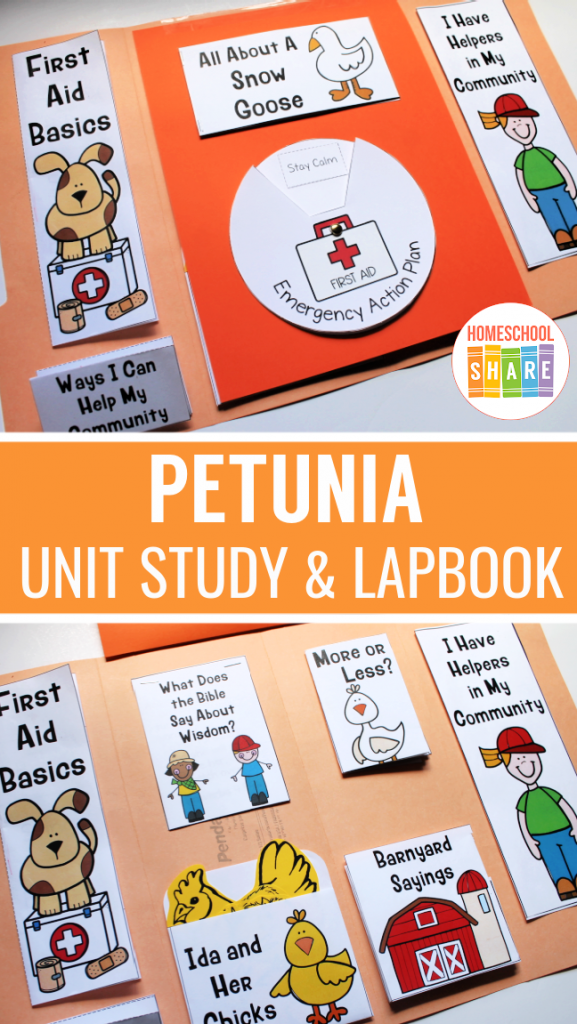 Thanks to Heidi Jasper and Denise Gregson for writing the lessons for this Petunia unit study.
Petunia Unit Study Lessons
Here are some sample lessons from the Petunia Unit Study.
Science: Snow Goose
Petunia is a white goose, a snow goose. Learn some new things about this animal.

Migration
Snow Geese are migratory animals; they move from one location to another. It breeds in the Arctic tundra, then migrates south to spend winter in southwestern British Columbia (Canada) and the United States of America.

Babies
Nest is a scrape in the ground lined with down feathers and materials from plants such as grass. Eggs are creamy white and usually lay 4-7 eggs in a clutch (a set of eggs laid at one time). When an egg hatches, the gosling is covered with down and eyes are open. It leaves the nest within 24 hours of hatching with the ability to swim and feed.

Diet
A snow goose eats aquatic plants and grains.
Health: First Aid
Many of the animals in the story end up with bandages for their bruises. Discuss safety and the importance of safety rules with your student. What are some of the rules in your house that help prevent accidents?
Teach your student the Emergency Action Plan.
Stay Calm
Staying calm helps to allow the observer of the accident to stop, think, and act accordingly in an emergency.
Get Help
Get an adult or call 9-1-1.
Look at the Scene
Make sure it's safe to go near the injured person (no fire, watch for traffic, electrical wires, and broken glass).
Give First Aid
Math: More Than, Less Than
Teach your student what more than and less than mean using the illustrations in this book. "Are there more or less chicks than what Petunia added up? Are there more or less animals on page ___ than on page ___?" You can do this multiple times using many different pages. If your student is ready, you may want to show him the symbols (more than <, less than >, equal to =).
You can grab a copy of the entire Petunia Unit Study and Lapbook in an easy-to-print file at the end of this post.
Petunia Lapbook Printables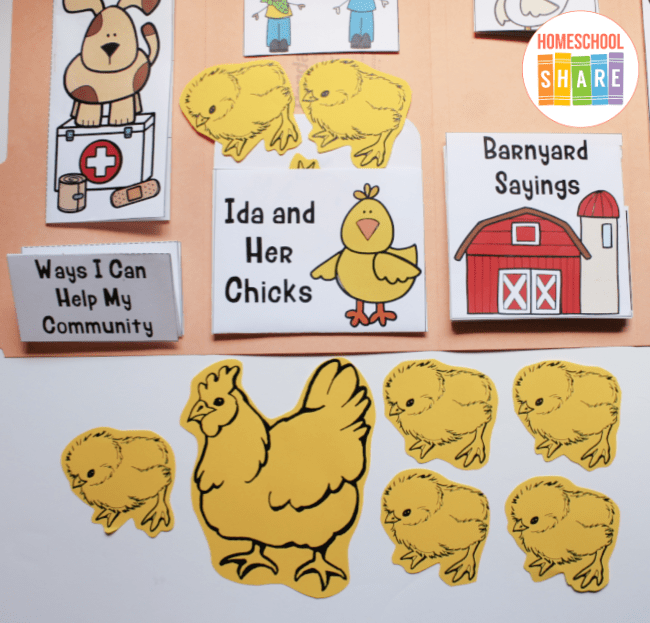 In addition to the unit study lessons, the file includes these mini-books for your student to create a Petunia Lapbook:
Wisdom Mini-book
Community Helpers Simple Fold Book
Ways I Can Help My Community Accordion
Farm Friends Word Find
Ida and Her Chicks (Chicks and Pocket)
First Aid Basics Flap Book
Farm Analogy Matchbooks
Emergency Action Plan Wheel
New Words File Folders
Barnyard Sayings Accordion Pocketbook
Snow Goose Tab Book
Taking Care of My Teeth Shape Book
Tooth Brushing and Flossing Chart
More or Less Hotdog Book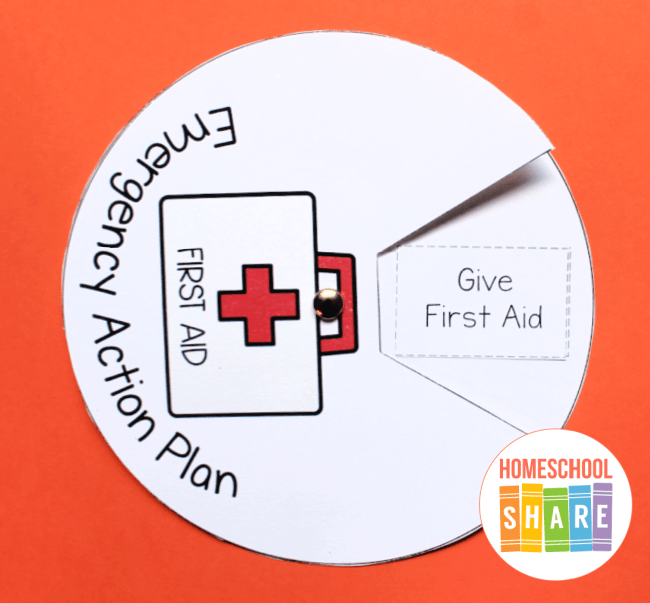 How to Get Started with Your Petunia Unit Study & Lapbook
Follow these simple instructions to get started with the Petunia Unit Study:
Buy a copy of the book, Petunia, or borrow one from your local library.
Print the Petunia unit study.
Choose the lessons you want to use with your student (a highlighter works great for this).
Choose and prepare the Petunia lapbook printables you want to use with your student.
Enjoy a week of laughing and learning with Petunia.
Sample Lapbook
This sample lapbook was made with one file folder and a center extension (a piece of cardstock taped to the center section of the lapbook).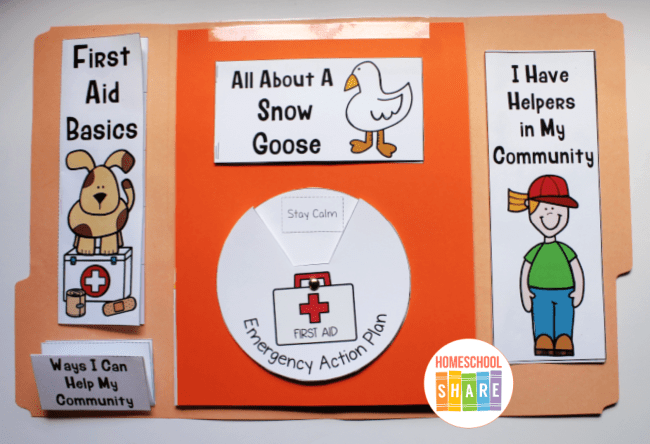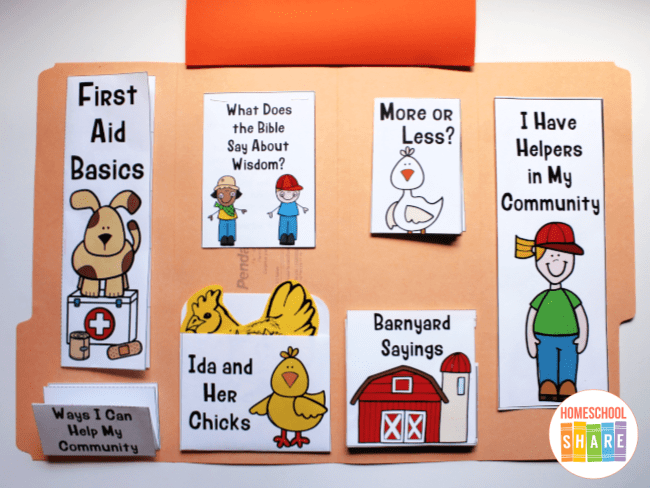 You can pick and choose the mini-books based on the needs of your student. Your lapbook can be one-of-a-kind!
Get Your Free Petunia Unit Study & Lapbook
Simply click on the image below to access your free Petunia Unit Study and Lapbook.
Resources to Expand Your Petunia Unit Study
Petunia's toothache becomes a big issue. Learn more about caring for your teeth.
If you have a younger student following along, consider using some of these Farm Animals Printables.
Want to extend your farm learning? Explore our Cook-A-Doodle-Doo Unit Study.