Affiliate Disclaimer
We sometimes use affiliate links in our content. This won't cost you anything, but it helps us to keep the site running. Thanks for your support.
This fable will provide a great lesson and interesting discussion for your students. Grab our free Once a Mouse activities and printables to dive into this Caldecott award winning book.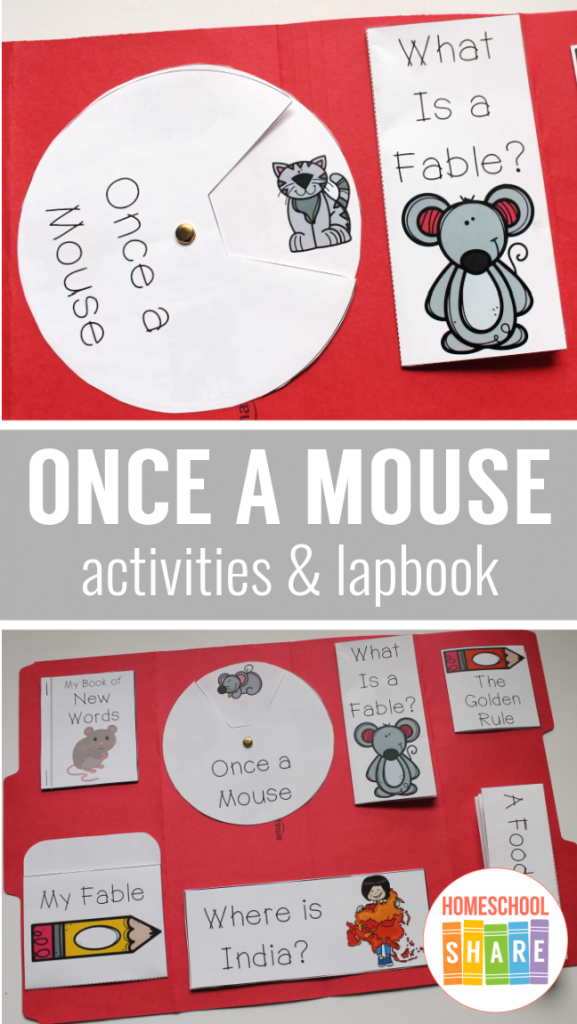 Thanks to Wende for writing the lessons for the lessons for this Once a Mouse unit study.
Once a Mouse Summary
When a small mouse's life is threatened by large jungle predators, a kindly hermit uses magic to change him into a cat, a dog, and a majestic tiger. But the proud tiger must suffer the consequences when he becomes ungrateful and forgets his humble origins.
Once a Mouse Activities and Lessons
This unit study includes activities, lessons, and printables based on the fantastic fable, Once a Mouse, by Marcia Brown.
Here are some sample lessons:
Geography: India
Locate India on the map and the Indus River. Note that this was where the first civilizations in India started. Note the dress of the hermit. Find pictures of traditional Indian dress.
Learn more about India:
Land
The Indian subcontinent has three main land divisions– India consists of the Himalayan Mountains that border this country to the north. (This is where Mount Everest is.) See if you can locate it on a map. The lowland plains of the Indus River. Bangladesh is a low-lying land dominated by the delta (mouth) of the Ganges and Brahmaputra rivers. This is the largest river delta in the world. Also the Deccan plateau of southern India. The land in India consists of mountain regions, desert, jungles, and plateaus most of the country borders the sea. (Arabian Sea and Bay of Bengal). Forests (Jungles) cover one-fifth of India and much of Bangladesh and Sri Lanka.
Language
There are over 200 languages spoken in India!
Economy
Agriculture: Farming crops of rice, wheat, sugarcane, cotton, tea, rubber, coffee, coconuts, and spices are important and still largely grown by hand throughout the region. Because of this, the land is dependent upon the monsoon rains which fall between June and October.
Many of the subcontinents people are poor. Though most of the people live in villages, large cities like Delhi are growing rapidly.
Industry is rapidly expanding, especially in textiles, food products and modern machinery. Tourism is an important part of the economy especially for India and Nepal.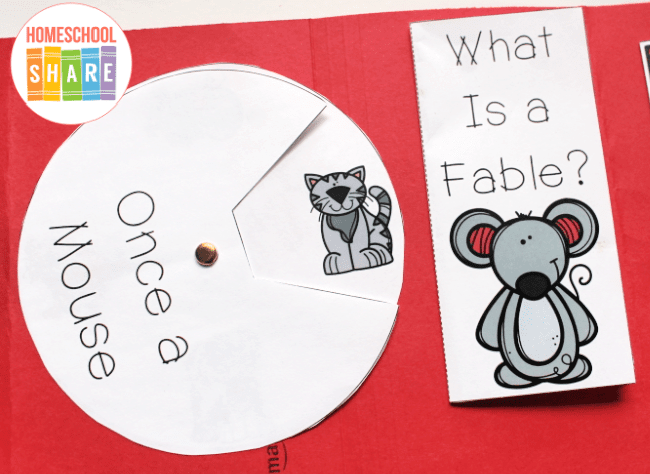 Language Arts: Genre: Fable
There are three main characteristics of a fable:

1. There is a lesson or moral to be learned
2. It involves animals, plants, or forces of nature; usually the main characters are animals
3. It is usually short, direct, and full of action

Discuss this fable and how it meets the criteria.
What lesson is learned? Who are the main characters? Is it short and direct?
You may also want to read some of Aesop's Fables with your student.
You can grab a copy of the entire Once a Mouse Unit Study and Lapbook in an easy-to-print file at the end of this post.
Once a Mouse Lapbook Printables
In addition to the lessons, the file includes a Once a Mouse lapbook with these mini-books.
What Is a Fable? Flap Book
My Fable Pocket
My Book of New Words Mini-book
A Food Chain Accordion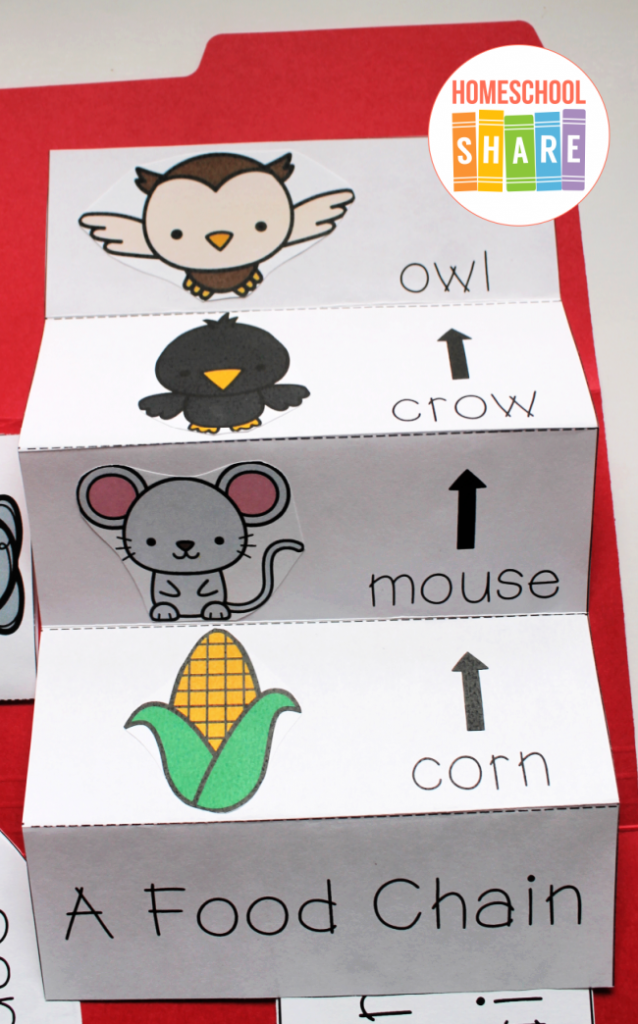 Once a Mouse Circular Story Wheel
The Golden Rule Simple Fold Book
Where Is India? Map
Tally the Animals Activity Page
Animal Graph
Once a Mouse Lapbook Example
This sample lapbook uses one file folder. If you are brand new to lapbooking, check out our How to Make a Lapbook Guide.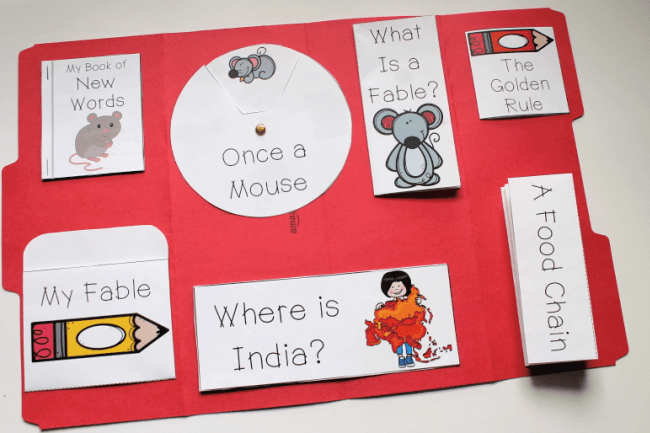 How to Get Started with Your Once a Mouse Activities and Printables
Follow these simple instructions to get started with the Once a Mouse Unit Study:
Buy a copy of the book, Once a Mouse, or borrow one from your local library.
Print the Once a Mouse unit study.
Choose the lessons you want to use with your student (a highlighter works great for this).
Choose and prepare the lapbook printables you want to use with your student. The file includes a color version as well as a black and white version.
Enjoy a week of .
Get Your Free Once a Mouse Once a Mouse Activities and Printables
Simply click on the image below to access your free Once a Mouse Unit Study and Lapbook.
Check Out These Related Resources