Affiliate Disclaimer
We sometimes use affiliate links in our content. This won't cost you anything, but it helps us to keep the site running. Thanks for your support.
We all need to be better listeners. This twist on the traditional scavenger hunt will help your student hone listening observation skills while having fun finding the list on the printable page. Grab a clipboard and a crayon and go outside for a walk with this Listening Scavenger Hunt.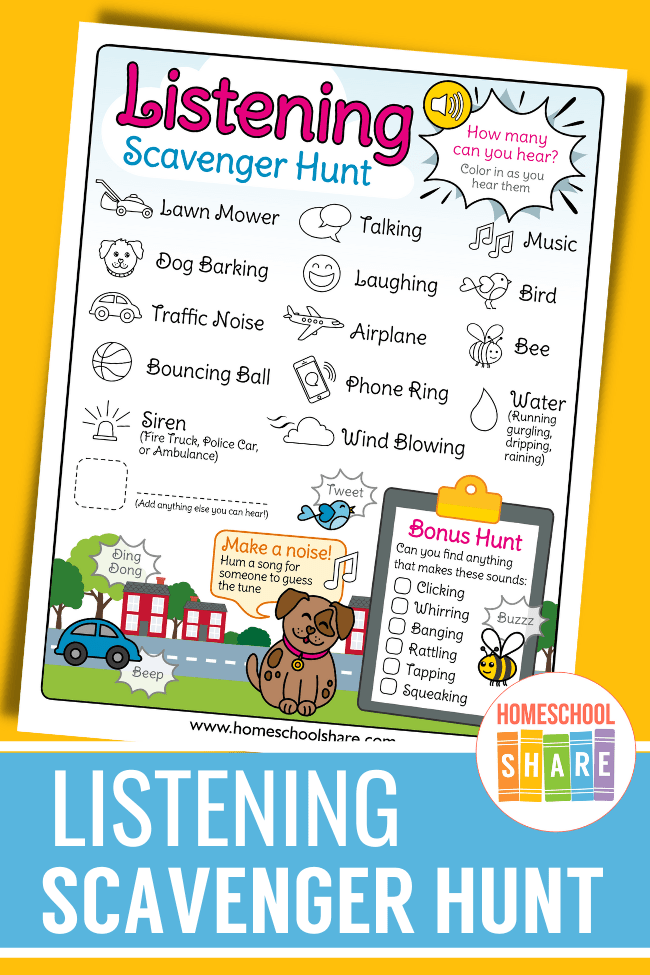 Items You Will Look for with the Listening Walk Scavenger Hunt
Go out and walk together. You can take this scavenger hunt with you as you walk through your neighborhood, downtown, or at a local park.
Your student will listen for these items:
Lawn Mower
Dog Barking
Traffic Noise
Bouncing Ball
Siren (fire truck, police car, or ambulance)
Talking
Laughing
Airplane Zooming
Phone Ringing
Wind Blowing
Music
Bird
Bee
Water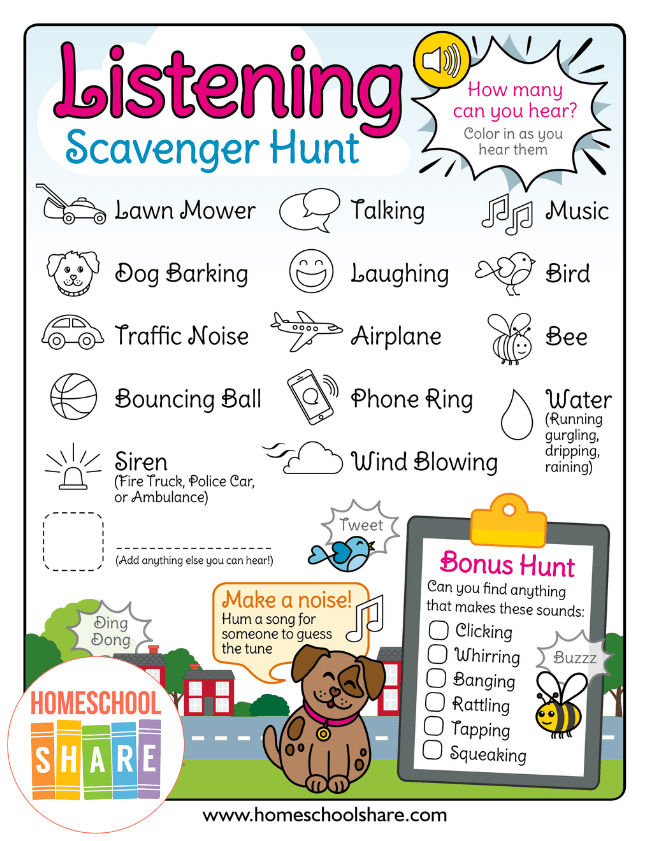 This scavenger hunt also includes bonus items to listen for:
Listen for anything that makes these sounds: clicking, whirring, banging, rattling, tapping, and squeaking.
As your student locates each item, have her color it on the printable page provided.
Benefits of the Listening Scavenger Hunt for Kids
This scavenger hunt is great as a go-along with your five senses theme. It provides many benefits for your student.
Scavenger hunts boost observation skills. As your child listens for objects, he will develop better observation skills.
Scavenger hunts require movements; this promotes gross motor development.
A scavenger hunt can provide safe sensory input for your student (this one is loaded with opportunities for hearing people and nature all around).
If you work on the scavenger hunt as a team, it will promote cooperation and social skills development.
Additionally, the bonus items will increase creative and critical thinking skills as your child has to determine what clicks, whirs, bangs, rattles, taps, and squeaks!
Picture Books About Listening
Encourage your student to become a better listener with the hunt and with these sweet stories.
You could also read some books about the five senses.
Grab Your Free Printable Listening Walk Scavenger Hunt
Grab the scavenger hunt by subscribing to the newsletter. After you confirm, you will receive an email with a link to the hunt.
More Scavenger Hunts for Your Students
If you want to get out and walk while exploring the world around you, try some of our other scavenger hunts.