Affiliate Disclaimer
We sometimes use affiliate links in our content. This won't cost you anything, but it helps us to keep the site running. Thanks for your support.
Take a hike with this printable Forest Scavenger Hunt. Explore the woods while boosting your child's observation skills.
If you would like to browse all of our printable scavenger hunts, try our Scavenger Hunts for Kids page.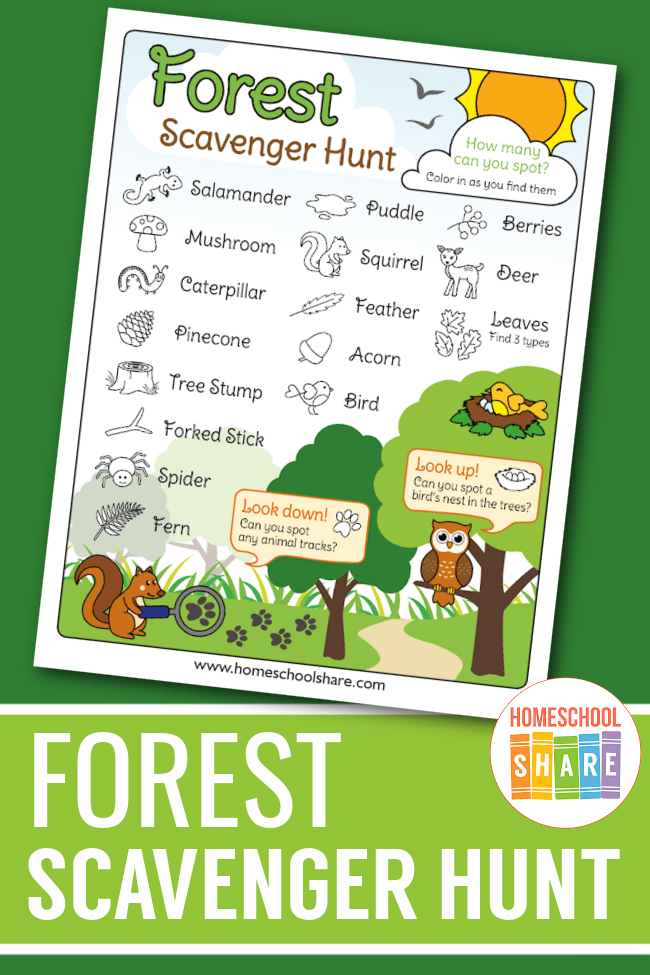 Items You Will Look for with the Forest Scavenger Hunt
Your student will search the forest for these items:
Salamander
Puddle
Berries
Mushroom
Squirrel
Deer
Caterpillar
Feather
Leaves (three different types)
Pinecone
Acorn
Tree Stump
Bird
Forked Stick
Spider
Fern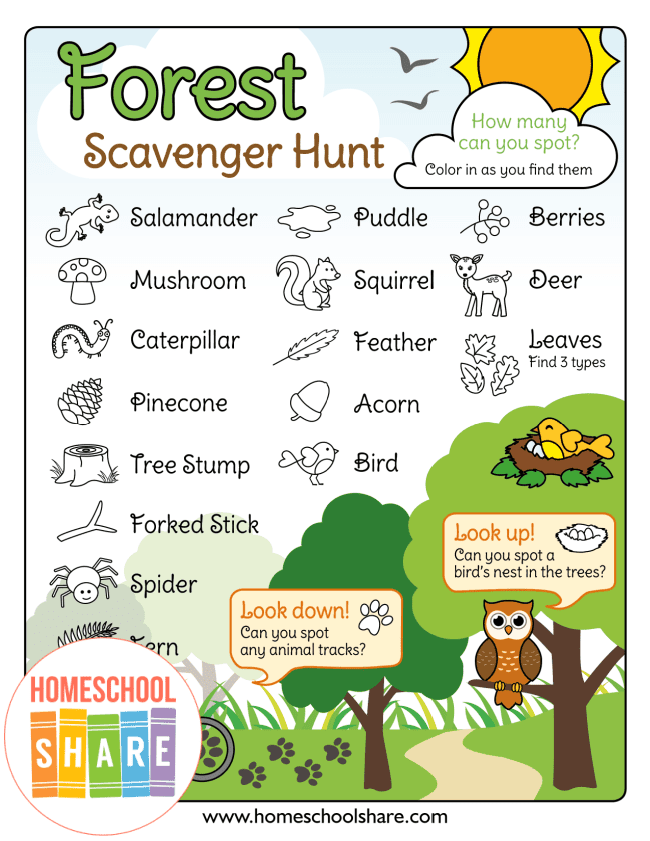 Bonus items to look for:
The Forest Scavenger Hunt gives the student a few bonus things to find.
Look up! Can you spot a bird's nest in the trees?
Look down! Can you spot any animal tracks?
As your student locates each item, have her color it on the printable page provided.
For extra fun, give your student a magnifying glass and allow him to carefully examine some of the items as he finds them.
Note: Be careful of berries and mushrooms that aren't edible. Some things are best observed and not touched (and especially not tasted).
Benefits of the Forest Scavenger Hunt
This forest scavenger hunt is great as a go-along with your forest animals theme. It provides many benefits for your student.
Scavenger hunts boost observation skills. As your child looks for objects, she will develop better observation skills.
Scavenger hunts require movement; this promotes gross motor development.
A scavenger hunt can provide safe sensory input for your student (listen to the bird sing, touch the acorn, smell the earthy scent of the woods, etc.)
If you work on the scavenger hunt as a team, it will promote cooperation and social skills development.
Grab Your Free Forest Scavenger Hunt
Use the form below to subscribe to the newsletter and have a copy of the Forest Scavenger Hunt sent to your inbox.
More Forest Animal Printables
Are you heading into the woods for a learning adventure? Try some of these additional forest animal themed resources.