Affiliate Disclaimer
We sometimes use affiliate links in our content. This won't cost you anything, but it helps us to keep the site running. Thanks for your support.
Grab your free download of this Forest Animals printables and start off on your own forest adventure. This set of printables is packed full of learning opportunities and fun.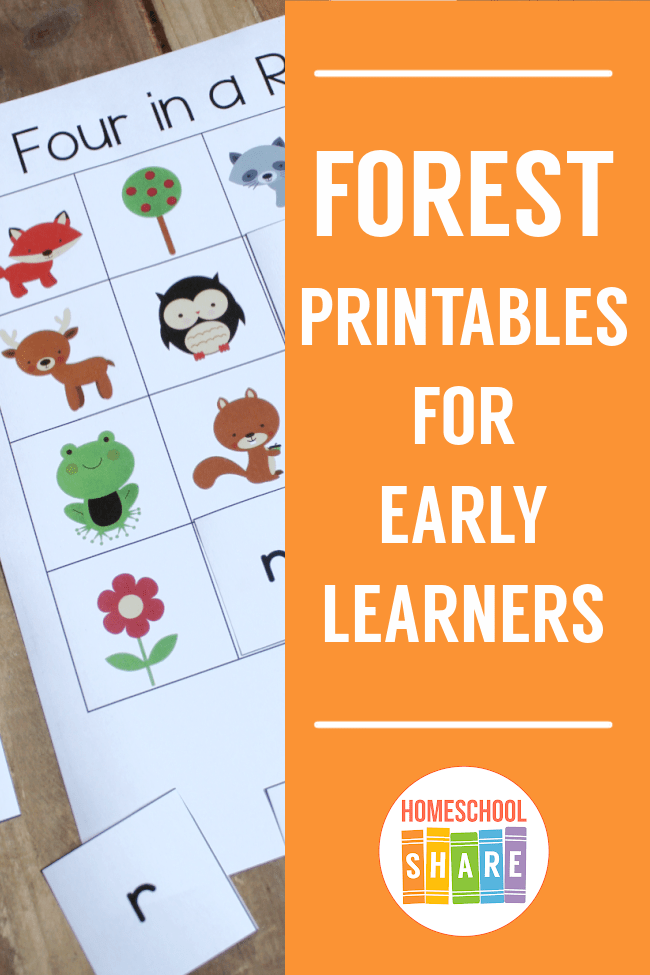 Forest Animals Printable Activities
Forest Scavenger Hunt
Go into the woods and take the form with you. Let your student circle yes/no for each category. She can draw pictures or write what she found in the boxes on the right.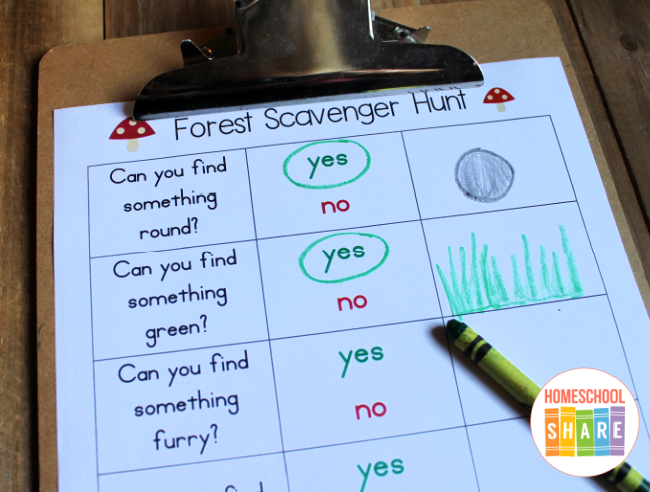 Mushroom Patterns
Print on cardstock and laminate, if desired. Using the pieces, start some patterns on your table; let your student finish them. What patterns can she make on her own? Store pieces in an envelope. If you are making a notebook, you can glue the envelope to a page in your notebook.
Scissor Skills
Practice fine motor skills. Trace the dotted lines then cut on the dotted lines to help the forest animals find places they can hide.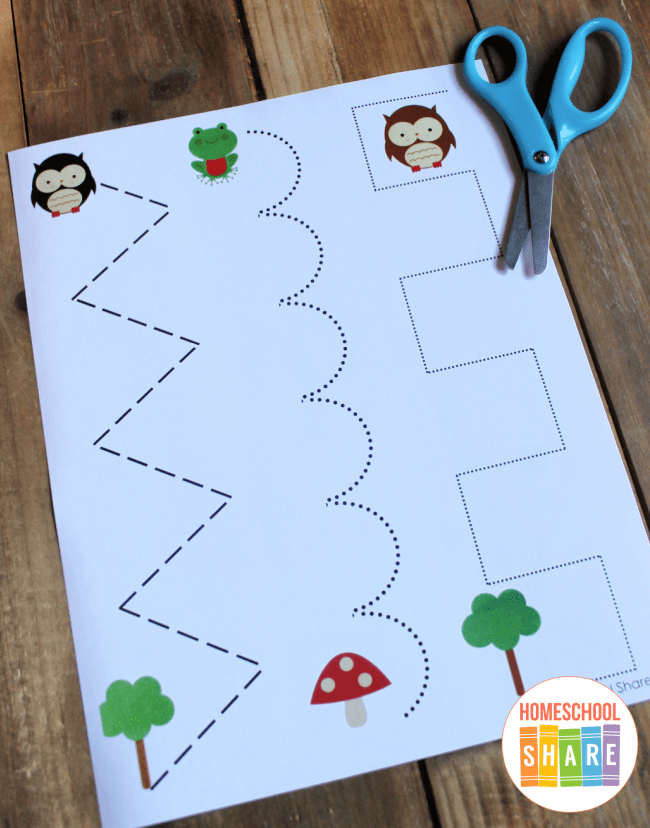 What I've Learned
Mom can type right on this page. At the end of your forest animals study, ask your student what he has learned. Record the information on this page and put it in his notebook. This activity promotes recall and summarizing information. These are important skills for future writers.

My Forest Adventure Story
Let your child dictate his forest story to you while you type. This makes story writing easy for young children. They can write a great story without having to worry about handwriting, spelling, punctuation, etc. Kids usually write better stories when someone scribes for them.
Four in a Row Phonics Game
Print both pages on cardstock. Cut the beginning sound pieces apart and turn them over so your student can't see them. Let him choose one from the pile. If he can determine where to place it on the board, let him use it to cover the animal. If you have to help, but the piece back in the pile. When he has four squares in a row covered, he wins the game!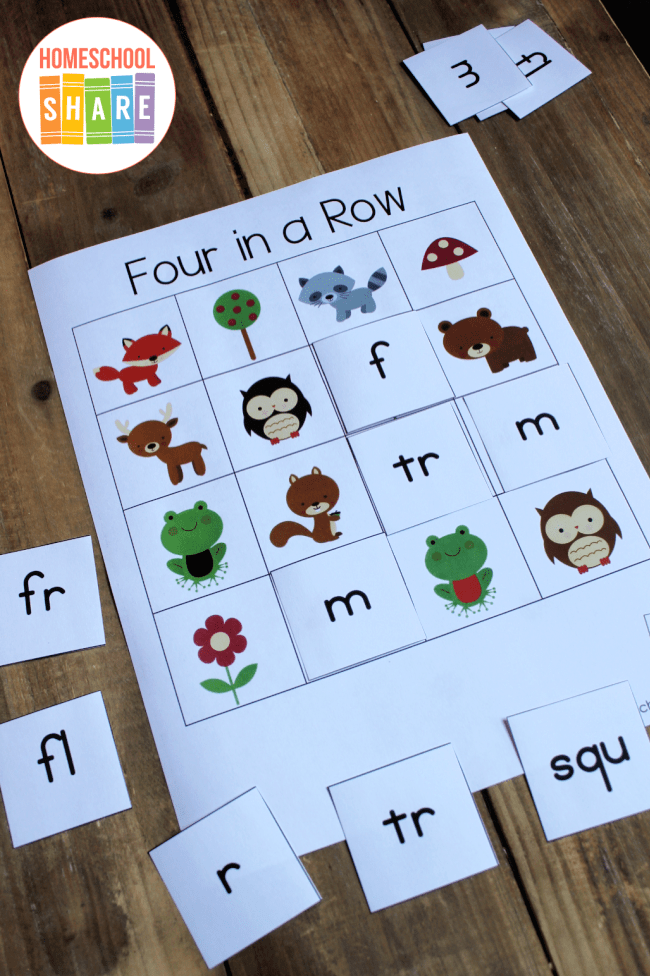 Listen and Interpret
Build reading comprehension and listening skills with this activity. Read the sentence to your child twice (more if necessary). Let her determine which picture fits the sentence. Ask her to circle the correct picture.

I Spy Forest Animals
Take your child to a wooded area for nature study and observation. Give him the "I Spy" page along with some small stickers. Each time he finds an animal, let him stick a sticker to the page. Count the stickers together when you finish observing.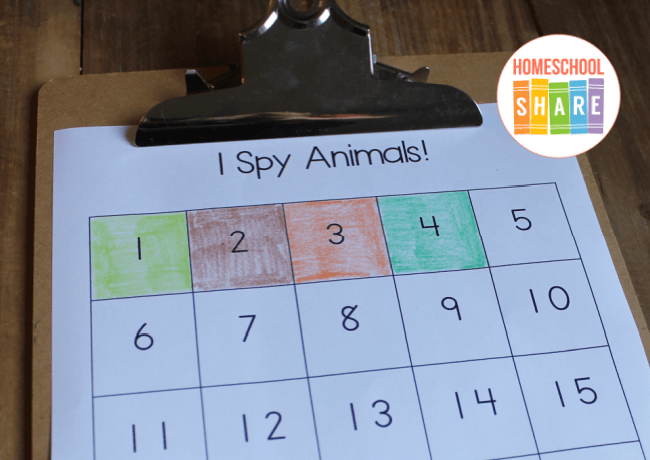 Forest Animals Number Quantity Wheel
Print the wheel on cardstock. Laminate, if desired. Cut wheel out. Write the numbers 6, 6, 7, 7, 8, 8, 9, 9, 10, 10 on ten clothespins. Let your student clip the corresponding clothespin to the correct section of the wheel.
Forest Animals Library List
You do not need these exact books for these Forest Animals Printables.
Please use whatever forest animal themed books your library has available and read, read, read to your child!
Reading is great for language development, literacy skills, and snuggling; it is the best thing you can do with your preschool or kindergarten student.
Rabbits and Raindrops by Jim Arnosky

Raccoon on His Own by Jim Arnosky

Raccoons and Ripe Corn by Jim Arnosky

Every Autumn Comes the Bear by Jim Arnosky

Animal Camouflage in the Forest by Martha E. H. Rustad
Download Your Set of Forest Animal Printables
Simply subscribe to the newsletter using the form below to grab your free set of Forest Animal Printables.
More Forest Animal Themed Resources
This beloved book tells the tale of a young girl who wanders into the woods and desperately wants to play with the animals. What will happen?
Owl Babies is another literature-based unit study that is set in the forest. Enjoy the tender tale while learning all about owls.