Affiliate Disclaimer
We sometimes use affiliate links in our content. This won't cost you anything, but it helps us to keep the site running. Thanks for your support.
Discuss fear, learn all about owls, and have fun making snacks with these free Owl Babies activities for preschool and kindergarten.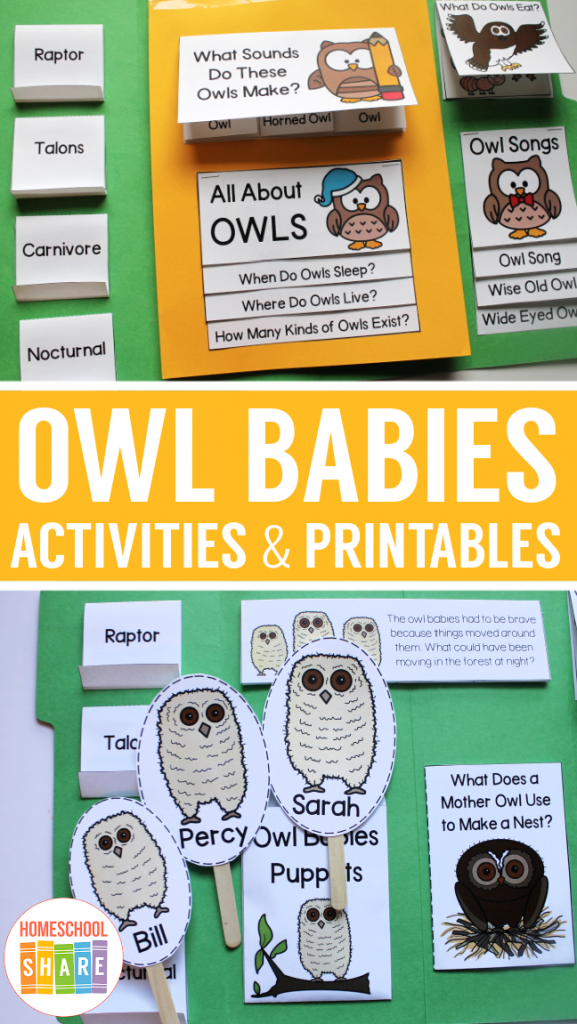 Three baby owls wake to find that their mother is not there. Where is she? What is she doing? Will she come back? This timeless tale reminds your young child that you will always come back. This book opens many avenues of learning, and our Owl Babies study captures many of them.
Thanks to Robin Diedrichs for writing this Owl Babies unit study and for sharing it with Homeschool Share.
Owl Babies Activities and Printables
This unit is packed with a variety of activities and printables. Use the ones you need to create an amazing Owl Babies lesson plan for your students.
Owl Babies Science Activities
Your student will learn all about owls with this fun unit!
Owl Diets
Discuss the types of food that we eat as humans: meat, vegetables, cereal, milk, cheese, etc. Ask your child what type of food he thinks owls eat. If he is unsure, reread Owl Babies listening to see if the story provides any clues to the type of food. Tell your student to listen as you reread. Try not to point it out to your student, but let your student discover the answer (even if it takes a few readings on a few different days). The book says, "She'll bring us mice and things that are nice."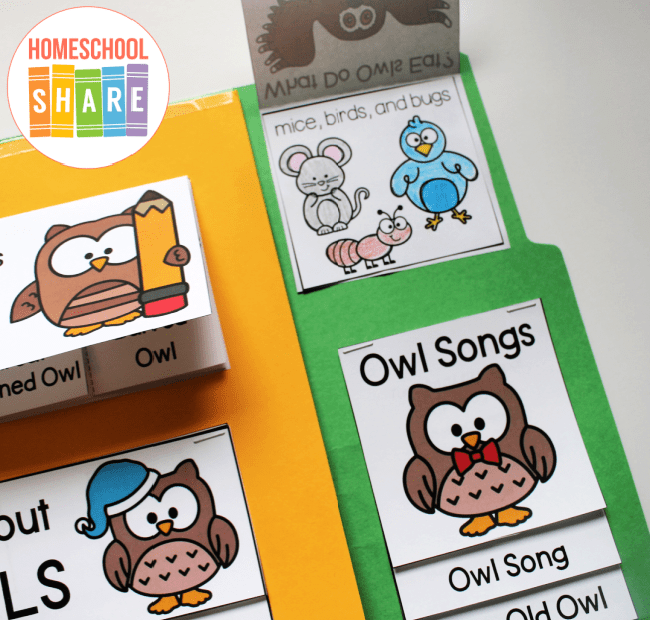 Owls by Gail Gibbons states that, "Different owls have different diets. They may eat squirrels, skunks, rabbits, birds, snakes, insects, and other creatures." Make the Owl Diet Flap Book. Talk about how all of these types of foods are meat. Meat eating animals are called carnivores. Owls are also called raptors because they catch their food by grabbing it with their sharp claws. The claws are called talons. Make the vocabulary matchbooks to expose your child to these new words. Let your student have fun pretending to be a raptor with sharp talons!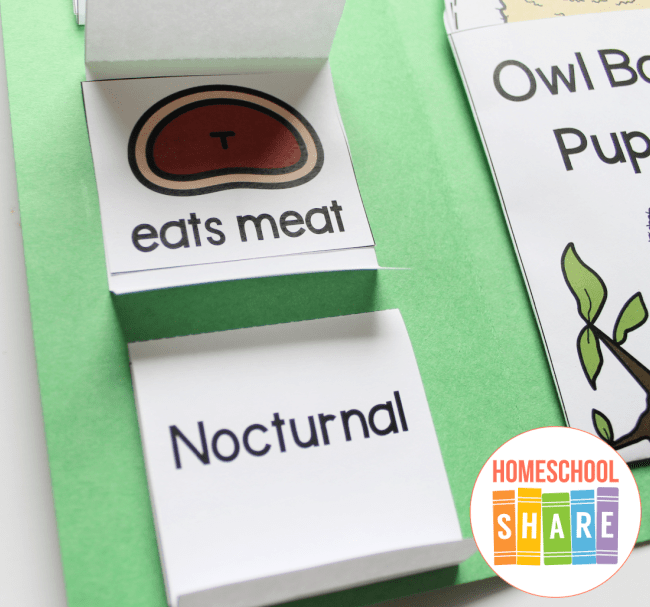 Owl Habitat
Talk about how many owls make their homes in holes in trees and the type of materials used to make a nest by an owl. See if your child can tell you before you tell based on reading Owl Babies which states, "They lived in a hole in the trunk of a tree with their Owl Mother. The hole had twigs and leaves and owl feathers in it. It was their house." Have your child explore the materials by making the nest using the Nest Simple Fold.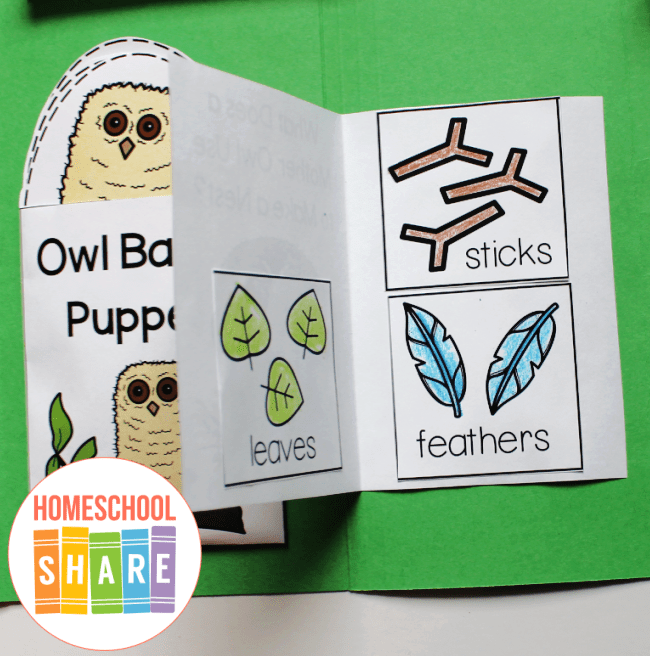 Nocturnal Animals
Introduce the concept of animals that stay awake during the night. Compare them to humans who naturally sleep during the evening. It says in Owl Babies: "It was dark in the woods and they had to be brave, for things moved all around them." Have your child brainstorm a list of animals that might be moving at night. Create the corresponding flap book.
Owl Babies Math Activities
Counting Owls Game: This game will explore counting 1, 2, and 3 objects. Instructions and counting owl game printables are found in the free downloadable file.
Your student will also have fun counting with the "Five Little Owls" poem activity.
Owl Babies Literacy Activities
Owl Babies Story Sequencing and Retelling
Your student can sequence and retell the story with the printable Owl Babies puppets. Your student could even create an original story about three baby owls using the puppets.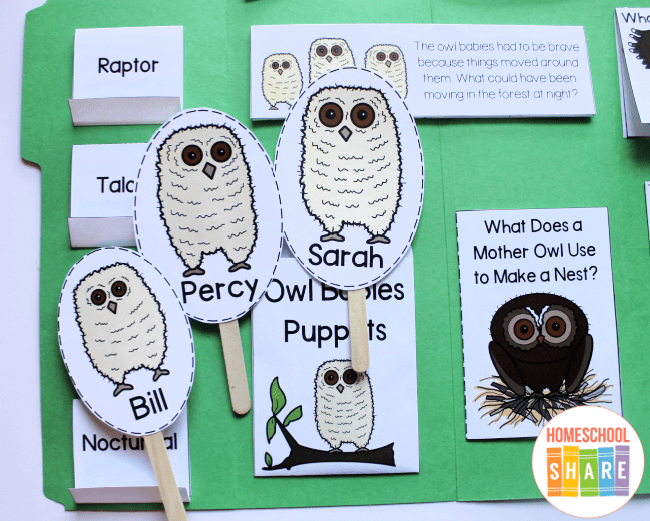 Poems and Songs
Read and enjoy the poems and songs included in the layer book. Repeated readings will help your child learn the poems and songs and will promote phonemic awareness.
Make the counting poem for "Five Little Owls" with your child. Allow your child to manipulate the owls as you read the poem to him/her. Practice counting to five using the owls.
Owl Babies Art Activity
Compare and contrast the difference between the way the mother owl looks in Owl Babies to the way the baby owls look. Discuss that owl babies (chicks) have white fluffy feathers. Make a picture with the three owl babies. Find a stick outside and glue to a piece of black construction paper. Glue above the stick balls of cotton batting. Add circle eyes, a triangle nose, and V shapes for the feet. Use the front cover of Owl Babies to help guide the picture. You could also add stars in the sky and a moon.
The Owl Babies unit study also includes additional lessons and snack ideas.
Owl Babies Lapbook Example
If desired, you can use the Owl Babies printables to create a lapbook. This lapbook example was made with one file folder and a piece of cardstock taped to the center section to form an extension flap.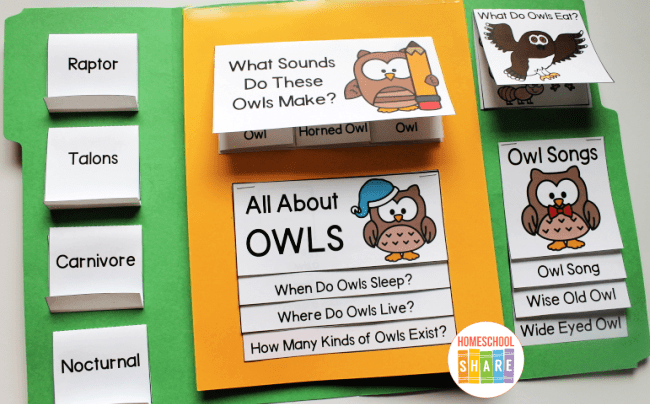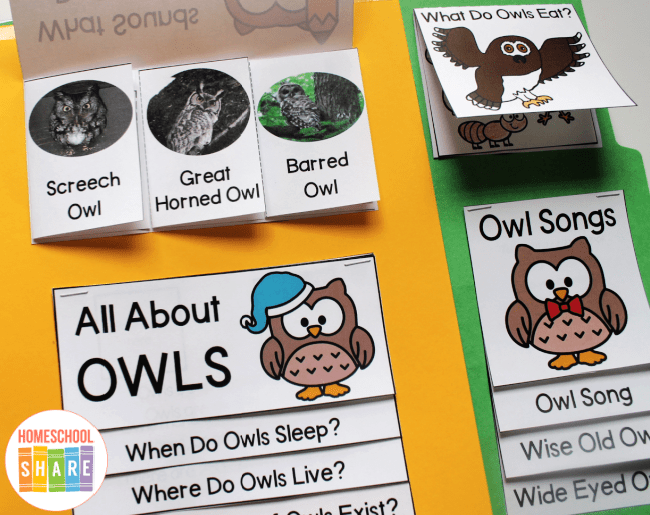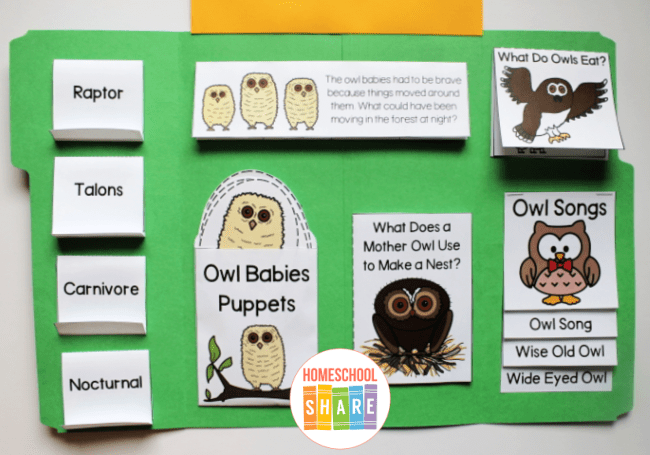 How to Get Started with the Owl Babies Activities for Preschool and Kindergarten
Follow these simple instructions to get started with the Owl Babies unit study and lapbook:
Buy a copy of the book, Owl Babies by Martin Waddell, or borrow one from your local library.
Print the unit study.
Choose the ideas you want to use with your student (a highlighter works great for this).
Choose and prepare the Owl Babies printables you want to use with your student.
Enjoy a week of fun-filled learning with your preschool student.
Download Your Free Owl Babies Printable Activities
Use the form below to subscribe to the newsletter. Once you confirm, you'll receive an email with the link to the activities and lapbook. If you are already confirmed, simply enter your name and email address below, and you will receive an email with the link.
Additional Owl Babies Resources
If your student enjoyed reading and learning with Owl Babies, he may also enjoy these forest themed resources:
If you are looking for more owl printables, grab this set!
Play with Me by Mary Hall Ets tells the tale of a young girl who wanders into the woods and desperately wants to play with the animals. What will happen?
You can also grab this set of forest animal printables.