Affiliate Disclaimer
We sometimes use affiliate links in our content. This won't cost you anything, but it helps us to keep the site running. Thanks for your support.
Are the kids cooped up inside during the holiday break? Grab this Christmas Scavenger Hunt and let them explore while finding the items on the list.
If you would like to browse all of our printable scavenger hunts, try our Scavenger Hunts for Kids page.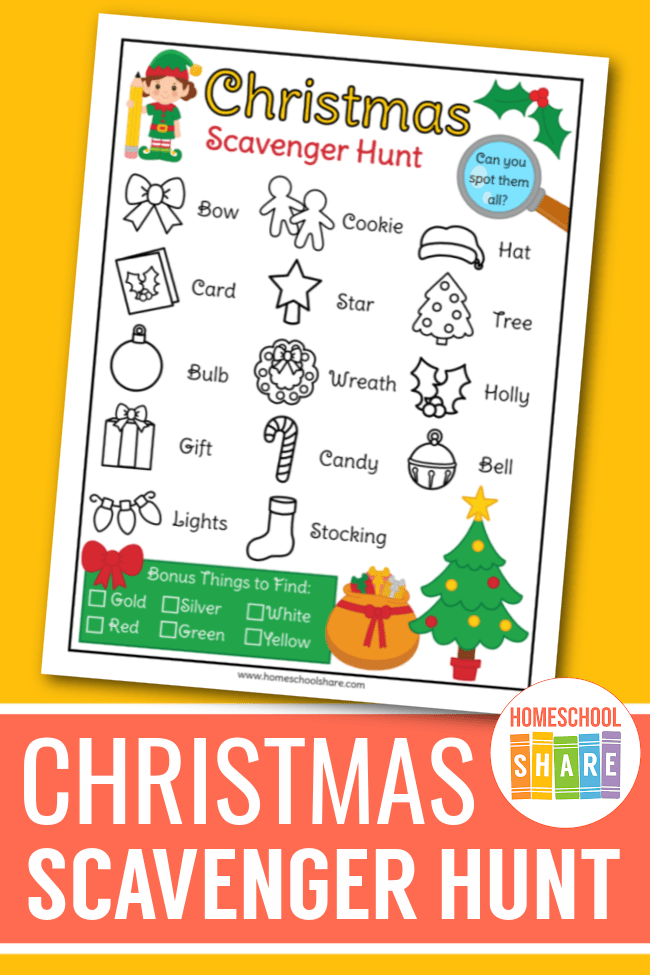 Items You Will Look for with the Christmas Scavenger Hunt
Let your student scour your classroom or home for these Christmas items:
Bow
Christmas Card
Bulb (ornament)
Gift
Lights
Cookie
Star
Wreath
Candy or Candy Cane
Stocking
Hat
Tree
Holly
Bell
Remind your student that many of these items might be found right on the tree! Your student can look closely at ornaments and wrapping paper to find some of the objects.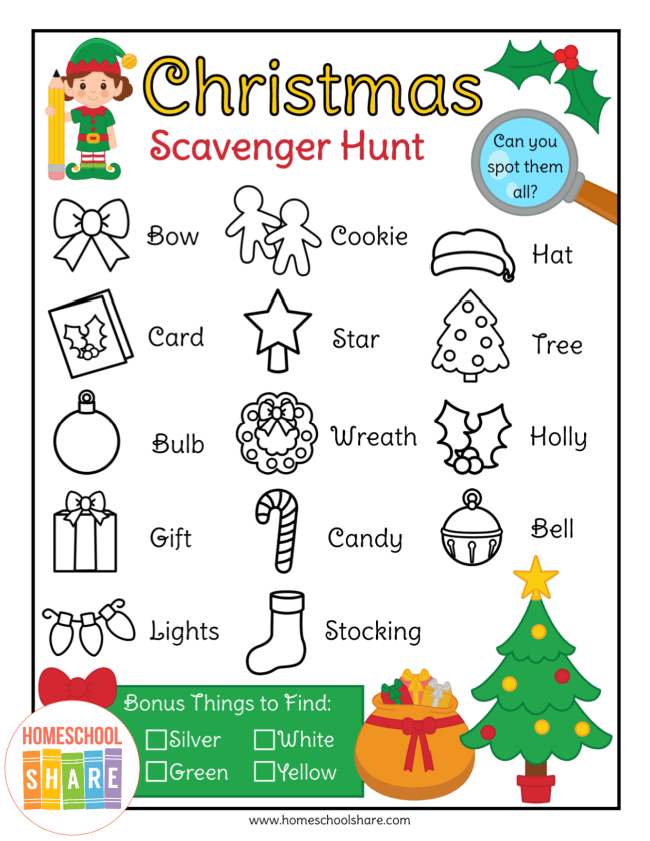 The Christmas scavenger hunt also includes bonus items to look for. The bonus items are colors: gold, silver, white, red, green, and yellow.
As your student locates each item, have him color it on the printable page provided.
For extra fun, give your student a magnifying glass and allow him to carefully examine the items as he finds them.
Benefits of the Christmas Scavenger Hunt
This scavenger hunt is great as a go-along with your holiday or Christmas theme. It provides many benefits for your student.
Scavenger hunts boost observation skills. As your child looks for objects, he will develop better observation skills.
Scavenger hunts require movement; this promotes gross motor development.
A scavenger hunt can provide safe sensory input for your student (feel the velvety bow, taste the candy cane, smell the pine tree, listen to the bell jingle, etc.)
If you work on the scavenger hunt as a team, it will promote cooperation and social skills development.
Additionally, the bonus items will increase creative and critical thinking skills as your child has to find items in the various colors.
Grab Your Free Indoor Scavenger Hunt
Grab the scavenger hunt by clicking on the image below.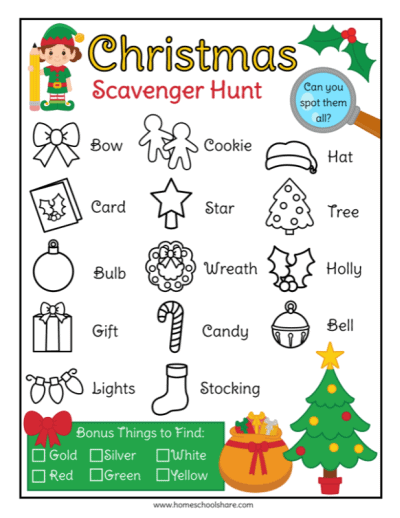 More Christmas Themed Resources
Are you looking for more Christmas printables? Try these.