Affiliate Disclaimer
We sometimes use affiliate links in our content. This won't cost you anything, but it helps us to keep the site running. Thanks for your support.
This unit study includes lessons and printables based on the book Leonardo's Horse by Jean Fritz.
Fritz's narrative opens as Leonardo da Vinci earns a commission from the duke of Milan to create a sculpture to honor the duke's father a bronze horse three times larger than life.

Though this creative genius spent years on the project, he died without realizing his dream and, writes Fritz, "It was said that even on his deathbed, Leonardo wept for his horse."

The author then fast-forwards to 1977: an American named Charles Dent vows to create the sculpture and make it a gift from the American people to the residents of Italy. How his goal was accomplished makes for an intriguing tale that Fritz deftly relays.

An inventive introduction to the Renaissance and one of its masters.
This story is a fabulous introduction to Leonardo and it provides a myriad of learning opportunities for your student. Grab our free Leonardo's Horse unit study and lapbook to get started.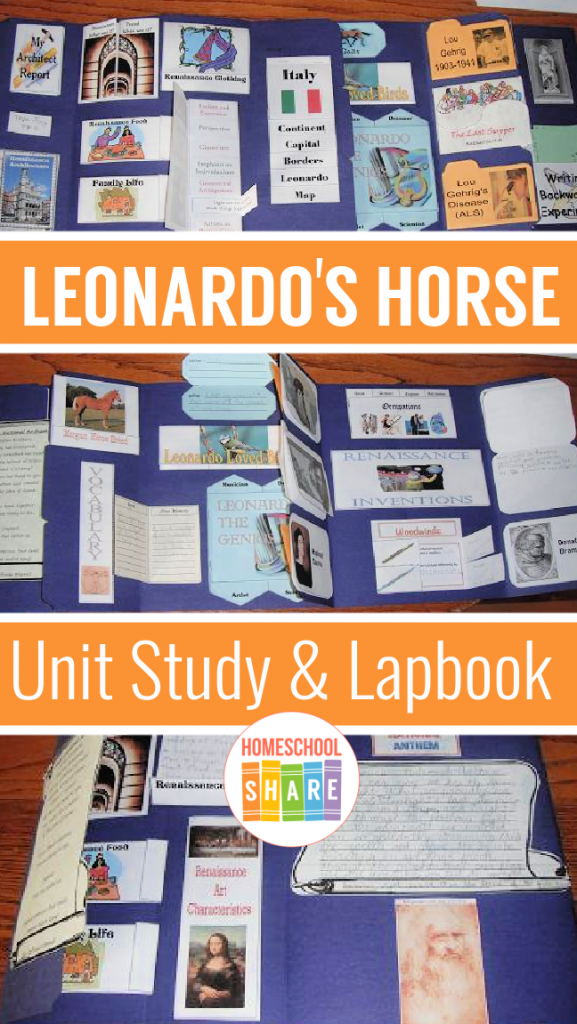 Thanks to Jodi Small for writing the lessons for this Leonardo's Horse unit study. Thanks to Cindi Fry for creating the lapbook.
Leonardo's Horse Unit Study Lessons
Here are some sample lessons from the Leonardo's Horse Unit Study.
History: Renaissance Period
During the Middle (Dark) Ages, people forgot things that had been known before. They no longer read books or made new inventions. Leonardo lived at the time when the Middle Ages had ended and people had begun to learn again. This time period was called the Renaissance. The word Renaissance means "rebirth". During this time period, every way of thinking was challenged. New ways of thinking were introduced. They became curious again and started inventing things again. This "new thinking" was shown in the arts, poetry, literature, and religion. The Renaissance period lasted from the 14th to the 17th century.
The Renaissance: Family Life
The Renaissance family consisted of the parents and children. Very few people lived long enough to be grandparents. Women stayed home to care for the children while men worked either in the fields or in merchant shops. Boys were sent to private school when they were seven years old. At age 14, they worked alongside their fathers to help with finances. Girls stayed home with their mothers to learn how to run a household.
The Renaissance: Food
Eating was thought to be only for nourishment. During the Renaissance, eating became thought as pleasurable. Food was prepared to be both pleasing to the taste and pleasing to the eye. Garnishments were used. Roasts were a popular main dish. Side dishes were introduced, mainly a variety of pastries. Soups were rich and expensive to serve. They were made in various colors and seasoned with sugar and spices.
Characteristics of an Artist:
Why would the people of Vinci, Italy not be surprised that Leonardo would become an artist? The story says that he stopped to examine things and that he carefully looked at the land to see the details. The illustrations show Leonardo with drawing pads and brushes. Having an eye for detail is one characteristic of an artist.
You can grab a copy of the entire Leonardo's Horse Unit Study and Lapbook in an easy-to-print file at the end of this post.
Leonardo's Horse Lapbook Printables
In addition to the unit study lessons, the Leonardo's Horse file also includes mini-books for your student to create a lapbook.
Renaissance Architecture
Leonardo da Vinci Simple Fold
Michelangelo Simple Fold
Andrea del Verrocchio Simple Fold
Leon Battista Alberti Simple Fold
Donato Bramante Simple Fold
Raphael Sanvio Simple Fold
Renaissance Inventions Side by Side Book
Italy Layer Book
Leonardo the Genius Tab Book
Leonardo da Vinci's Life Story Hotdog Book
Occupations Tab Book
And more!
Leonardo's Horse Lapbook Photos
Here are some photos of the inside of the completed Leonardo's Horse lapbook.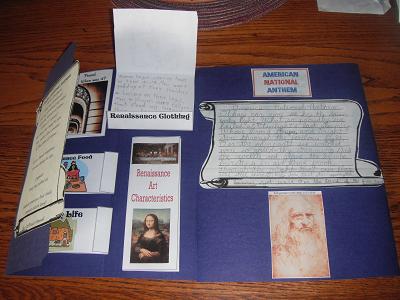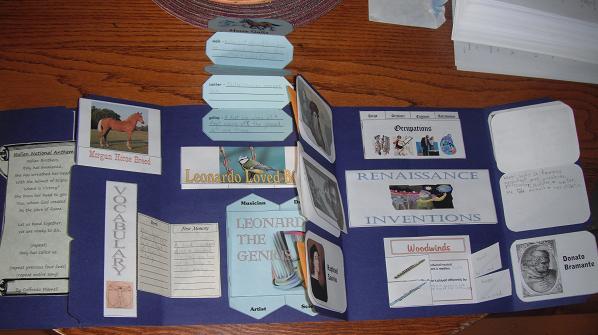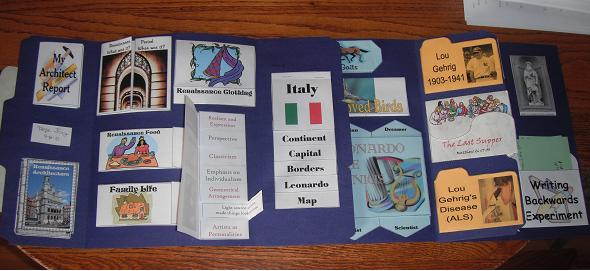 How to Get Started with Your Leonardo's Horse Unit Study & Lapbook
Follow these simple instructions to get started with the Leonardo's Horse Unit Study:
Buy a copy of the book, Leonardo's Horse, or borrow one from your local library.
Print the Leonardo's Horse unit study.
Choose the lessons you want to use with your student (a highlighter works great for this).
Choose and prepare the lapbook printables you want to use with your student.
Enjoy a week of learning all about the fascinating life of Leonardo da Vinci.
Get Your Free Leonardo's Horse Unit Study & Lapbook
Simply click on the image below to access your free Leonardo's Horse Unit Study and Lapbook.
Explore Other History Unit Studies