Affiliate Disclaimer
We sometimes use affiliate links in our content. This won't cost you anything, but it helps us to keep the site running. Thanks for your support.
Spend a week studying the beautiful Emerald Isle. Your student will love reading about this European country and creating an Ireland Lapbook.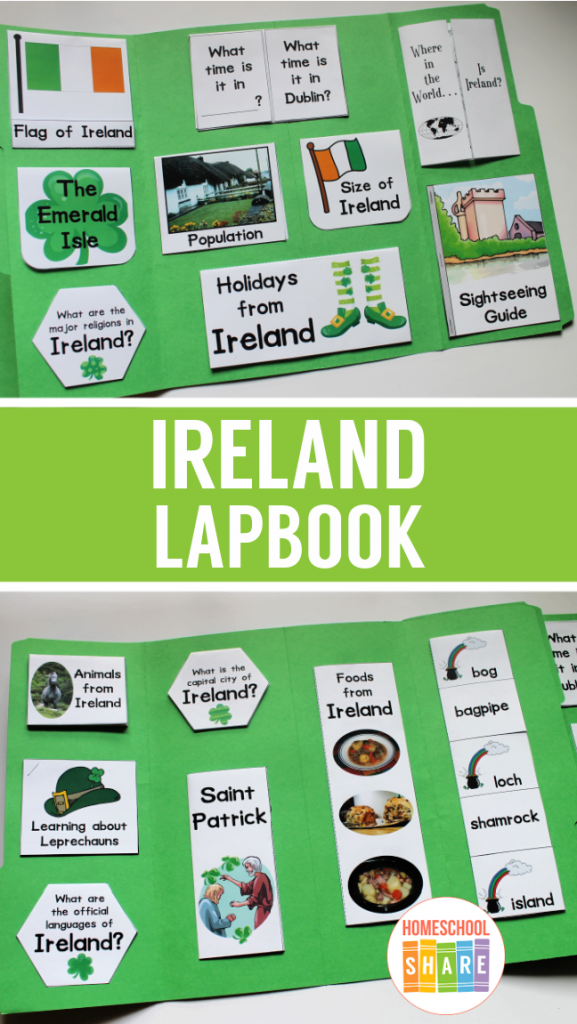 Ireland Lapbook Information
Use the research provided along with reliable websites and library books to complete your Ireland Lapbook.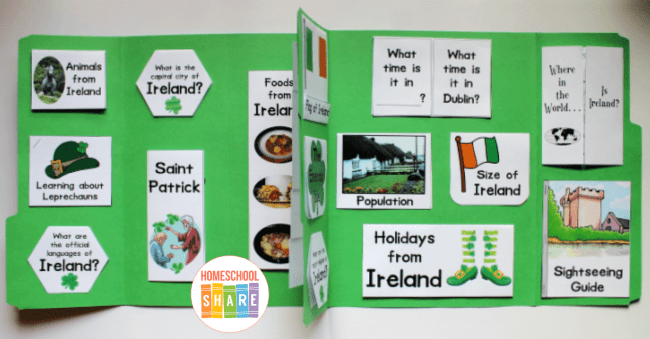 Official Name: Ireland
Size: 27,133 square miles
Capital: Dublin
Official Language: Irish, or Gaelic, and English
Agricultural Products:
Ireland produces beef, dairy products, barley, potatoes, and wheat.
Major Industries: Ireland's major industries include pharmaceuticals, chemicals, computer hardware and software, food products, beverages and brewing, and medical devices.
Currency: Euro
Climate: Ireland's climate is cool, damp, and overcast most of the year. Ireland has mild winters and cool summers.
Population: For current information, use this website: Population of Countries
Comparing Times: To compare the time in the capital city to the time where you live, use this website: The World Clock
Major Religion: Roman Catholic 87.4%, Church of Ireland 2.9%, other Christian 1.9%, other 7.8
Sight Seeing Guide: Your student will need to research the cities in order to complete the mini-book.
Nickname: The Emerald Isle
Ireland is full of beautiful green plants and fields that it is often called "The Emerald Isle." (Emerald is another word for green.)
Holidays from Ireland:
Some of the holidays celebrated around the world come from Ireland. The Irish invented Halloween over 2,000 years ago. On October 31st, Celtic families would have bonfires and dress up as witches, goblins, and demons to frighten away the spirits of the dead. The Celts also invented jack-o'-lanterns. They carved turnips or potatoes.
Saint Patrick's Day is another holiday originating in Ireland. It is a day to honor Saint Patrick, the patron saint of Ireland.
Saint Patrick was born in Great Britain around the year 380. When Patrick was a boy, he was kidnapped, sold to Ireland, and forced into slavery where he was a shepherd.
He escaped a few years later, but he wanted to return to Ireland to teach people about God. First, he went to France to learn about God and to become a priest. He went back to Ireland to preach. He also built churches and schools. He stayed in Ireland for the rest of his life.
He died on March 17th in 461. Later, the Roman Catholic Church made him a saint.
People celebrate St. Patrick's Day in many ways. They dress in green to honor an ancient Irish custom. People also go to church. They decorate with harps and shamrocks. Shamrocks are the symbol of St. Patrick and the symbol of Ireland.
Irish Food
Boxty: potatoes are a staple in Ireland and this dish is made with potatoes. It is a potato pancake.
Colcannon: another potato dish made of mashed potatoes mixed with cabbage or kale. This is often served on Halloween.
Barmbrack: this is also served on Halloween; it is a bread made with fruits and spices.
Irish Christmas Cake: This traditional dessert is full of fruit and notes and covered with marzipan (a frosting made of sugar and ground almonds).
Irish Stew: This hearty dish is made with lamb, onions, potatoes, and other vegetables.
Dublin Coddle: this casserole is made with pork and potatoes.
Leprechauns
According to Irish legend, a leprechaun is a fairy in the shape of an old man. Many depictions of leprechauns include pipes, beards, green clothes and caps, and buckled shoes.
They are mischievous creatures known as being tricksters.
The word leprechaun may come from the Irish leath bhrogan, meaning shoemaker. It is said that the leprechaun's main job is shoemaking.
Each leprechaun owns a pot of gold. If you can catch him, he will tell you where it is. He might even grant you three wishes.
Animals in Ireland: Your student will need to research these animals in order to complete the mini-books.
New Words: Your student will need to look up the words and record the definitions under the flaps. Words include: bog, bagpipe, loch, shamrock, and island.
Make a Salt Dough Map: Add to your Ireland study by making a salt dough map of Ireland.

National Geographic Site: National Geographic has an amazing Ireland site for your student to explore.
Ireland Lapbook Example
The lapbook was made with two file folders. If you are new to lapbooks, read this How to Make a Lapbook post.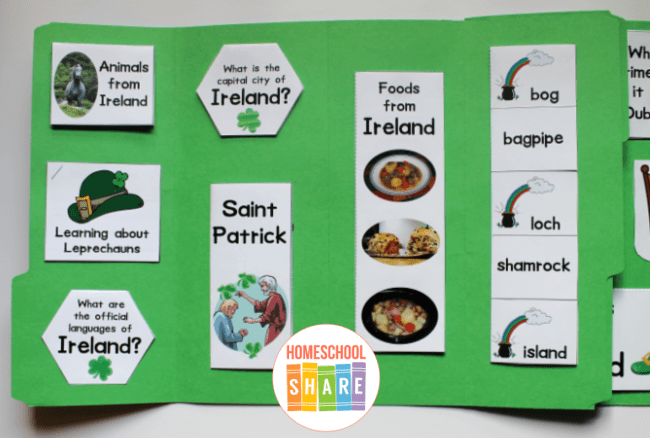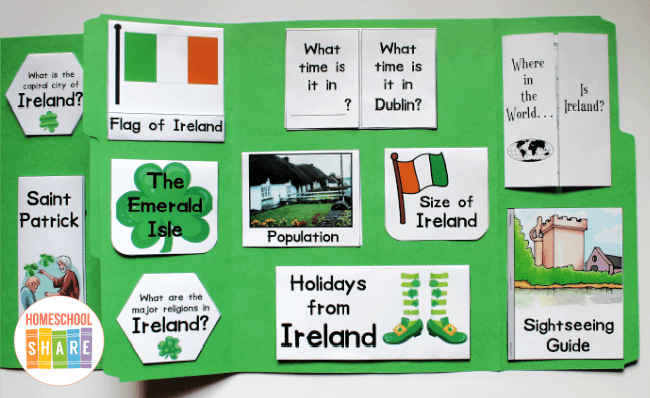 How to Get Started with Your Ireland Lapbook
Follow these simple instructions to get started with the Ireland Lapbook.
If you want, go to your local library and check out books about Ireland. Children Just Like Me features Jack, a child living in Ireland.
Print the Ireland Lapbook.
Choose and prepare the lapbook mini-books you want to use with your student.
Enjoy a week of reading and learning all about Ireland.
Download Your Ireland Lapbook
Simply click on the image below to access your free Ireland Lapbook.
Explore Our Ireland Resources
Would you like to learn more about Ireland? Check out these unit studies and lapbooks.
If you are looking for additional country lapbooks, try our geography lapbook index.