Affiliate Disclaimer
We sometimes use affiliate links in our content. This won't cost you anything, but it helps us to keep the site running. Thanks for your support.
Hummingbirds are nature's helicopters; they can fly up, down, sideways, backwards, and even hover, using their strong chest muscles to accomplish such feats of aviation.
These small but mighty birds will amaze your student as your student completes our Hummingbirds Lapbook.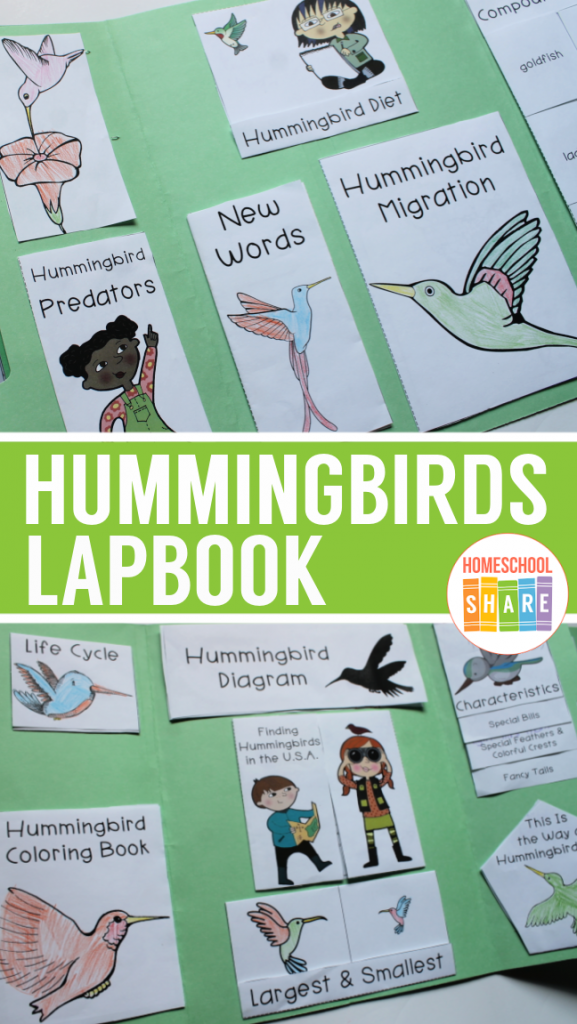 Hummingbird Lapbook created by Rose Ann Kuhns and Ami Brainerd.
Hummingbirds Lapbook Information
Here are some sample lessons from the Hummingbirds Lapbook:
What Are Hummingbirds?
Hummingbirds are a family of birds that contain the smallest birds in the world. There all 400 known kinds of hummingbirds, but only 19 of them live in the United States. Hummingbirds get their name from the humming sound their wings make as they fly, not because they hum or sing.
Hummingbird Anatomy
Beaks/Bills – Hummingbirds have an assortment of beaks with different shapes and sizes for eating different types of flowers and fruits.
Tails – Hummingbirds also have a wide variety of tails, some being long and pointy, others being extravagant and shaped like party streamers. Just about all hummingbirds have a total of 10 tail feathers.
Feathers – Hummingbirds are some of the prettiest birds, with feathers that sparkle and change colors depending on how the light hits them. Hummingbird feathers are five times as dense as an average bird's feathers, giving the hummingbird deep colors.

Gorget – A gorget is the colorful patch on a hummingbird's throat.
Crests – Some hummingbirds have crests that they puff up at other hummingbirds or predators to give the impression that they're big and tough, while other hummingbirds use their crest to help show off their beauty.
Feet – Hummingbirds that live in cold places have extra feathers that grow around their feet to help them stay warm.
To access all of the lessons in this Hummingbird Animal Study, subscribe to Homeschool Share's email list using the form in this post.
Hummingbirds Lapbook Printables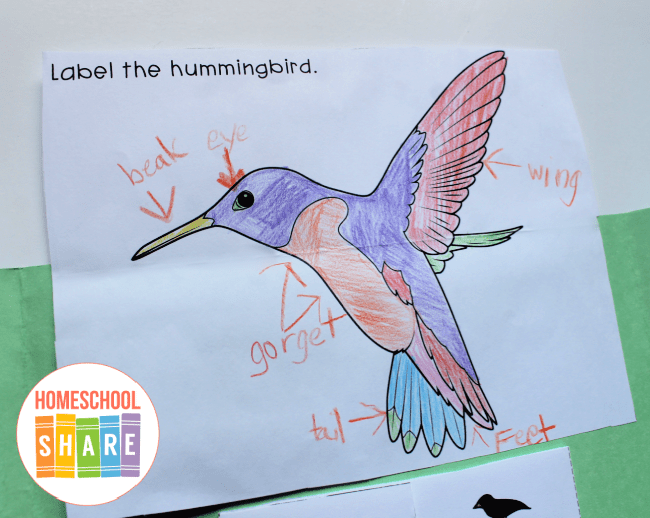 In addition to the research and lessons about hummingbirds, this animal study also includes the following mini-books for your student's Hummingbirds Lapbook:
Finding Hummingbirds in the U.S.A. Shutterfold Book
Hummingbird Diet Matchbook
Hummingbird Life Cycle T-book
Hummingbird Migration Simple Fold
This Is the Way a Hummingbird Flies Simple Fold
Hummingbird Garden Layer Book
New Words Flap Book
Largest and Smallest Hummingbirds Matchbook
Hummingbird Predators Simple Fold
Hummingbird Diagram
Hummingbird Coloring Book Simple Fold
Compound Words Shutterflap Book
Hummingbirds Lapbook Sample
Here is a sample lapbook made with two file folders.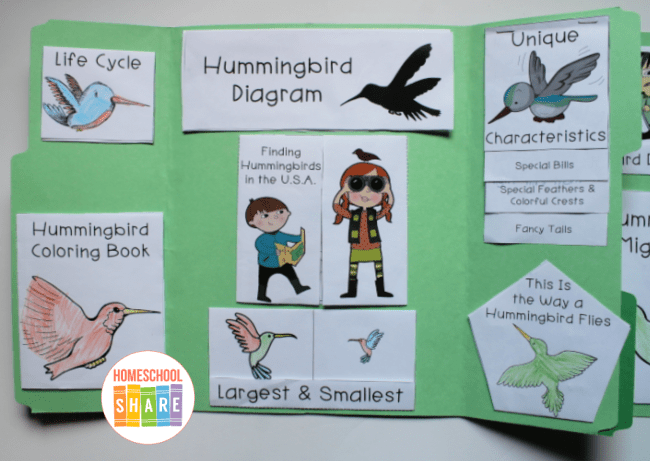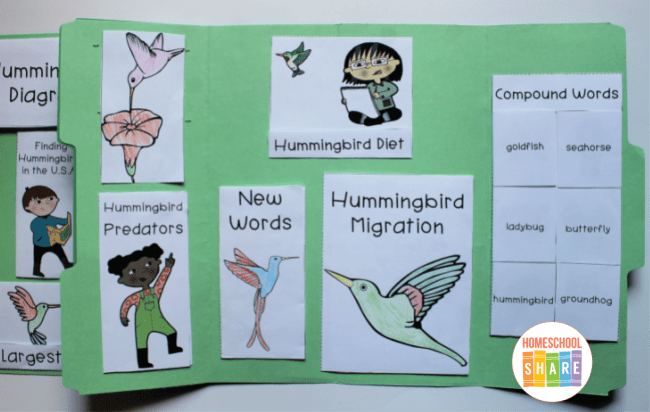 How to Get Started with Your Hummingbirds Lapbook
Follow these simple instructions to get started with the Hummingbirds Lapbook.
If you want, go to your local library and check out books about hummingbirds.
Print the Hummingbirds Lapbook.
Choose and prepare the mini-books you want to use with your student.
Enjoy a week of reading and learning all about the amazing hummingbird.
Download Your Hummingbirds Lapbook
Use the form below to subscribe to the newsletter. Once you confirm, you'll receive an email with the link to the lapbook. If you are already confirmed, simply enter your name and email address below, and you will receive an email with the link.
Explore Other Animal Lapbooks
Does your student love animals? Try one of these animal lapbooks: