Affiliate Disclaimer
We sometimes use affiliate links in our content. This won't cost you anything, but it helps us to keep the site running. Thanks for your support.
Enjoy homeschool science with this free Flamingo Lapbook. Learn all about these tall, pink birds: flamingo diet, their scientific classification, migration, flamingo senses, and so much more!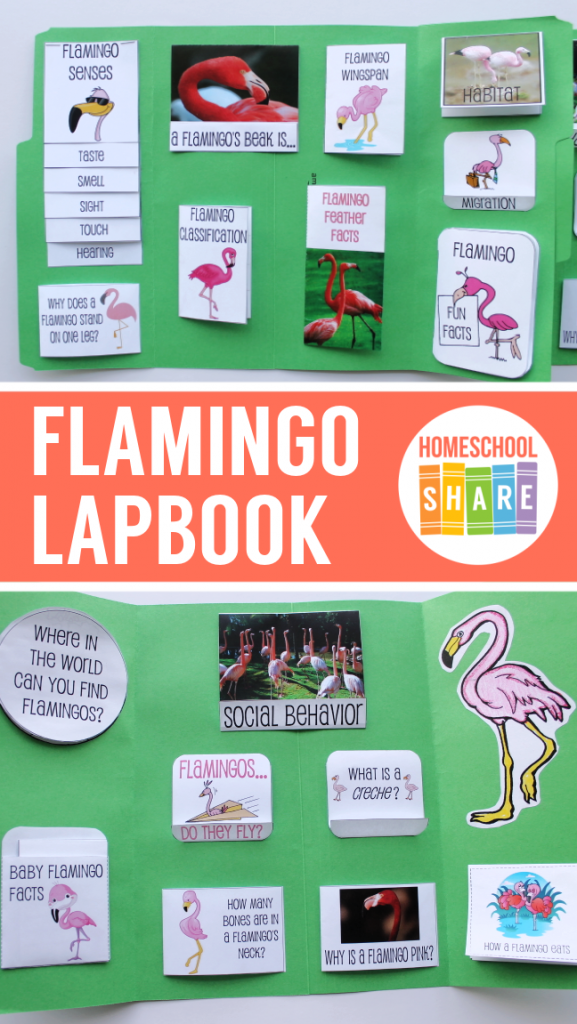 Thanks to Kelly Cooper for creating this Flamingo Lapbook.
Flamingo Lapbook Information
Here are some sample lessons from the Flamingo Lapbook:
Flamingo Distribution and Habitat
All flamingos are found in tropical and subtropical areas. There are three main types of habitats for flamingos:
Mangrove Swamps: these are found along tropical seacoasts on both sides of the equator. They are named for the Mangrove trees that grow there. 
Tidal Flats: sandy or mud areas found in many estuarine areas (an arm of the sea at the lower end of a river ) which usually lack plant life.
Seashores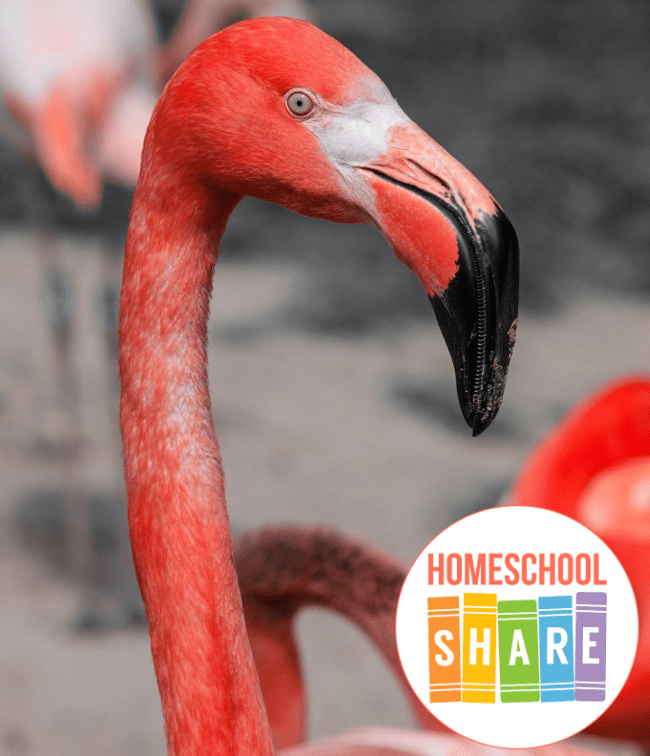 Flamingo Anatomy
Size
The greater flamingo is the tallest flamingo, standing 43–51inches and weighing up to7.7 lb. The lesser flamingo is the smallest flamingo, standing 31.5 in. and weighing 5.5 lb.
The wingspan of flamingos ranges from 37–39 in. for the lesser flamingo to 55–65 in. for the the greater flamingo.

There are 12 principal flight feathers located on each wing. These black feathers are visible when the wings are extended. You could go outside and measure this with chalk on your sidewalk or driveway.
Feathers
There are 12 principal flight feathers located on each wing. These black feathers are visible when the wings are extended.

They have 12 to 16 tail feathers. Contour feathers cover all of the body except the bill and scaled parts of the legs and feet. They protect the skin and help with flight.
Flamingos molt (shed and replace) their wing and body feathers at irregular intervals ranging from twice a year to once every two years. The molt is related to the breeding cycle. Molted feathers lose their color.
Coloration
Feather color varies with species, ranging from pale pink to crimson.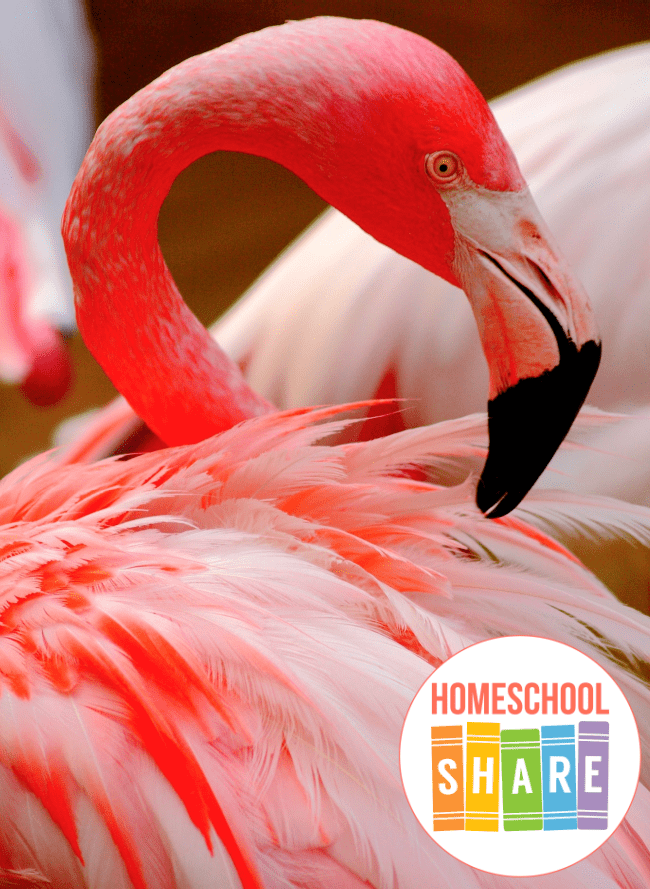 You can grab a copy of the entire Flamingo Lapbook in an easy-to-print file at the end of this post.
Flamingo Lapbook Printables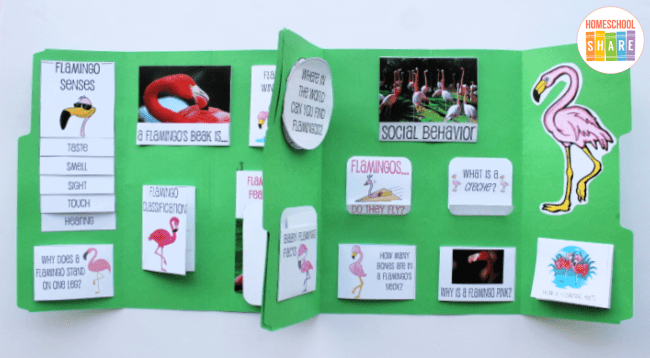 The following mini-books are included in this animal lapbook:
Why is a Flamingo Pink? Simple Fold
Why Does a Flamingo Stand on One Leg? Simple Fold
How Many Bones Are in a Flamingo's Neck? Simple Fold
Flamingo Classification Flap Book
Flamingo Beak Matchbook
What Is a Creche? Matchbook
Baby Flamingo Facts Cards & Pocket
How a Flamingo eats T-book
Flamingo Map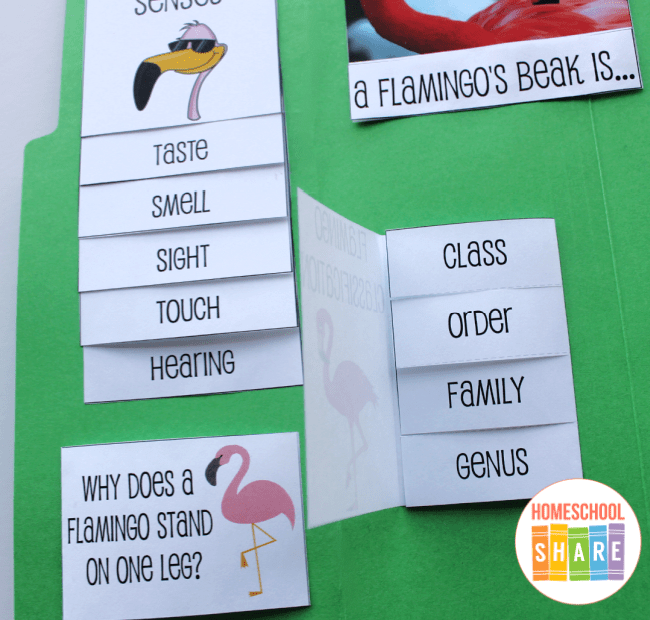 Flamingo Habitat T-book
Flamingo Senses Layer Book
Flamingo Fun Facts Bound Book
Flamingo Coloring Images
Flamingo Feather Facts Flap Book
Migration Matchbook
Do They Fly? Matchbook
Flamingo Wingspan Flap Book
Social Behavior Matchbook
Lapbook Example
This lapbook was made with two file folders. If you are new to lapbooking, check out How to Make a Lapbook.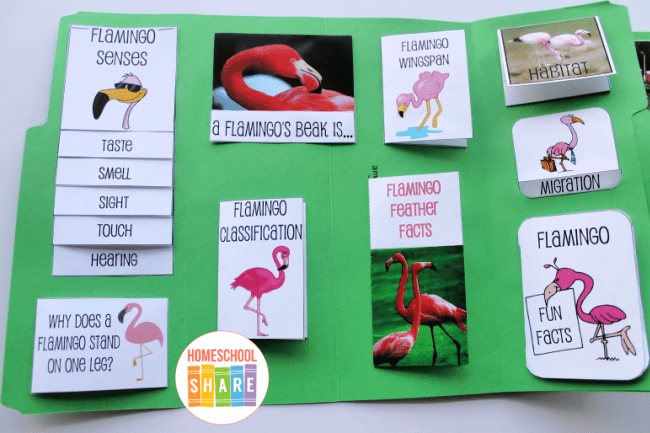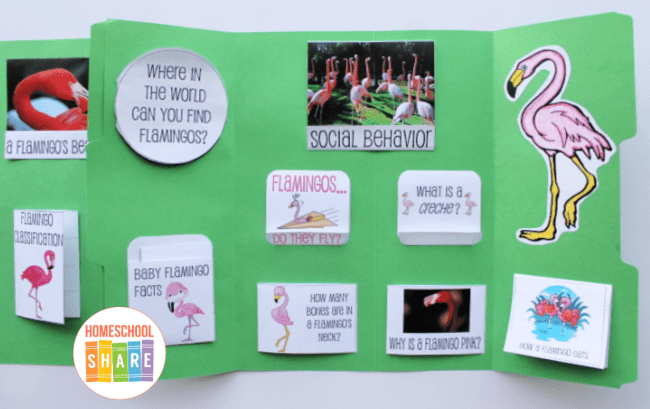 How to Get Started with Your Flamingo Lapbook
Follow these simple instructions to get started with the Flamingo Lapbook.
If you want, go to your local library and check out books about flamingoes.
Print the Flamingo Lapbook.
Choose and prepare the mini-books you want to use with your student.
Enjoy a week of reading and learning all about the tall, pink flamingo!
Download Your Flamingo Lapbook
Simply click on the image below to access your free Flamingo Lapbook.
Explore More Bird Lapbooks
Check out some of our other animal lapbooks.