Affiliate Disclaimer
We sometimes use affiliate links in our content. This won't cost you anything, but it helps us to keep the site running. Thanks for your support.
Grab this unit study and you'll receive lots of Fireboat activities based on the book by Maira Kahlman.
The John J. Harvey fireboat was the largest, fastest, shiniest fireboatof its time, but by 1995, the city didn't need old fireboats anymore. So the Harvey retired, until a group of friends decided to save it from the scrap heap. Then, one sunny September day in 2001, something so horrible happened that the whole world shook. And a call came from the fire department, asking if the Harvey could battle the roaring flames.

from Fireboat: The Heroic Adventures of the John J. Harvey at amazon.com
This inspiring store proves that old heroes never die. It is a gentle introduction to the events of 9/11, and it serves as the base for our Fireboat: The Heroic Adventures of the John J. Harvey lessons and activities.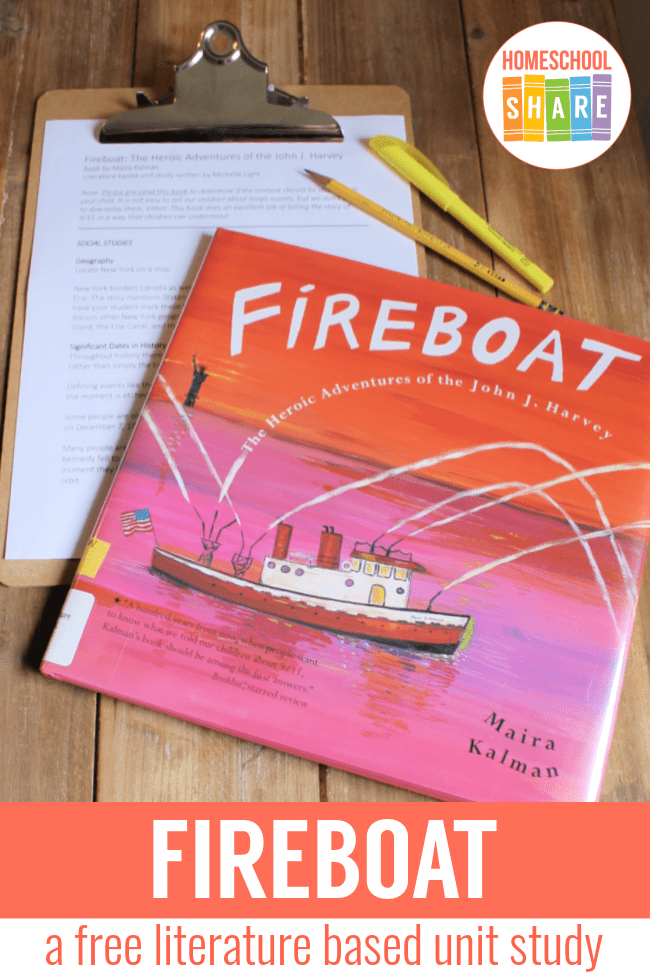 Thanks to Michelle Light for preparing this Fireboat: The Heroic Adventures of the John J. Harvey unit study for Homeschool Share.
Fireboat Activities & Lessons
Here is a sample of the lessons found in this Fireboat unit study:
Geography: New York
Locate New York on a map.
New York borders Canada as well as two of the Great Lakes: Lake Ontario and Lake Erie. The story mentions Staten Island and the Hudson River. Using an outline map, have your student mark these two geographical landmarks. You may also want to discuss other New York geography such as the Hudson River, Niagara Falls, Ellis Island, the Erie Canal, and the Adirondack Mountains.
Significant Dates in History
Throughout history there are significant dates where the actual day is remembered rather than simply the time era.
Defining events like these don't come often in one's lifetime; but, when they do, the moment is etched in one's memory–never to be forgotten.
Some people are old enough to remember the unprovoked attack on Pearl Harbor on December 7, 1941: "A day that will live in infamy."
Many people are old enough to remember where they were the day President Kennedy fell to an assassin's bullets, the day President Reagan was shot, or the moment they learned that the Space Shuttle Challenger exploded on its way to orbit.
We will forever remember the moment we saw two hijacked commercial airliners crash into the World Trade Center twin towers in New York City. September 11, 2001, will go down as another day of infamy. Discuss with your student what you were doing on this date. Perhaps you have stories from your student's grandparents about some of the other dates mentioned.
Different Types of Boats
There are many different kinds of boats! Has your student ever been in a boat? What kind of boat was it? 
Different boats are used for different jobs– large barges are used to carry cargo, small kayaks are used for sport and recreation. Other boats are used for fishing and some boats even serve as houses. Would your student like to live on a boat? Some boats are used in specific areas of the world like the Jamaican banana boat and the Chinese dragon boat.
STEM connection: Consider giving your student various materials (sponge, wood pieces, fun foam, etc.) and let her build a boat. Encourage her to keep working until it floats!
To access all of the lessons in this Fireboat unit study, grab an easy-to-print file at the end of this post.
How to Get Started with the Fireboat Book Activities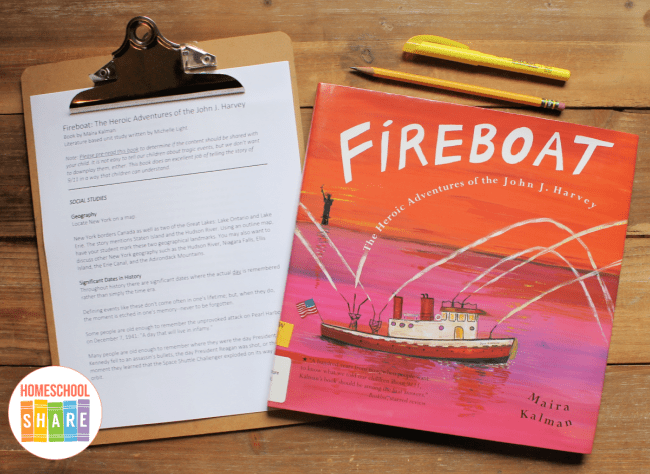 Follow these simple instructions to get started with the Fireboat unit study.
Buy a copy of the book, Fireboat, or grab one from your local library.
Print the Fireboat unit study.
Choose the lessons you want to use with your student (a highlighter works great for this).
Enjoy a week of book-based learning with your student.
Download Your Free Fireboat Unit Study Lessons
Simply click on the image below to grab the free Fireboat unit study.