Affiliate Disclaimer
We sometimes use affiliate links in our content. This won't cost you anything, but it helps us to keep the site running. Thanks for your support.
I love dragonflies! They zip, hover, and zoom around the pond all summer. Head to the pond to observe these fascinating creatures and then learn all about them with our free Dragonfly Lapbook.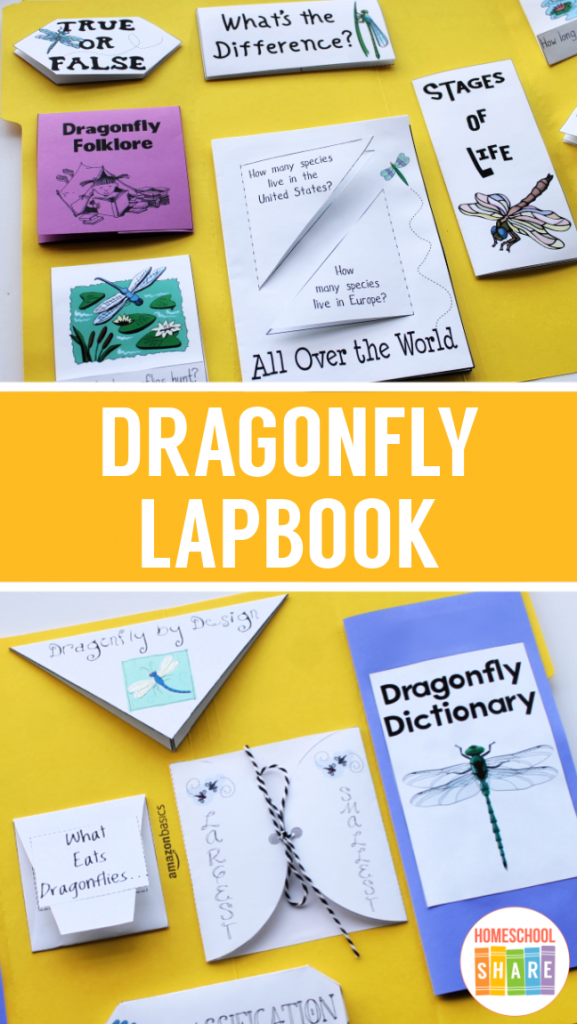 Thanks to Kelly Niles for completing the research for this Dragonfly Lapbook.
Dragonfly Lapbook Lessons
Here are some sample lessons about dragonflies that you'll find in the lapbook:
Mapping: Where Dragonflies Live in the World
Dragonflies are found on all continents except Antarctica and are concentrated in warmer, tropical habitats. There are 5,000 identified species in the world. 450 species exist in North America, while only 38 species exist in Great Britain.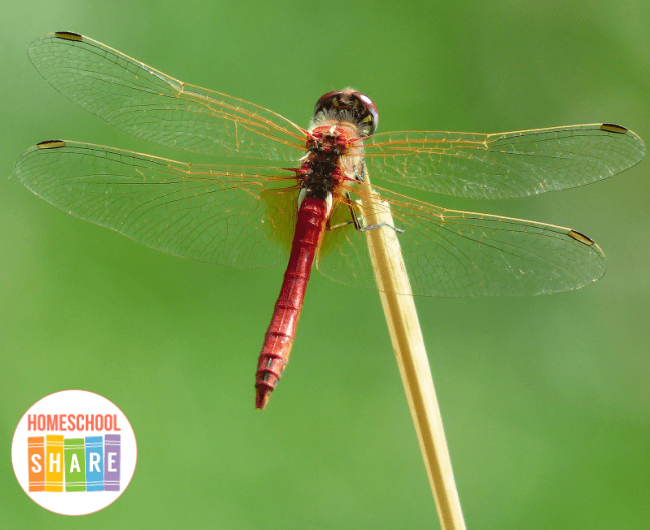 Dragonfly Habitat:
Dragonflies can be found near ponds, lakes, swamps, slow streams, pools of rivers, and any slow moving water. Most prefer fresh water, but at least one species breeds in brackish or salt water. Many species can be found in desert areas near pools of water.
Dragonfly Anatomy:
Colors-
Dragonflies come in a wide array of colors including, but not limited to, red, fuchsia, orange, blue, gold, black, emerald, maroon, as well as metallic colors.
Body-
Dragonflies have a head, thorax, and abdomen. Compound eyes, small antennae, and mouthparts are on the head. Six legs and two sets of wings are attached to the thorax. The elongated abdomen has ten segments, but varies in shape depending on species. Some may have a club-shaped abdomen or a spike on the tail. The 'pinchers' at the end of males' tails are claspers that grasp the head of a female during mating. Dragonflies do not sting, as was once commonly thought.
You can learn more about dragonflies at this website.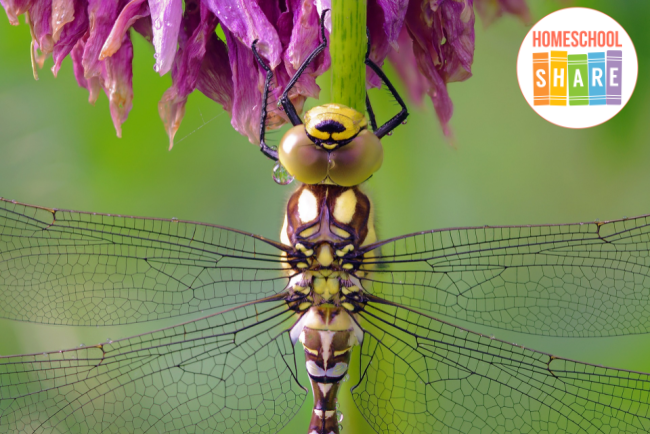 You can grab a copy of the entire Dragonfly Lapbook in an easy-to-print file at the end of this post.
Dragonfly Lapbook Printables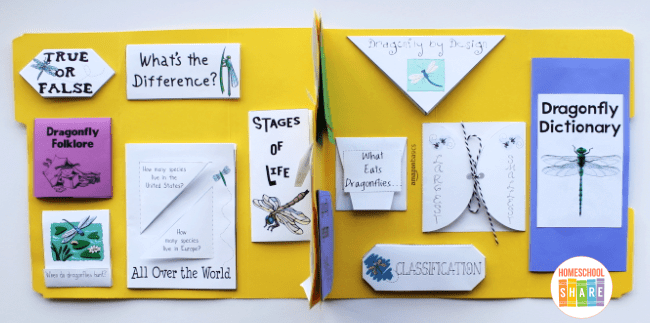 In addition to the research lessons, this animal lapbook includes these mini-books for your student to create a lapbook:
True of False? Tri-folds
Dragonfly Diet Tri-fold Book
All Over the World Window Book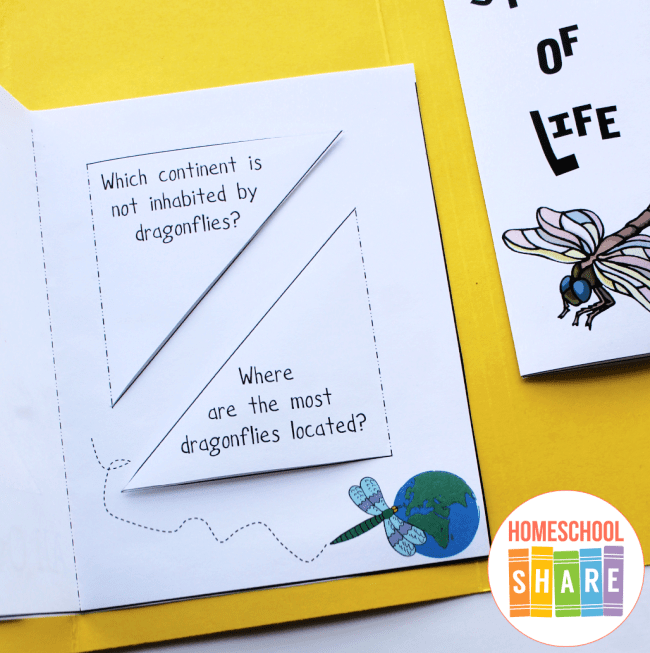 Dragonfly Stages of Life Mini-book
Dragonfly Folklore T-book
Dragonfly Classification Accordion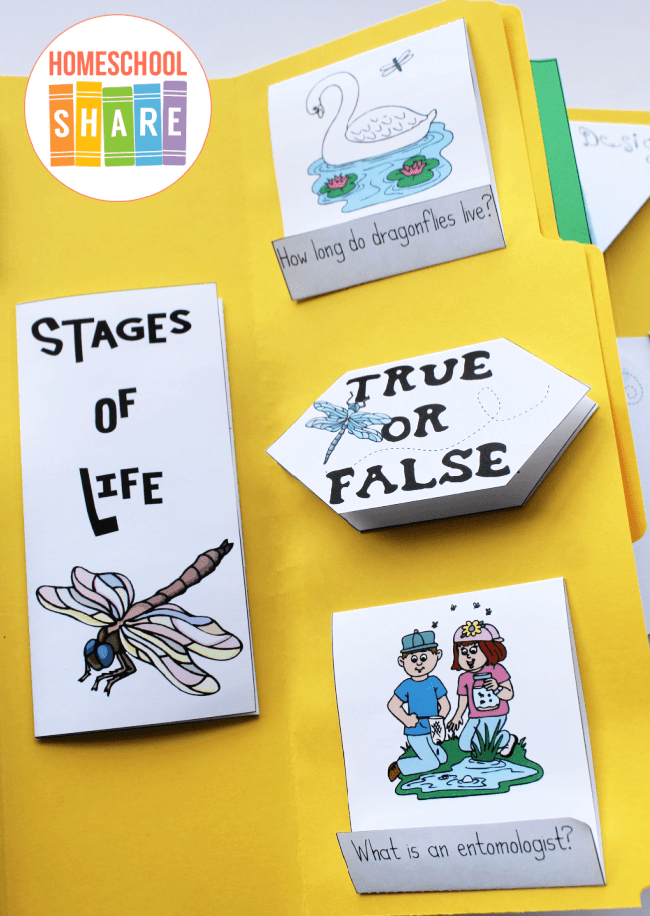 Dragonfly Diagram
Dragonfly Anatomy Envelope Fold
Dragonfly Dictionary Mini-book
And more!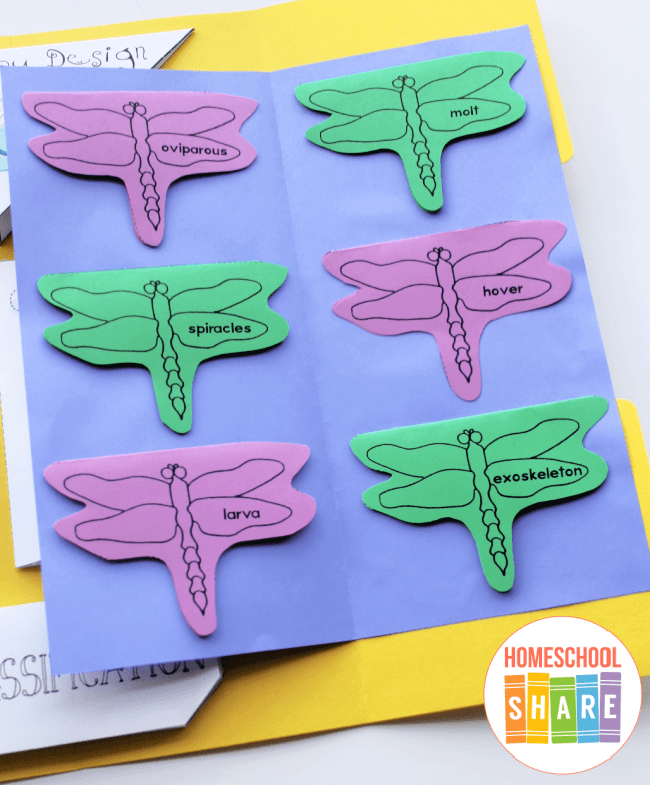 Lapbook Example
This lapbook was made with two file folders. If you are new to lapbooking, check out our How to Make a Lapbook Guide.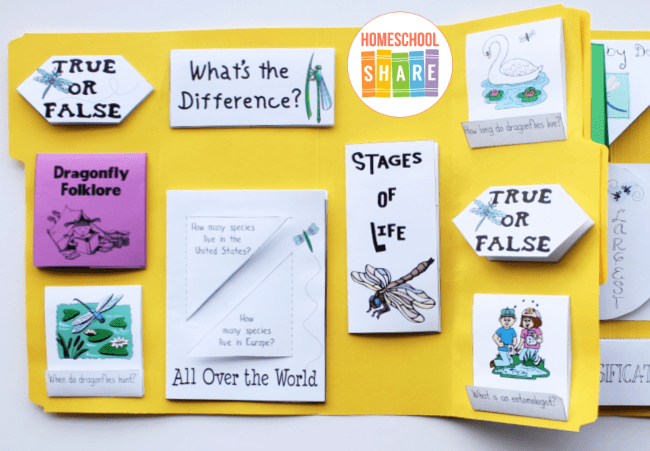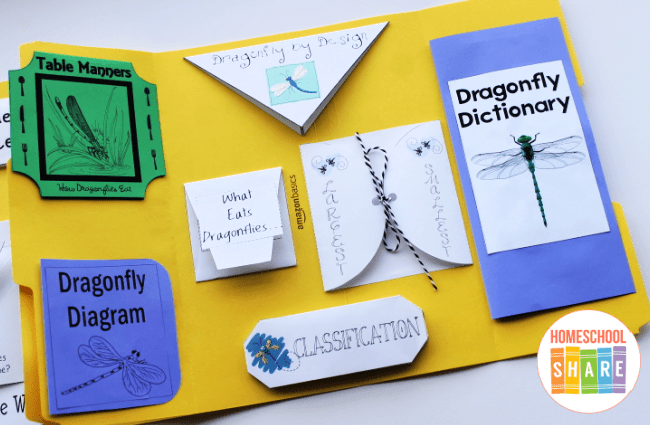 How to Get Started with Your Free Dragonfly Lapbook
Follow these simple instructions to get started with the lapbook.
If you want, go to your local library and check out books about dragonflies and damselflies.
Print the lapbook.
Choose and prepare the mini-books you want to use with your student.
Enjoy a week of reading and learning all about dragonflies.
Download Your Lapbook
Simply click on the image below to access your free Dragonfly Lapbook.
Explore More Insect Lapbooks
Find all of our animal lapbooks here.
Learn more about insects with these insect lapbooks.