Affiliate Disclaimer
We sometimes use affiliate links in our content. This won't cost you anything, but it helps us to keep the site running. Thanks for your support.
It's a bird! It's a plane! Actually, it is a bird, but it is not a plane. It's a crane!
Cranes are large, beautiful, graceful water birds. Learn all about these amazing birds with our Cranes Lapbook.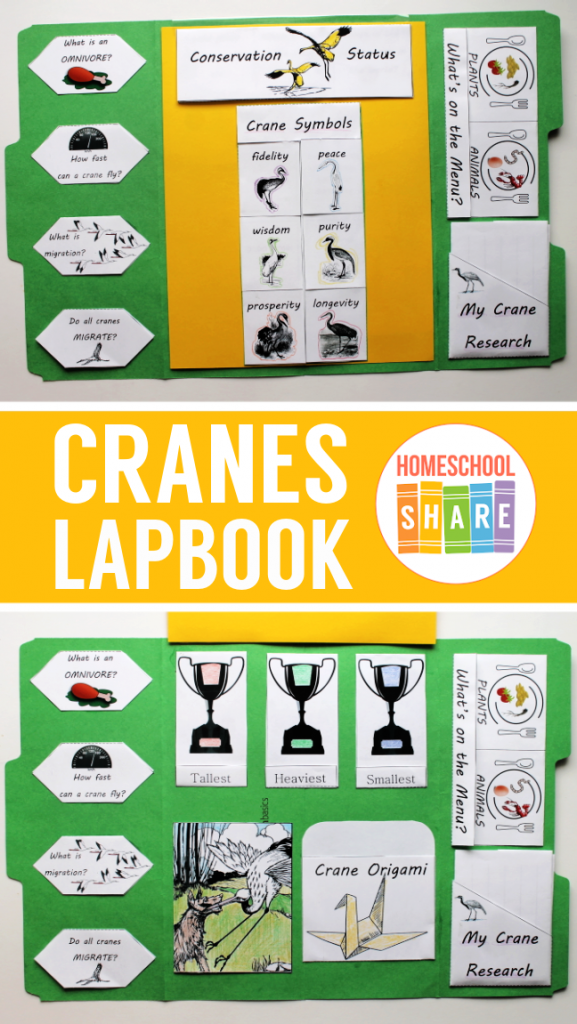 Cranes Lapbook Information
Here are some sample lessons from this animal lapbook:
Range
Cranes are found on five of the seven continents: Africa, Asia, Australian, Europe, and North America (there are no cranes in Antarctica or South America).
Crane Anatomy
Cranes come in fifteen different shapes and sizes but share these similarities:
long neck
long legs
rounded wings
pointed bill
Crane Conservation Status
Cranes are among the most vulnerable species of birds on the earth. Eleven of the fifteen species of cranes are in danger of extinction.
North America is home to the Sandhill Crane as well as the Whooping Crane; these two birds are at opposite ends of the conservation spectrum. The Sandhill Crane is the most numerous crane on the earth. The Whooping Crane, however, is the rarest of all the crane species.
Because so many cranes are endangered, they are protected by laws. There are laws about hunting cranes, moving cranes, and sometimes there are laws protecting a crane's habitat.
You can grab a copy of the entire Cranes lapbook in an easy-to-print file at the end of this post.
Cranes Lapbook Printables
The lapbook includes the following mini-books:
Crane Symbols Shutterflap Book
Where in the World Do Cranes Live? Map
What Makes a Crane a Crane? Petal Book
Tallest, Smallest, and Heaviest Matchbooks
Crane Research Page & Pocket
Conservation Status Flap Book
Interesting Facts Simple Folds Mini-book
Crane Menu Split Matchbook
Crane Origami Pocket
"The Wolf and the Crane" Summary Simple Fold
Crane Lapbook Example
This sample lapbook was made with one file folder and a piece of cardstock taped to the center section.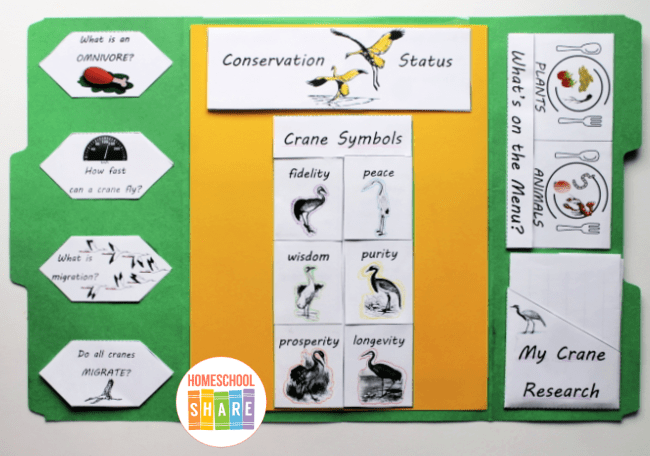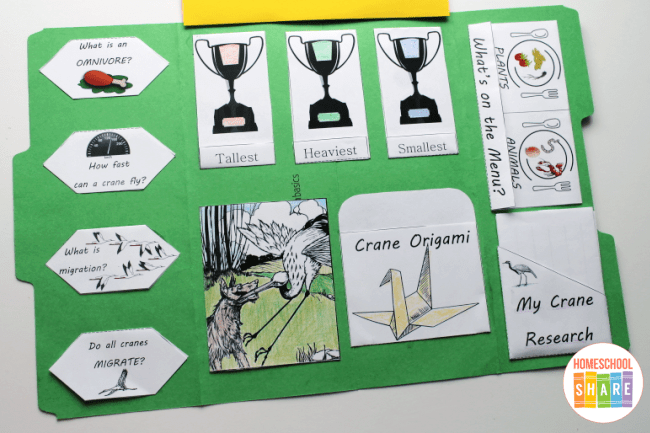 How to Get Started with Your Lapbook
Follow these simple instructions to get started with the lapbook.
If you want, go to your local library and check out books about cranes.
Print the Cranes Lapbook.
Choose and prepare the mini-books you want to use with your student.
Enjoy a week of reading and learning all about cranes.
Download Your Free Lapbook
Simply click on the image below to access your free lapbook.
Explore Our Other Bird Lapbooks
Learn more about birds with these animal lapbooks: