Affiliate Disclaimer
We sometimes use affiliate links in our content. This won't cost you anything, but it helps us to keep the site running. Thanks for your support.
Canada is the second largest country in the world, and home to amazing people, plants, and animals. Grab our free Canada Lapbook and enjoy some time traveling through this great North American country.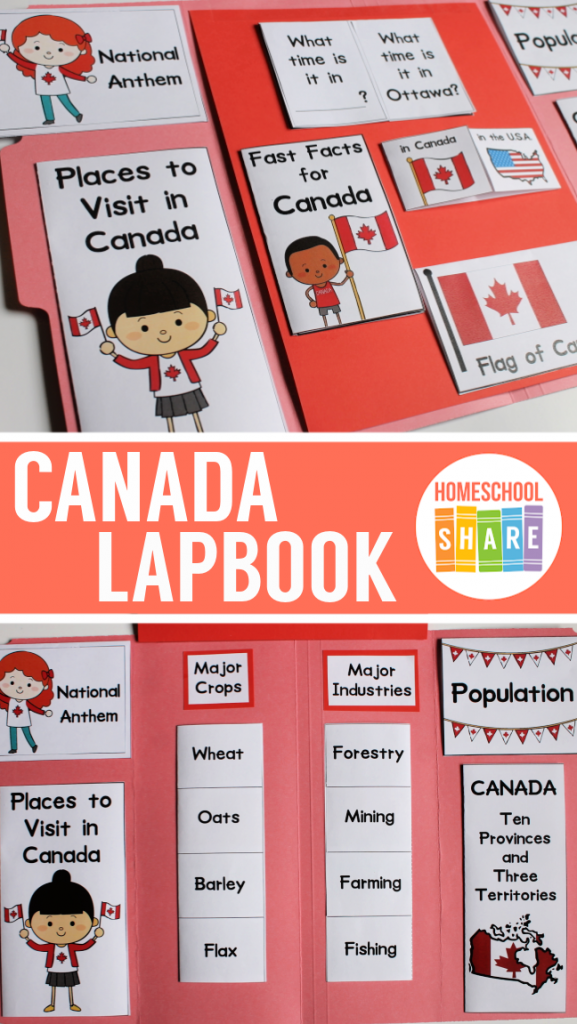 Canada Lapbook Information
With glowing hearts we see thee rise,
The True North strong and free!

From far and wide,
O Canada, we stand on guard for thee.

from "O Canada"
Official Name: Canada
Size: 35,881,659 square miles
Capital: Ottawa
Official Languages: English, French
Currency: Canadian Dollar
Climate: Canada's is a vast land with varied climates. The west coast is rainy and temperate, with temperatures averaging 45-72 throughout the year.  The area in the south (around Toronto) is typically warm and humid in the summer and cold and snowy in the winter. The climate in the north is extremely cold with snow, ice, and glaciers.
Population: For current information, use this website: Population of Countries
Comparing Times: To compare the time in the capital city to the time where you live, use this website: The World Clock
Places to Visit in Canada: Your student will need to research places to visit in Canada in order to complete the mini-book.
Animals in Canada: Read through the information on the cards provided. If your older student wants to write out her own facts, simply print the photo cards (not the information cards) and let her research and write her own facts on the back of each card.
National Anthem: Read through the words of the national anthem together. Compare and contrast it with your country's national anthem.
Make a Salt Dough Map: Add to your Canada study by making a salt dough map of Canada.
National Geographic Site: National Geographic has an amazing Canada site for your student to explore.
Lapbook Sample
Here is a Canada Lapbook example to help you with ideas for your own Canada Lapbook. This sample lapbook was made with one file folder and one center extension (a piece of cardstock taped to the center section).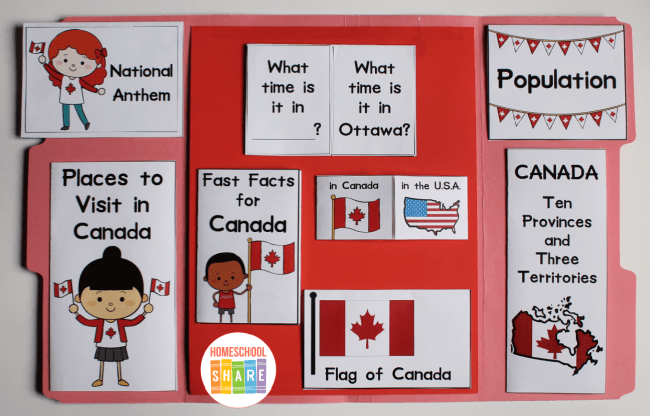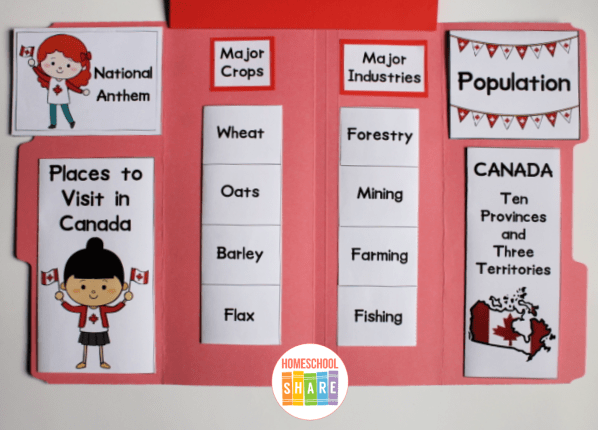 How to Get Started with Your Canada Lapbook
Follow these simple instructions to get started with the Canada Lapbook.
If you want, go to your local library and check out books about Canada. Children Just Like Me features a day in the life of Lauryn, a girl from Canada.
Print the Canada Lapbook.
Choose and prepare the lapbook mini-books you want to use with your student.
Enjoy a week of reading and learning all about Canada.
Download Your Free Canada Lapbook
Use the form below to subscribe to the newsletter. Once you confirm, you'll receive an email with the link to the lapbook. If you are already confirmed, simply enter your name and email address below, and you will receive an email with the link.
Explore Our Resources for Canada
Here are some other unit studies and lapbooks featuring Canada as the setting.
If you are looking for additional country lapbooks, try our geography lapbook index.