Affiliate Disclaimer
We sometimes use affiliate links in our content. This won't cost you anything, but it helps us to keep the site running. Thanks for your support.
Are you planning a family camping trip and hoping to add a few fun, educational things for your crew? Try our Camping Scavenger Hunt for Kids.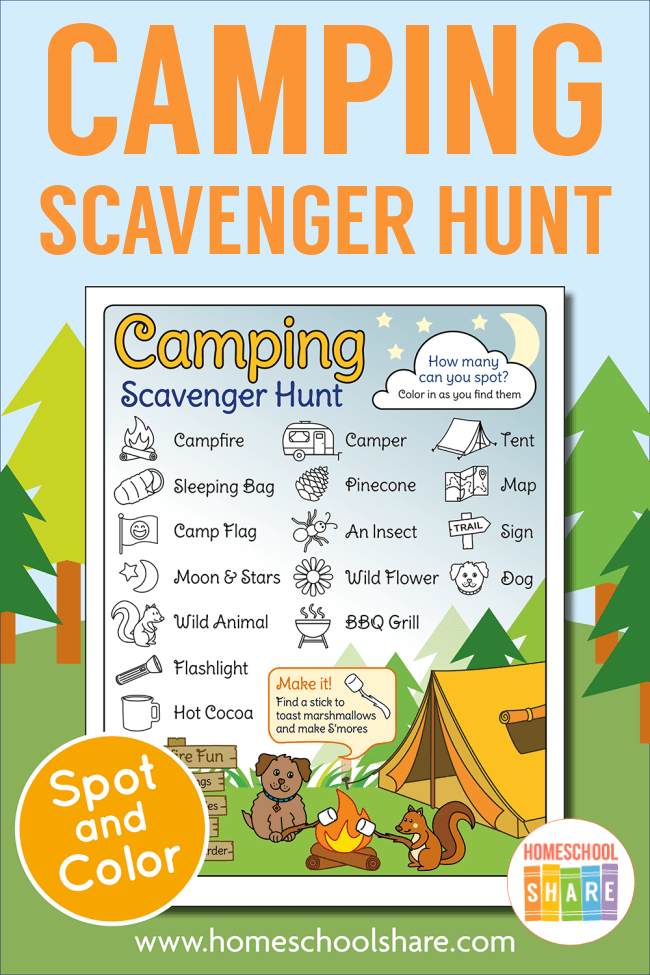 If you would like to browse all of our printable scavenger hunts, try our Scavenger Hunts for Kids page where you'll find a variety of indoor and outdoor scavenger hunts.
Items You Will Look for with the Camping Scavenger Hunt for Kids
Your student will search your campsite and the campgrounds for these items:
Campfire
Sleeping Bag
Camp Flag
Moon and Stars
Wild Animal (maybe a squirrel, chipmunk, or raccoon)
Flashlight
Hot Cocoa
Camper
Pinecone
An Insect
Wild Flower
BBQ Grill
Tent
Map
Sign
Dog
As your student locates each item, have her color it on the printable page provided.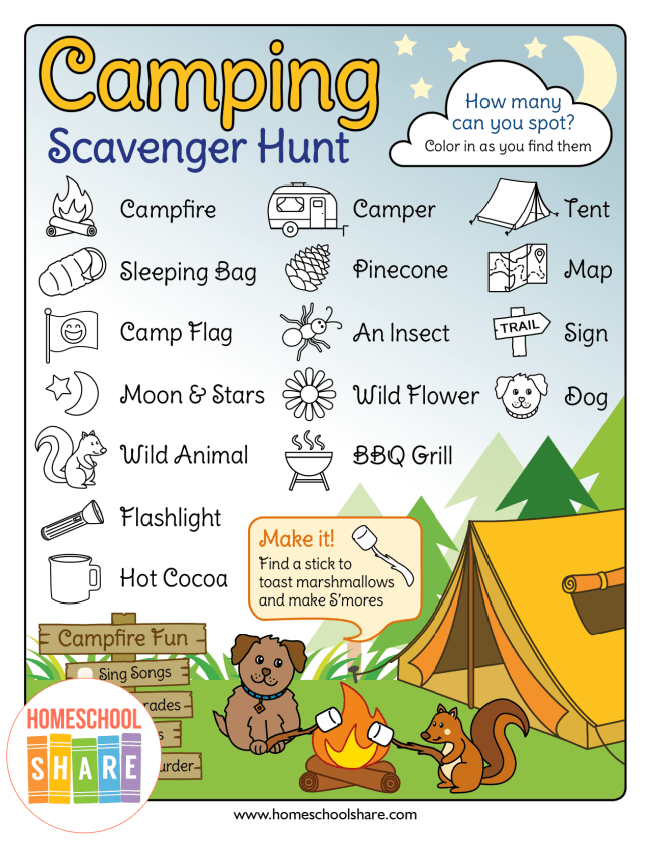 For extra fun, complete the Campfire Fun checklist:
Sing Songs
Play Charades
Tell Stories
Play Wink Murder
Make S'mores
Benefits of the Scavenger Hunt for Camping
This printable camping scavenger hunt is great as a go-along with your camping theme. It provides many benefits for your student.
Scavenger hunts boost observation skills. As your child looks for objects, she will develop better observation skills.
Scavenger hunts require movements; this promotes gross motor development.
A scavenger hunt can provide safe sensory input for your student (feel the flower petals, taste the sweet S'more, smell the campfire, listen to the grill sizzle, etc.)
If you work on the scavenger hunt as a team, it will promote cooperation and social skills development.
Grab Your Free Camping Scavenger Hunt for Kids
Grab the fun camping scavenger hunt for camping by clicking on the image below.
More Scavenger Hunts for Kids
If your kids like this scavenger hunt for camping, you might want to try these other outdoor scavenger hunts.