Affiliate Disclaimer
We sometimes use affiliate links in our content. This won't cost you anything, but it helps us to keep the site running. Thanks for your support.
This free butterfly lapbook study covers many science concepts that are perfect for your elementary student–caterpillar diet, butterfly diet, butterfly lifecycle, pollination, butterfly defenses and predators, butterfly anatomy, moths, symmetry, and more.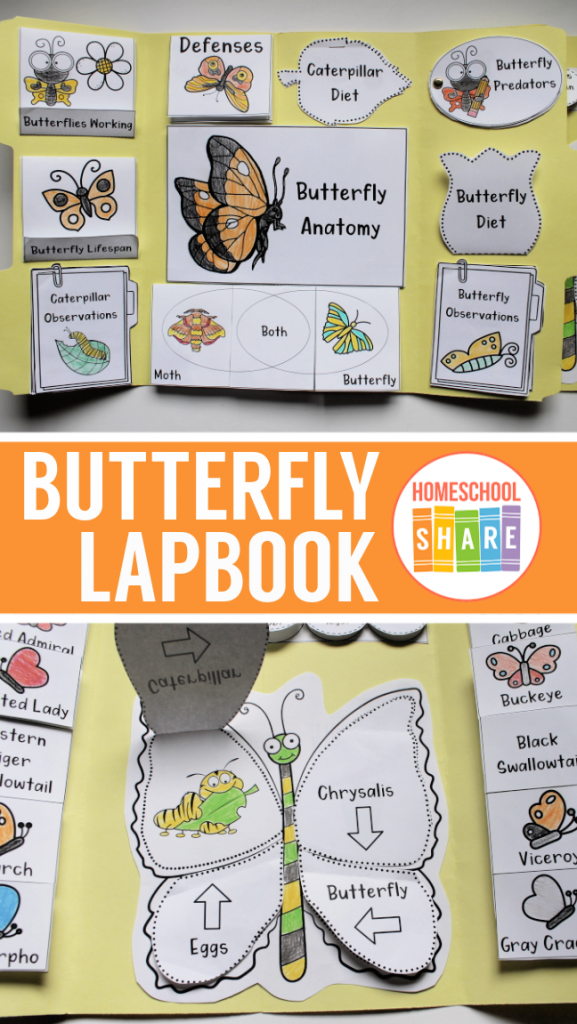 Thanks to Molly Boulter for her hard work on this animal lapbook.
Butterfly Lapbook Lessons
Here are some sample lessons from the Butterfly Lapbook:
Caterpillar Diet
A mother butterfly will lay her eggs right on the kind of leaf they like to eat. Caterpillars eat leaves and grow quickly until they are big enough to become a butterfly.

More About Caterpillars
A newly hatched caterpillar, a larva, is tiny. Most can only crawl about three feet per minute, so they hide under leaves. Caterpillars eat and eat and eat! They spend about one month eating; they also molt (shed their skin) during this time.

Caterpillars usually have 16 legs. They don't have nose, and they breathe through holes in their backs; these holes are called spiracles.

Butterfly Diet
Butterflies like to eat nectar and rotting fruit. They use their long proboscis to sip the liquids like a straw. Lapbook Component: Butterfly Diet Flower Shape Book

Butterfly Life Span
Adult butterflies can live from a few days up to a few weeks.

Butterflies Working: Pollination
A butterfly is a hard worker. Her job is to spread pollen from flower to flower. When she lands to drink the nectar, pollen will stick to her legs and body, waiting to be carried to the next flower.
To access all of the lessons in this Butterfly Lapbook, subscribe to Homeschool Share's email list using the form in this post.
Butterfly Lapbook Printables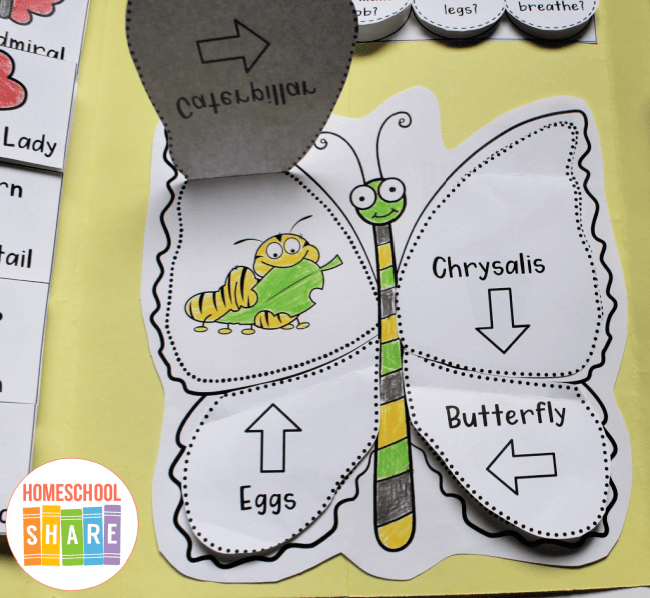 In addition to the research lessons, the file includes these mini-books for your student to create a Butterfly Lapbook:
Butterfly Life Cycle Flap Book
Butterfly Predators Fan Book
Butterfly Diet Flower Shape Book
Caterpillar Diet Shape Book
Butterfly Defenses T-book
Butterfly Math Book
Butterfly Observations Mini-book
Butterfly vs. Moth Venn Diagram Book
Types of Butterflies Flap Books
Butterfly Diagram
Caterpillar Anatomy
And more!
Butterfly Book List
As you work through the lessons, read some of these great butterfly books with your student.
Lapbook Sample
Here is a sample lapbook. This sample uses two file folders.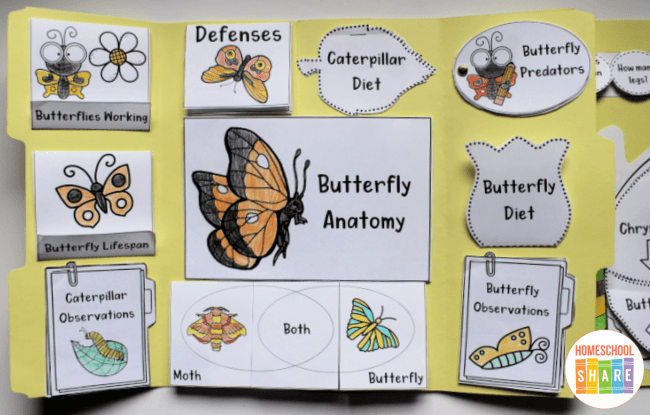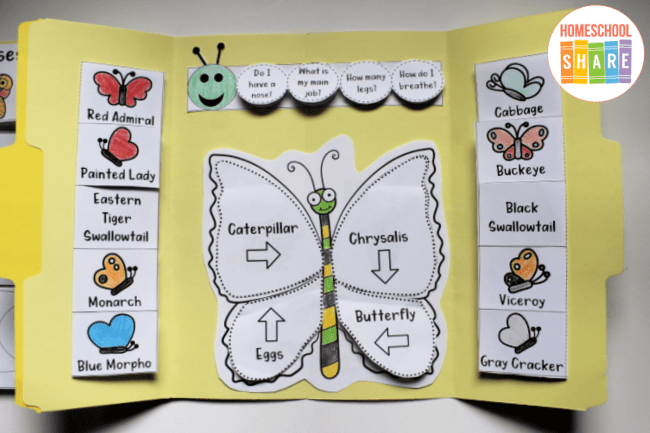 How to Get Started with Your Free Butterfly Lapbook
Follow these simple instructions to get started with the Butterfly Lapbook.
If you want, go to your local library and check out books about butterflies and moths.
Print the Butterfly Lapbook.
Choose and prepare the mini-books you want to use with your student.
Enjoy a week of reading and learning all about wonderful butterflies!
Download Your Butterfly Lapbook
Use the form below to subscribe to the newsletter. Once you confirm, you'll receive an email with the link to the lapbook. If you are already confirmed, simply enter your name and email address below, and you will receive an email with the link.
Explore These Related Resources