Affiliate Disclaimer
We sometimes use affiliate links in our content. This won't cost you anything, but it helps us to keep the site running. Thanks for your support.
What is a bear? Where do they live? What do they eat? Find out the answers to these questions and learn even more about these big, furry creatures with our Bears Lapbook.
Thanks to Kelly Niles and Molly Boulter for working together to create this animal lapbook.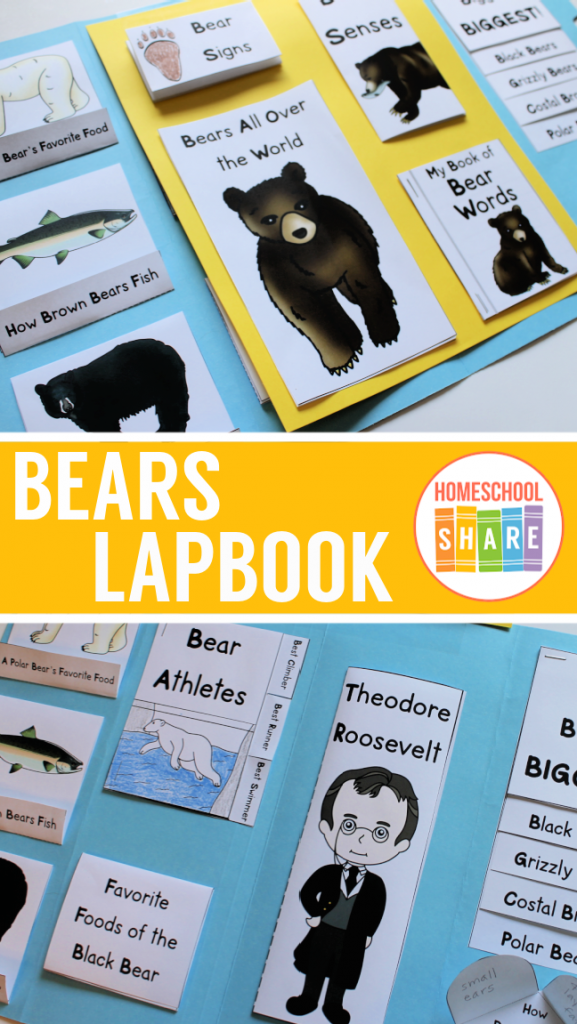 Bears Lapbook Lessons
Here are some sample lessons from the Bears Lapbook.
Bear Habitats
Bears are not found in Antarctica, Australia, or Africa. It is believed that bears in North America migrated from Asia. Bears are intelligent and adaptable and can learn to live in a variety of habitats. There are three kinds of bears in North America: black bears, brown bears, and polar bears.
Black Bears– the most common bear in North America. Of the bears we'll be discussing, it is the only bear that can be found only in North America as brown bears and polar bears can also be found in Europe and Asia. Black bears once lived in every state in the lower 48 states. Now they live in thickly wooded areas across Alaska and Canada, throughout the western United Sates and into Mexico, around the Great Lakes area, in pocketed areas along the eastern and southern coasts of the United States, along the Appalachian Mountains in the east, and also in the Ozark Mountains in Arkansas. In recent years, confirmed sightings of black bears have occurred in the Piney Woods of East Texas (my home state!).
Brown Bears-once lived throughout most of North America. All brown bears are the same species; subspecies live in different areas. Grizzly bears live in the interior of the Western United States, Alaska, and Canada. Grizzlies are endangered in the Western United States, living only in National Parks in Washington, Idaho, Montana, and Wyoming. They are more plentiful in Canada and Alaska. Alaskan brown bears live along Alaska's coasts, and Kodiak bears live on Kodiak Island, in Alaska. Coastal brown bears are often called 'brownies'. Brown bears live in forested areas in mountainous regions. They prefer open meadows, river valleys, and plains.Polar Bears– live in the northernmost parts of Alaska and Canada near the Arctic and North Atlantic oceans. Polar Bears live on the frozen sea ice in winter and on land in summer. The southernmost polar bears in the world live in the Hudson Bay area of northeastern Canada.
Bear Life Cycle
All bears can live 20 years or more in the wild and longer in captivity. Age can be determined by counting the rings in a tooth, just like a tree. Bears are mammals and give birth to live young. Cubs are born in winter and weigh only one pound or less. Sows wake up to clean their cubs and to make sure the cubs are nursing. Cubs weigh 12-15 pounds when they emerge from their dens in spring. Cubs are helpless when they are born and are covered with fine hair, their eyes are closed, their ears lie flat, and they have no teeth. They nurse and sleep their first two months. Baby bears have blue eyes at birth, which darken as they grow. Cubs learn by watching and imitating their mothers. Boars have no part in raising their cubs, and are often a danger to cubs. Bear cubs are playful and curious. Sows discipline cubs by swatting them with their paws.
To access all of the lessons in this Bears Lapbook, subscribe to Homeschool Share's email list using the form in this post.
Bears Lapbook Printables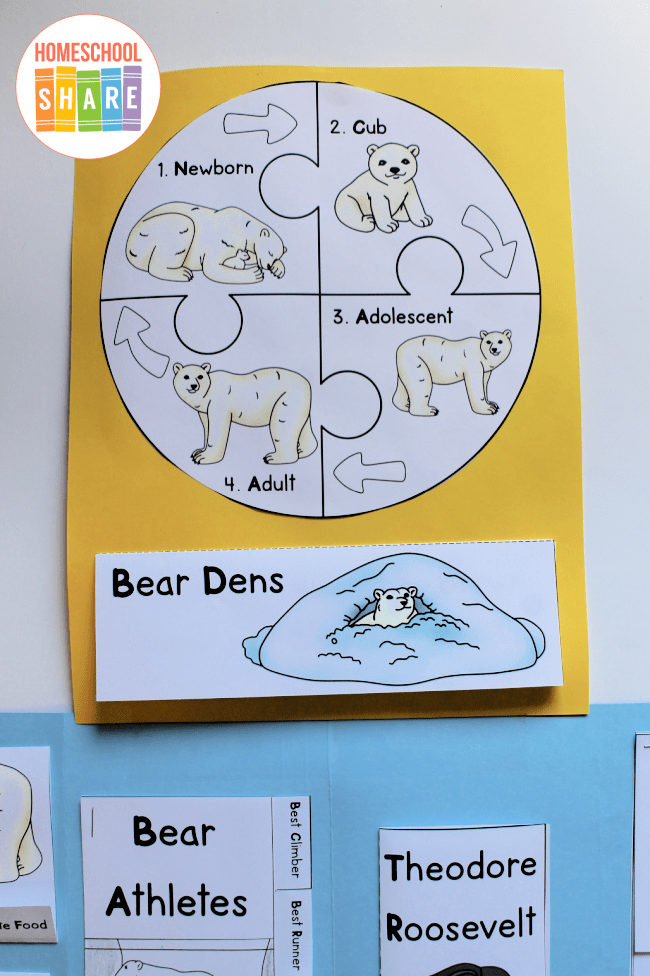 In addition to the research lessons, the file includes these mini-books for your student to create a Bears Lapbook:
My Book of Bear Words
Bear Dens (includes polar bears, black bears, and brown bears)
Teddy Bear Simple Fold Book
Bear Signs Accordion
A Polar Bear's Favorite Food Matchbook
How Brown Bears Fish Matchbook
Do Bears Hibernate? Matchbook
Why Do Bears Hibernate? Matchbook
Favorite Foods of the Black Bear T-book
Bear Senses Tri-fold
Theodore Roosevelt Side by Side Book
Bear World Map
Big, Bigger, Biggest! Layer Book
Bear Athletes Tab Book
How Do Polar Bears Stay Warm? Petal Book
Polar Bear Life Cycle Puzzle
Bears Lapbook Sample
Here is a sample Bears Lapbook to get your creative juices flowing! Not every mini-book was used in this sample. Please pick and choose the mini-books that are best for your student.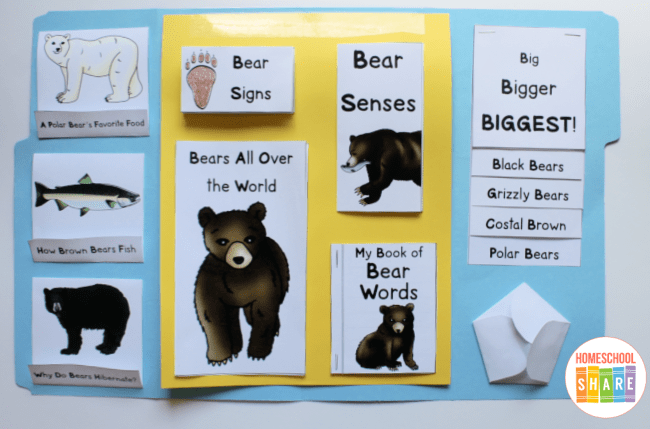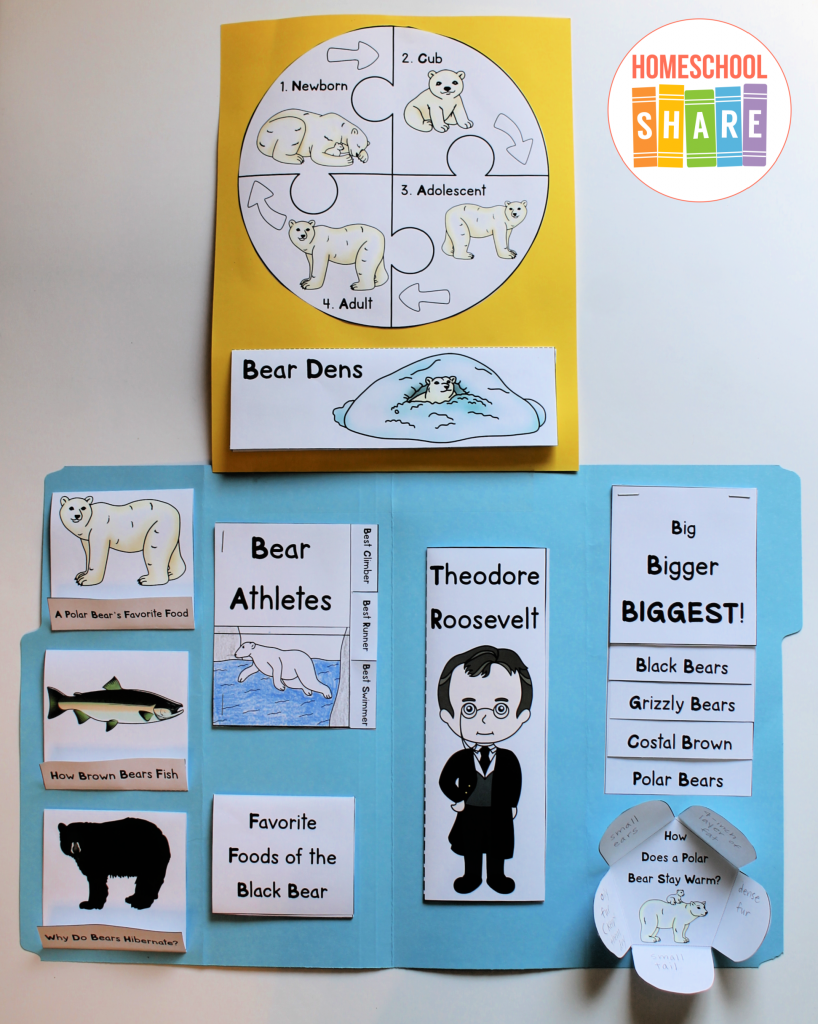 How to Get Started with Your Bears Lapbook
Follow these simple instructions to get started with the Bears Lapbook.
If you want, go to your local library and check out books about bears (brown bears, black bears, polar bears, etc.).
Print the Bears Lapbook.
Choose and prepare the mini-books you want to use with your student.
Enjoy a week of reading and learning all about bears!
Download Your Free Bears Lapbook
Use the form below to subscribe to the newsletter. Once you confirm, you'll receive an email with the link to the lapbook. If you are already confirmed, simply enter your name and email address below, and you will receive an email with the link.
Learn More About Bears