Affiliate Disclaimer
We sometimes use affiliate links in our content. This won't cost you anything, but it helps us to keep the site running. Thanks for your support.
This literature based unit study includes lessons and activities based on the book America's White Table by Margot Theis Raven.
The White Table is set in many mess halls as a symbol for and remembrance to service members fallen, missing, or held captive in the line of duty. Solitary and solemn, it is the table where no one will ever sit. As a special gift to her Uncle John, Katie and her sisters are asked to help set the white table for dinner. As their mother explains the significance of each item placed on the table Katie comes to understand and appreciate the depth of sacrifice that her uncle, and each member of the Armed Forces and their families, may be called to give.
Teach your children the significance of Veterans Day, Memorial Day, and give them an appreciation for the armed forces with this free America's White Table unit study.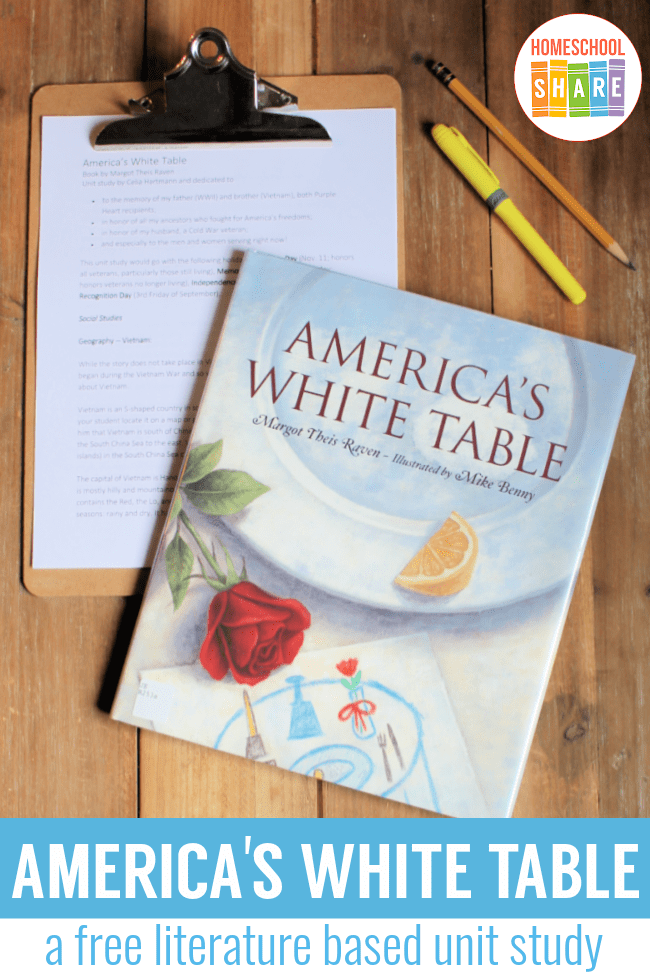 Thanks to Celia Hartmann for preparing this America's White Table unit study.
America's White Table Unit Study Lessons
Here is a sample of the lessons found in this America's White Table unit study:
Holidays – Veterans Day
Veterans Day is a day set aside to honor and thank all men and women who are serving or have served in military, whether during war time or during a time of peace. It is mainly for men and women who are living, to recognize that while they did not die in the line of duty, they too sacrificed much for our freedom. We often also take this time to honor and remember those military men and women who have died. (Though Memorial Day is when we really honor the memory of those military men and women who died in the line of duty or as a result of wounds sustained during active duty.)

Near the end of World War I, which was also known as "The Great War," the fighting troops (the Allied Nations and Germany) agreed temporarily stop fighting one another. When two enemies agree to stop fighting it is called an armistice. The governments of those fighting will later sign a peace treaty to formally stop the war. The World War I armistice went into effect the 11th hour of the 11th day of the 11th month….11:00 a.m. November 11, 1918. This day became known as Armistice Day. The following year, President Wilson proclaimed the first Veterans Day (November 11, 1919) with the following words:

To us in America, the reflections of Armistice Day will be filled with solemn pride in the heroism of those who died in the country's service and with gratitude for the victory, both because of the thing from which it has freed us and because of the opportunity it has given America to show her sympathy with peace and justice in the councils of the nations…

And so each year, on Veterans Day, we thank those we know who served in the military. We tell them how much we appreciate that they served so that we can continue to live with freedoms few other countries have.
Social Studies: Branches of the United States Military
Can your student name any of the five branches of the American military? Four of them were mentioned in the story. The five branches are: Army, Navy, Air Force, Marine Corps, and Coast Guard. Collectively these are known as our Armed Forces. All these different branches help keep us safe and protect our freedoms every day. During times of war, they help defend. During times of peace, they help keep the peace. During times of trouble (like earthquakes, famines, etc.), they provide help to the people of the area affected. The Army does this over land, the Navy over the sea, the Air Force from the air. The Marines are a separate division of the Navy and fight on land or sea. The Coast Guard helps to protect (or guard) our coast lines.
You can grab a copy of the entire America's White Table unit study in an easy-to-print file at the end of this post.
Veterans Day Printables
This unit study also includes a few printables for your student to complete as you work your way through learning about Veterans Day.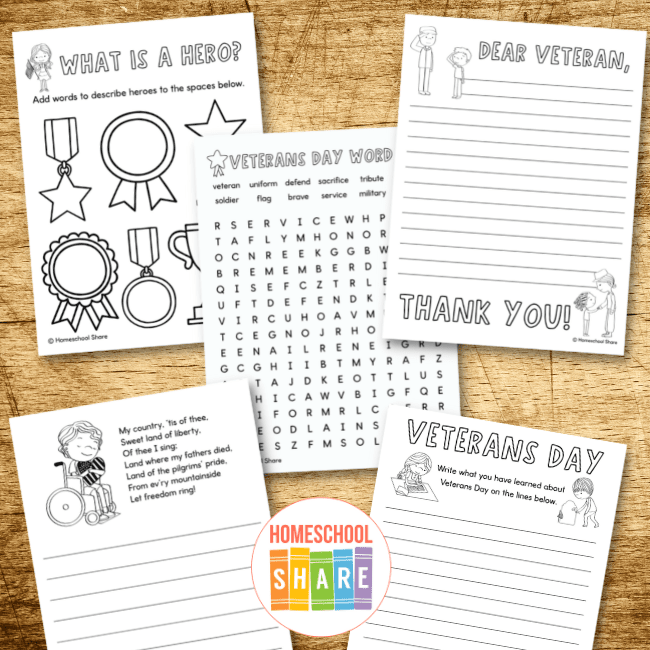 What Is a Hero? Printable Page
Write a Veteran a Letter Stationery Page
My Country 'Tis of Thee Copywork Page
What I've Learned About Veterans Day
Veterans Day Word Find
How to Get Started with the America's White Table Unit Study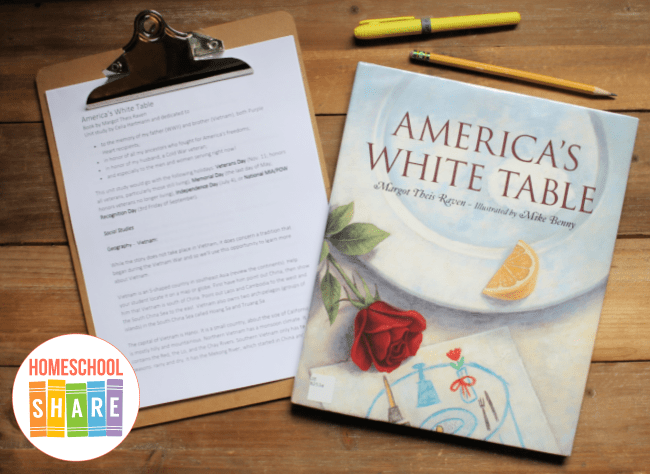 Follow these simple instructions to get started with the America's White Table unit study:
Buy a copy of the book, America's White Table, or grab one from your local library.
Print the America's White Table unit study.
Choose the lessons you want to use with your student (a highlighter works great for this).
Enjoy a week of book-based learning with your student.
Download Your America's White Table Unit Study
Simply click on the image below to grab the free America's White Table unit study.
More Literature Based Unit Studies for Your Student