Affiliate Disclaimer
We sometimes use affiliate links in our content. This won't cost you anything, but it helps us to keep the site running. Thanks for your support.
How big is the biggest shark? What do they eat? Are sharks as scary as they seem? Find out the answers to these questions (and more!) with our free Sharks Lapbook.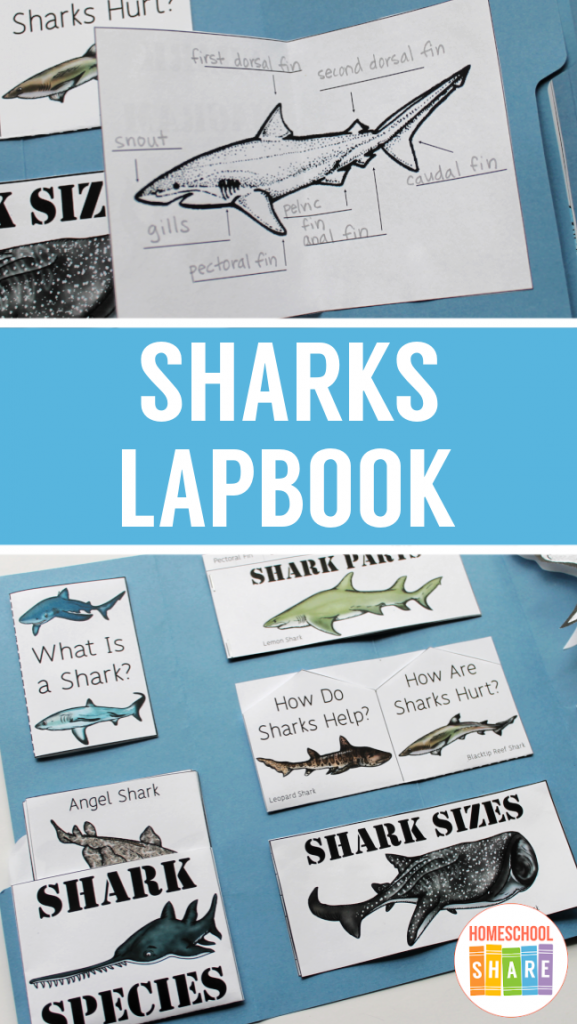 Thanks to Lynn Pitts for writing the research for this lapbook.
Sharks Lapbook Lessons
Here are some sample lessons from the Sharks Lapbook:
What Are Sharks?
Sharks are fish. They are one of the fastest fish in the sea. Most fish are cold-blooded. Their body temperature changes with the temperature of the water around them. Fish breathe with organs called gills. Sharks do not have bones. Their skeletons are made entirely of cartilage, which is lighter and more flexible than bone.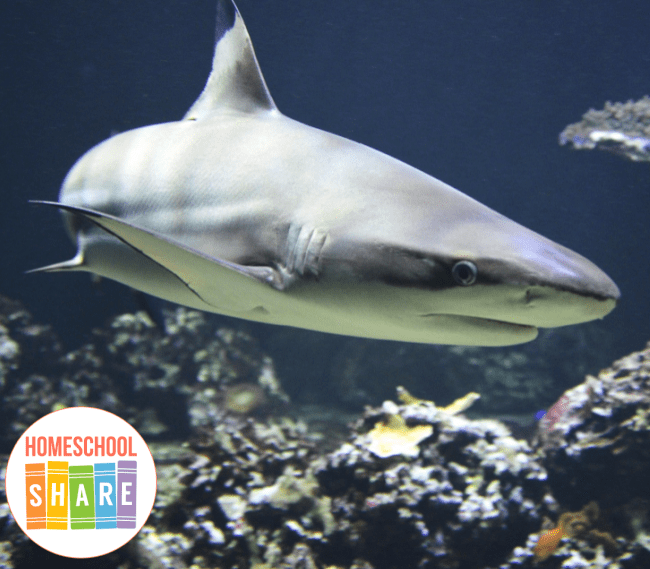 Shark Vocabulary
Cartilage: Rubbery material that forms the skeleton of a shark.
Denticles: Small, stiff, thorny scales that make up a shark's rough skin.
Gill: Part of a fish's body that allows it to breathe oxygen. They breathe in oxygen from the water and release carbon dioxide.
Pup: A baby shark.
Predator: An animal that hunts other animals.
Prey: An animal hunted by another for food.
School: A group of fish.
Shark Sizes
There are more than 250 species of sharks.
Nine most familiar sharks and their sizes:
Mako Shark- Length: 13 feet
Bull Shark- Length: 12 feet
Leopard Shark- Length: 7 feet
Whale Shark- Length: 60 feet
Great White Shark- Length: 24 feet
Great Hammerhead Shark- Length: 20 feet
Nurse Shark- Length:14 feet
Tiger Shark- Length: 24 feet
Thresher Shark- Length: 20 feet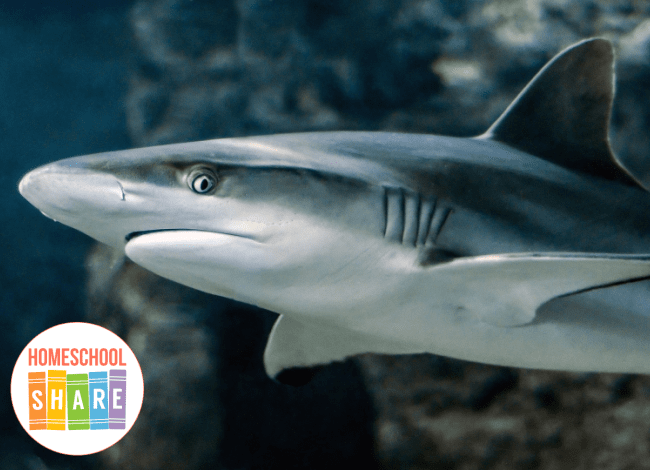 There are four categories of sharks:
Requiem Sharks:
This is the largest family of sharks. It includes: Tiger, Blue, Leopard, Bull, Blacktip, Lemon, and Whitetip Sharks.
Mackerel Sharks:
This is the second largest family of sharks. It includes: Great white, mako, and porbeagle sharks.
Hammerhead Sharks:
The third largest family of sharks includes: Bonnethead, Scalloped Hammerhead, and Great Hammerhead Sharks.
Carpet Sharks:
This large family includes: Nurse, Whale, and a wide variety of Carpet Sharks.
You can grab a copy of the entire Sharks Lapbook in an easy-to-print file at the end of this post.
Sharks Lapbook Printables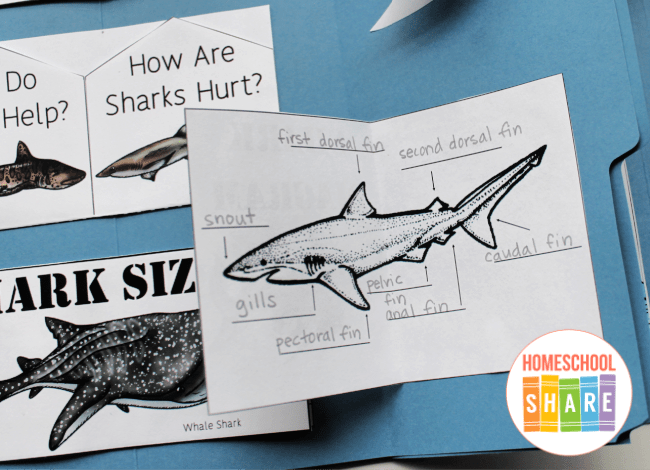 In addition to the research lessons, the file includes these mini-books for your student to create a Shark Lapbook:
New Words Shark Shapes
Shark Safety File Folders
Shocking Shark Facts Mini-book
What Is a Shark? Simple Fold Book
Shark Species Cards & Pocket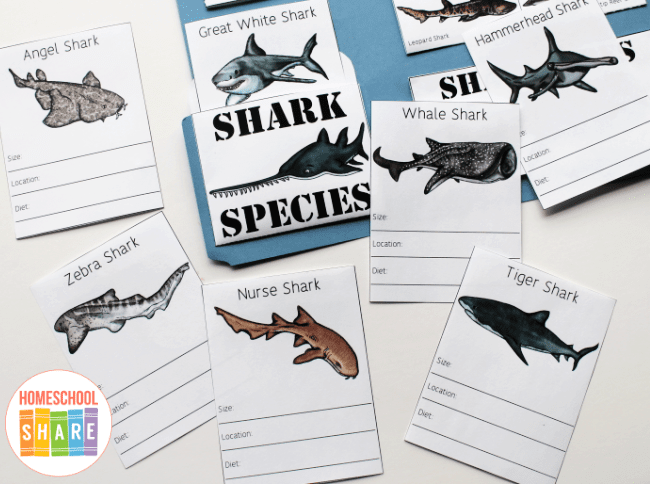 How Do Sharks Help? & How Are Sharks Hurt? Flap Book
Where Do Sharks Live? Pop-up Book
All in the Shark Family Envelope Fold Book
Shark Sizes Graph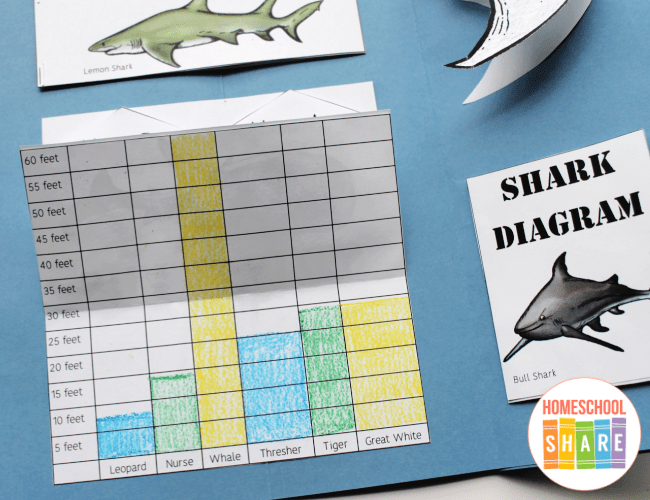 Sense-ational Hunters (Shark Senses) Flap Book
Relatives Matchbook
Diet Matchbook
Shark Diagram Mini-book
Shark Babies Mini-book
Book Log Hotdog Book
Shark Parts Tab Book
Shark Teeth Shape Book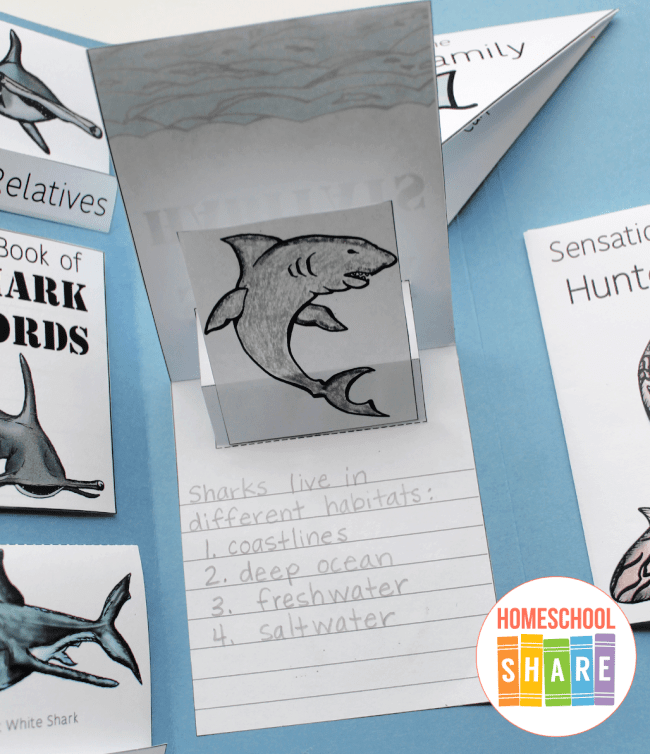 How to Get Started with Your Shark Lapbook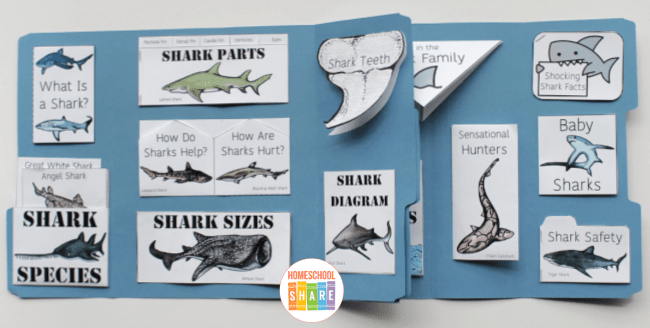 Follow these simple instructions to get started with the Sharks Lapbook.
If you want, go to your local library and check out books about sharks.
Print the Sharks Lapbook. You can choose between two versions: the black and white version or the full color version.
Choose and prepare the mini-books you want to use with your student.
Enjoy a week of reading and learning all about sharks!
Lapbook Example
This lapbook was made with two file folders glued together. If you are new to lapbooking, check out this How to Make a Lapbook ultimate guide.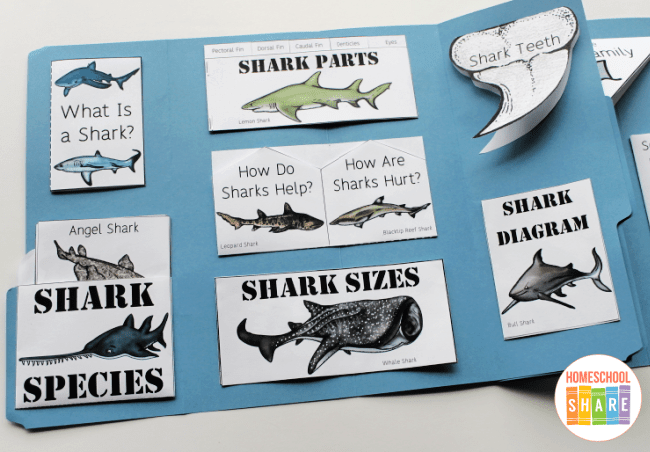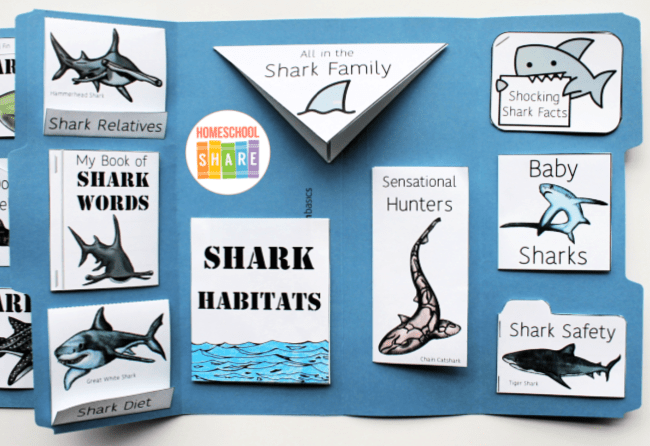 Download Your Free Sharks Lapbook
To access the Shark Lapbook, subscribe to Homeschool Share's email list by using the form below.
Learn About Other Ocean Animals
Try another animal lapbook and learn more about ocean animals.