Affiliate Disclaimer
We sometimes use affiliate links in our content. This won't cost you anything, but it helps us to keep the site running. Thanks for your support.
Sea turtles are fascinating creatures. Enjoy learning all about sea turtle diets, predators, nesting habits, life cycle, anatomy, and more with our free Sea Turtle Lapbook.
Thanks to Tina Franks for collaborating to create this Sea Turtle Lapbook.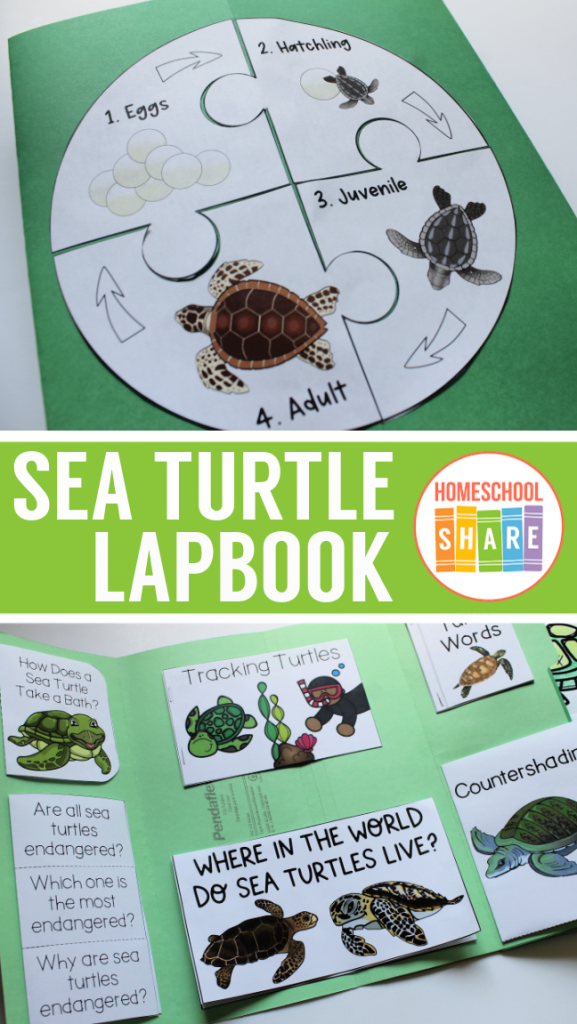 Sea Turtle Lapbook Lessons
Here are some sample lessons from the Sea Turtle Lapbook:
Sea Turtle Facts
You can't really tell how old a turtle is just by looking at it. If the turtle was tagged with a living tag, you'd know for sure. But scientists have discovered that you can also discover a turtle's age from its bones. Just like tree trunks, you can determine a turtle's age by looking at the number of rings on its bones. (Unfortunately, this is something that can only be determined on dead sea turtles.)
A turtle is a reptile, so it is cold-blooded. Its body is only as warm or as cold as the water around it. Turtles are the only reptiles that have a shell.
A turtle is an air-breathing reptile, so it has to swim to the surface for air to breathe. If they are active, they need to come to the surface for air every five to ten minutes.
Sea turtles split their time between eating and resting. Some find a patch of coral reef or a beach to rest on. Others dive to the bottom of the sea to rest. They store oxygen in their blood and muscles, so if they're not moving around much, they can stay underwater for several hours before they have to come up for air. They also swim great distances to get from their feeding grounds to their nesting grounds.
Sea turtles are found in warm oceans throughout the world.
As they get bigger and swim around more and more, algae starts to cover the turtles' shells. The algae slow them down in the water and can make them sick. To get clean, sea turtles go where little fish, and sometimes shrimp, gather and let them nibble the plants that grow on their shells. This can take anywhere from a few minutes to a few hours. The turtles get cleaned off and the little fish and shrimp get a good meal.
Protection from Predators
One way that turtles are protected from predators is by their coloring. Think about a turtle in the water. Imagine that you are a bird flying above the water. If you look down into the water, you'll have a hard time seeing the sea turtles against the deep, dark ocean water. Their carapaces (top shells) are dark colored and blend in well with the dark water.
Now imagine that you're a shark, deep in the ocean. Look up. You'll have a difficult time seeing the sea turtles from beneath them because their light-colored plastrons (bottom shells / bellies) blend in with the bright sky above. The way a sea turtle is colored, with a dark carapace and a light plastron is called countershading. Dolphins and penguins are also protected by countershading.
To access all of the lessons in this Sea Turtle Lapbook, subscribe to Homeschool Share's email list using the form in this post.
Sea Turtle Lapbook Printables
In addition to the research lessons, the file includes these mini-books for your student to create a Sea Turtle Lapbook:
KWL Tri-fold Book
Sea Turtle Words Mini-book
Sea Turtle Life Cycle Puzzle
Baby Sea Turtle Egg Shape Book
Sea Turtle Fact Matchbook
Did You Know? Simple Fold Book
Countershading Folder
The Reptile Group Wheel
Sea Turtles vs. Other Turtles
Sea Turtle Anatomy Mini-book
Endangered Flap Book
Tracking Turtles Tab Book
Seven Species of Sea Turtles Layer Book
Sea Turtles Map
Sea Turtle Diet Flap Book
How Do Sea Turtles Take a Bath? Simple Fold
Sea Turtle Coloring Page
Sea Turtle Lapbook Example
Here is a Sea Turtle Lapbook Sample that uses two file folders. Feel free to pick and choose the mini-books that will best meet the needs of your student.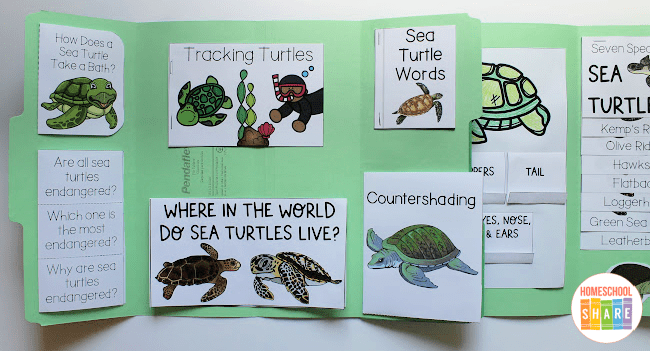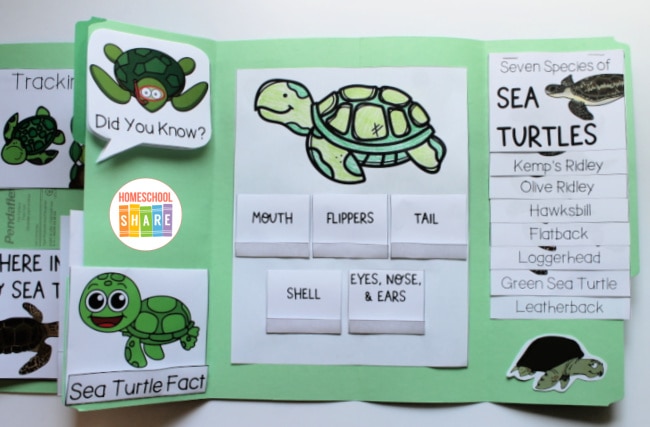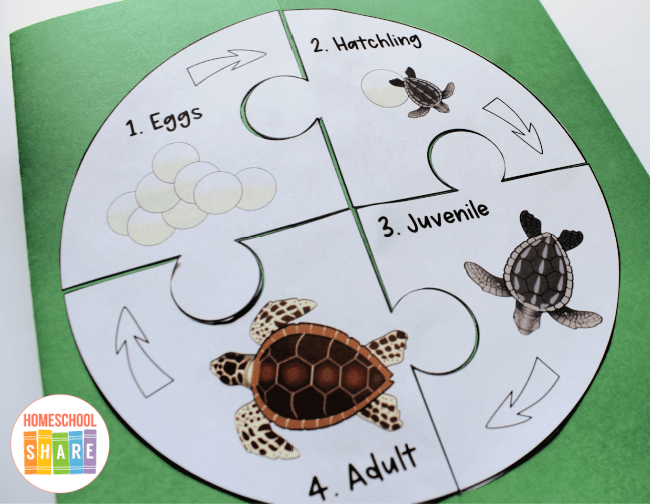 How to Get Started with Your Sea Turtle Lapbook
Follow these simple instructions to get started with the Sea Turtle Lapbook.
If you want, go to your local library and check out books about sea turtles (and other turtles, too, if desired).
Print the Sea Turtle Lapbook.
Choose and prepare the mini-books you want to use with your student.
Enjoy a week of reading and learning all about sea turtles!
Get Your Free Sea Turtle Lapbook
Use the form below to subscribe to the newsletter. Once you confirm, you'll receive an email with the link to the lapbook. If you are already confirmed, simply enter your name and email address below, and you will receive an email with the link.
Explore These Related Resources
Explore the differences between sea turtles and other turtles by learning more about freshwater turtles.
Learn more about another member of the reptile family–lizards!
Dive into the ocean with this unit study based on the book, Turtle Bay. You'll learn about sea turtles and other animals living in the ocean.