Affiliate Disclaimer
We sometimes use affiliate links in our content. This won't cost you anything, but it helps us to keep the site running. Thanks for your support.
What's that sound? Who do those shiny eyes belong to? Are you brave enough to explore the night sky and nocturnal creatures with this Night Scavenger Hunt for kids?
If you would like to browse all of our printable scavenger hunts, try our Scavenger Hunts for Kids page.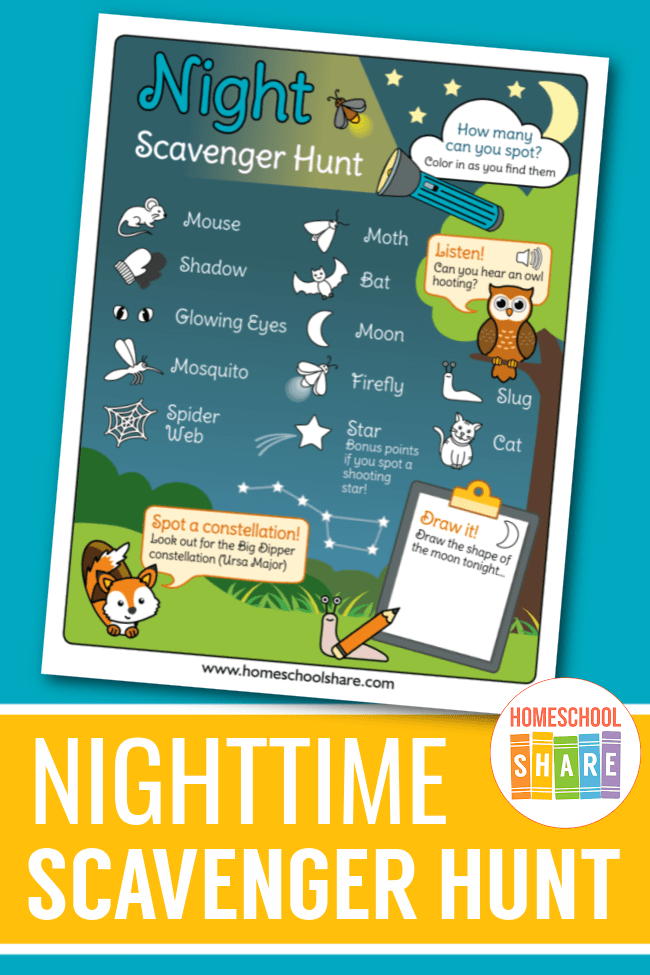 Items You Will Look for with the Night Scavenger Hunt
Head to the woods or your own backyard to see how many of the night items you can find. You can use the same page over the span of multiple nights in order to try to color every item.
Your student will search for these items:
Mouse
Shadow
Glowing Eyes
Mosquito
Spider Web
Moth
Bat
Moon
Firefly
Star
Slug
Cat
Constellation
As your student locates each item, have him color it on the printable page provided.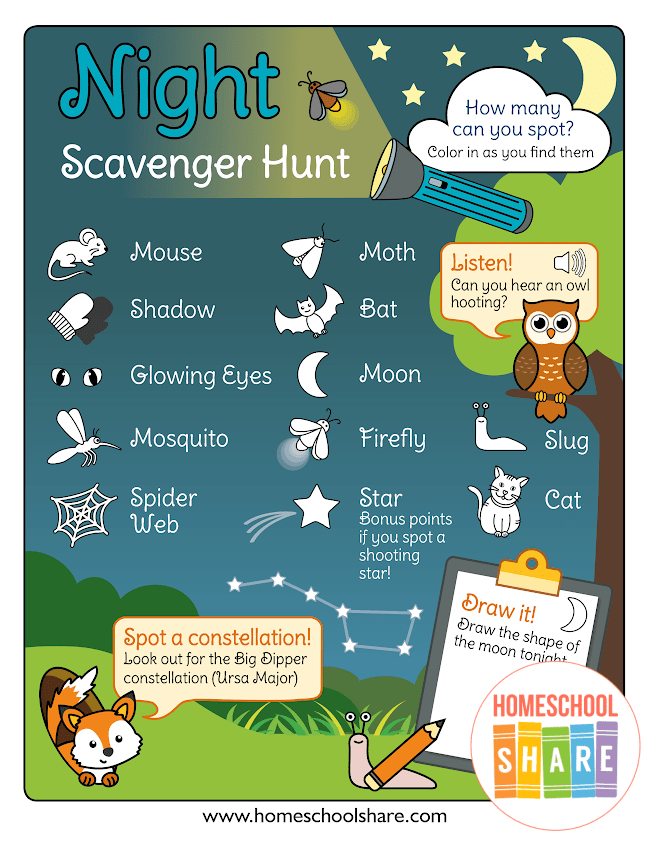 Bonus items to look for:
Shooting Star
Hear an Owl Hooting
Spot a Constellation
Draw the Shape of the Moon
As your student locates each item, have him color it on the printable page provided.
If you want to reuse the scavenger hunt multiple times, put it in a dry erase sleeve or laminate it and use it with a dry erase marker.
For extra fun, give your student a flashlight and magnifying glass and allow him to carefully examine the items as he finds them.
Benefits of the Nighttime Hunt
This nighttime scavenger hunt is great as a go-along with your nocturnal animals, forest animals, or camping theme. It provides many benefits for your student.
Scavenger hunts boost observation skills. As your child looks for objects, he will develop better observation skills.
Scavenger hunts require movements; this promotes gross motor development.
A scavenger hunt can provide safe sensory input for your student (listen to the owl hoot, touch the slimy slug, look at the bright moon, etc.)
If you work on the scavenger hunt as a team, it will promote cooperation and social skills development.
Grab Your Free Night Scavenger Hunt
Grab the nighttime scavenger hunt by using the form below to subscribe to the newsletter. After you confirm, the scavenger hunt will be sent to your inbox.
More Related Resources for Your Kids
Are you planning a camping trip? Try this fantastic Camping Lapbook.
The nighttime scavenger hunt might also serve as a springboard for learning all about nocturnal animals. Try some of these resources: