Affiliate Disclaimer
We sometimes use affiliate links in our content. This won't cost you anything, but it helps us to keep the site running. Thanks for your support.
Meerkats are fascinating creatures. Learn all about their anatomy, diet, families, and more with our Meerkat Lapbook.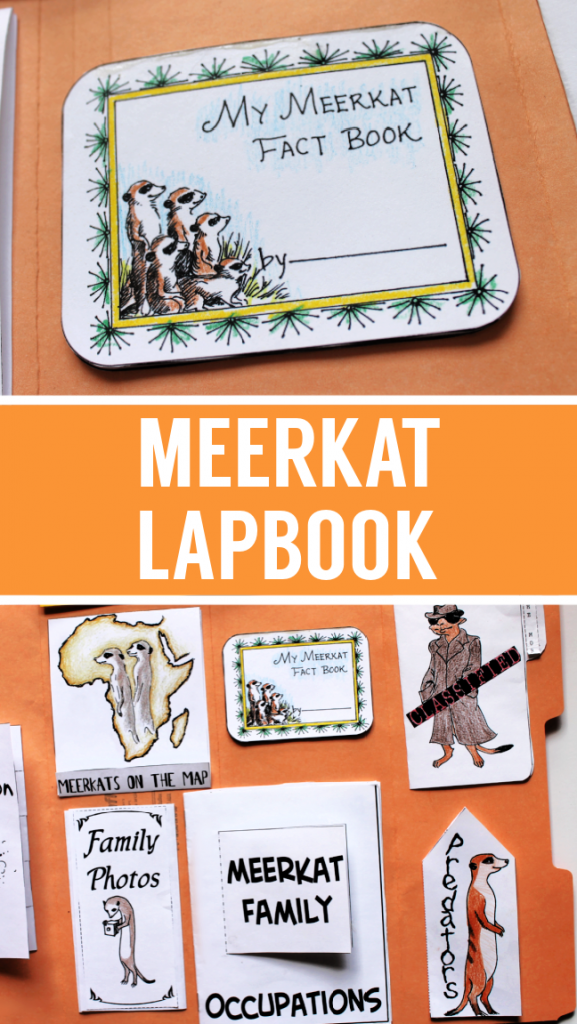 Meerkats Lapbook Information
Here are some sample lessons from the Meerkats Lapbook:
Meerkat Anatomy
Meerkats are built for life in the desert.
The black around the eyes help protect from the glare of the sunlight. The black works like natural sunglasses.
A meerkat has strong curved claws that are almost one-inch long. These claws help the meerkat dig burrows and hunt for food.
The meerkat uses its tail to balance when standing upright.
The meerkat has small black, crescent-shaped ears that can close when digging to keep the sand out.
They have short parallel stripes across their backs extending from the base of the tail to the shoulders. The patterns of stripes are unique to each meerkat. The underside of the meerkat has no markings, but the belly has a patch which is only sparsely covered with hair and shows the black skin underneath. The meerkat uses this area to absorb heat while standing on its rear legs, usually early in the morning after cold desert nights.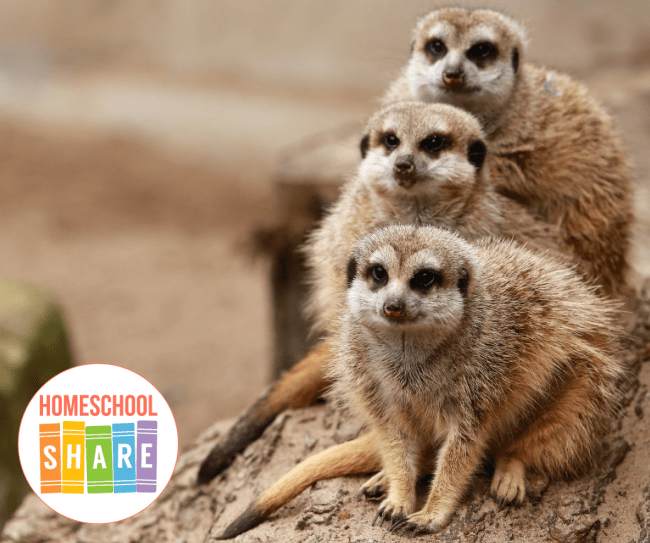 Meerkat Diet
The most interesting thing on a meerkats menu is venomous snakes and scorpions. They are immune to the venom–even the venom of cobras.
Meerkats also eat insects, snails, spiders, plants, rodents, birds, eggs, and lizards. Sometimes, a meerkat will eat a small bird. Meerkats get most of their water from the plants they eat.
You can grab a copy of the entire Meerkats Lapbook in an easy-to-print file at the end of this post.
Meerkats Lapbook Printables
The following mini-books are included in the Meerkats Lapbook:
Meerkat Anatomy Flap Book
Meerkat Classification
My Meerkat Fact Book
Meerkat Family Photos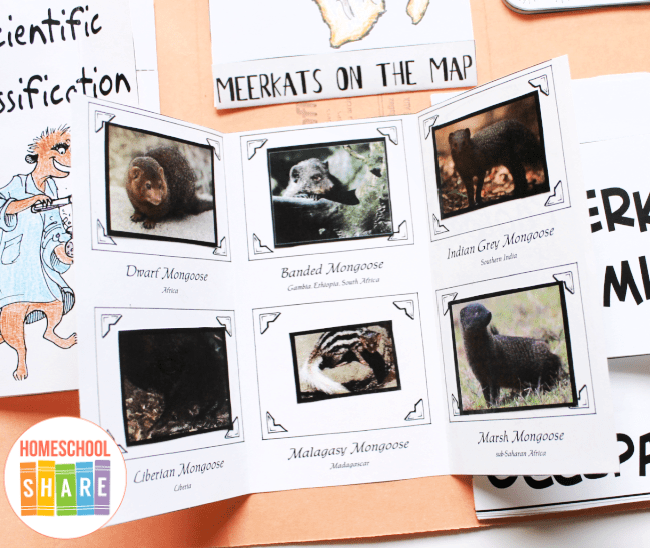 Image to Diagram a Meerkat
Meerkat Family Occupations Window Book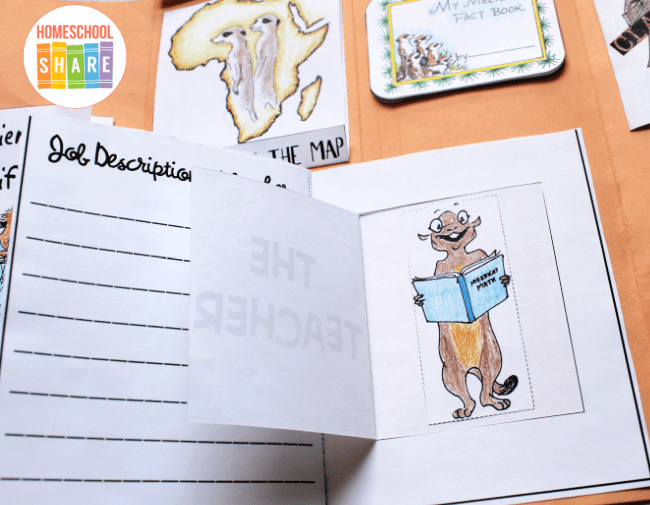 Classified Information File Folder
Meerkat Predators Simple Fold
Meerkat Menu Simple Fold Book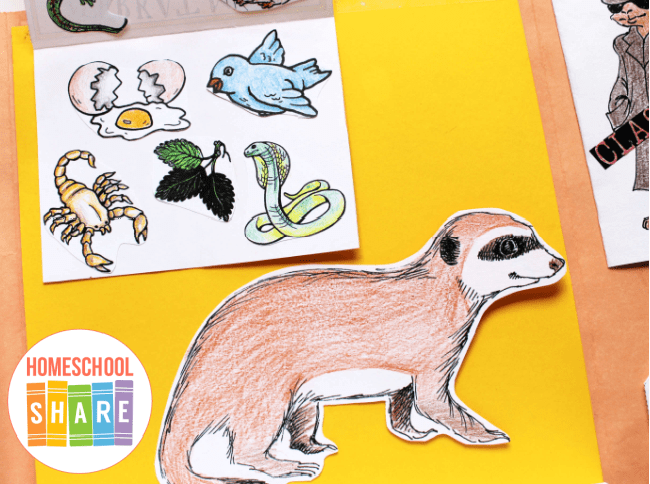 Meerkats on the Map Matchbook
Postcards (to use with Meerkat Mail)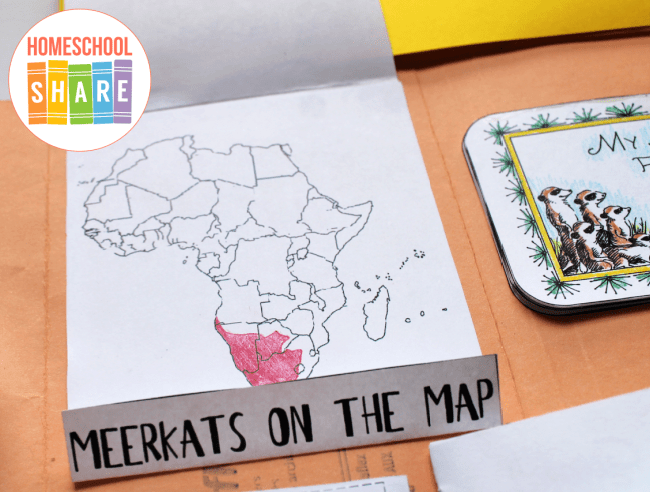 Lapbook Example
This lapbook was made with one file folder and a piece of cardstock taped to the center for form an extension flap.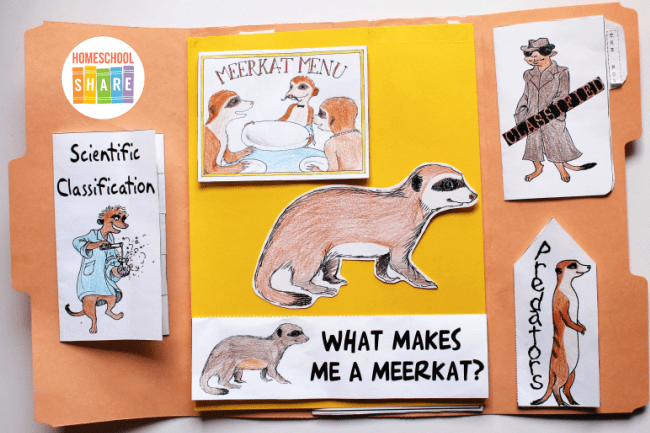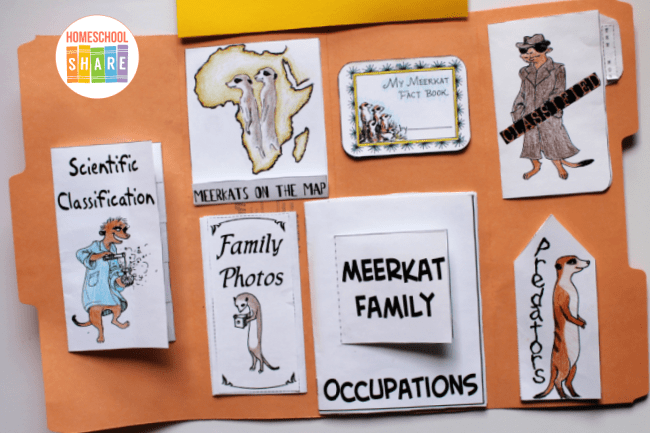 How to Get Started with Your Lapbook
Follow these simple instructions to get started with the Meerkats Lapbook.
If you want, go to your local library and borrow books about meerkats.
Print the Meerkats Lapbook.
Choose and prepare the mini-books you want to use with your student.
Enjoy a week of reading and learning all about the feisty meerkat!
Download Your Free Meerkats Lapbook
Simply click on the image below to access your free Meerkats Lapbook.
Resources to Compliment Your Meerkat Study