Affiliate Disclaimer
We sometimes use affiliate links in our content. This won't cost you anything, but it helps us to keep the site running. Thanks for your support.
I prepared this Here's a Little Poem unit study to use with my son at the end of his kindergarten year. This book has huge appeal for the younger set (PK-1), but some of the activities here could be used with your older students as well. I added a few ideas at the end of the unit study for older students.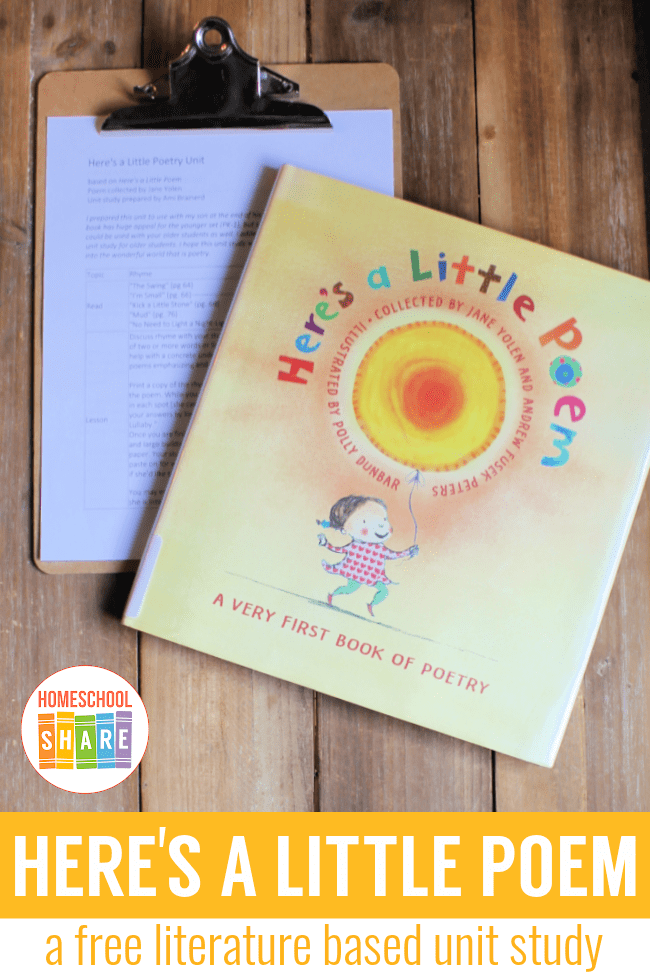 I hope this unit study will draw you and your student into the wonderful world that is poetry.
Here's a Little Poem Unit Study Lessons
Here's a Little Poem unit study lessons are broken into topics and then poems are suggested for each topic. Here is a sample for rhyme:
Topic
Rhyme
Read
"The Swing" (pg 64)
"I'm Small" (pg. 66)———————-
"Kick a Little Stone" (pg. 68)
"Mud" (pg. 76)
"No Need to Light a Night-Light" (pg. 100)
Lesson
Discuss rhyme with your student– close similarity in the final sounds of two or more words or lines of verse. Give her some examples to help with a concrete understanding. Ball, fall, all, mall, etc. Read the poems emphasizing and pointing out the rhyming words.

Print a copy of the rhyming words activity. Cut out the words. Read the poem. While you read, help your student place a rhyming word in each spot (she can glue them on). When you are finished, check your answers by looking at page 92 and reading "Manhattan Lullaby."
Once you are finished, encourage your student to draw some cars and large buildings around the edges and on the bottom of her paper. Your student may even want to cut out lots of rectangles to paste on for windows. I've included some clip-art vehicles in the file if she'd like to cut and paste those on instead of drawing her own. You may even want to show your student New York on the map if she is interested.
Lesson Extension
Read the poem "Mud" again (found on page 76).
Make some "mud" to play in!
Mud Recipe
1/2 cup water
1 tablespoon oil
2 tablespoons brown washable paint
Mix together; add 1/2 cup salt & 1 tablespoon cornstarch. Add flour (1 1/2 cup) slowly until soft & smooth. There won't be enough to wallow in, but your student may be able to make a mud pie. You may even want to let him put his toes in it.

While your student is engaged in this sensory experience, have him give you some words that describe the mud he's playing in. Maybe this activity will even inspire a poem!
Other topics included throughout this Here's a Little Poem unit study include:
Onomatopoeia
Repetition
Writing a Poem about Me
List Poem
Personification
It Doesn't Have to Rhyme
Details
Sensory Details
Metaphor
Rhythm
I know some of these topics feel BIG for little people, but I have tried to present the lessons in an introductory way. We want students to learn to love poetry, not to master metaphor.
To access all of the lessons in this Here's a Little Poem unit study, grab a copy at the end of this post.
How to Get Started with the Here's a Little Poem Unit Study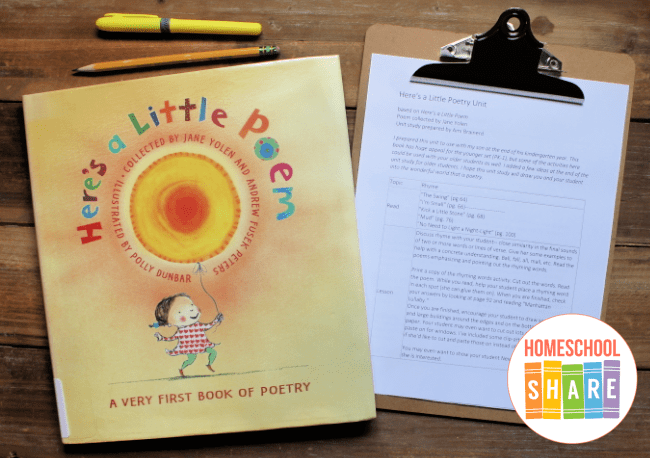 Follow these simple instructions to get started with the Here's a Little Poem unit study:
Buy a copy of the book, Here's a Little Poem, or grab one from your local library.
Print the Here's a Little Poem unit study.
Choose the lessons you want to use with your student (a highlighter works great for this).
Enjoy a week of reading and rhyming with your student.
Download Your Here's a Little Poem Unit Study and Printables
Simply click on the image below to receive a free copy of the Here's a Little Poem unit study.