Affiliate Disclaimer
We sometimes use affiliate links in our content. This won't cost you anything, but it helps us to keep the site running. Thanks for your support.
Use our Farmer Boy unit study to create an amazing lesson plan and learning adventure for your students.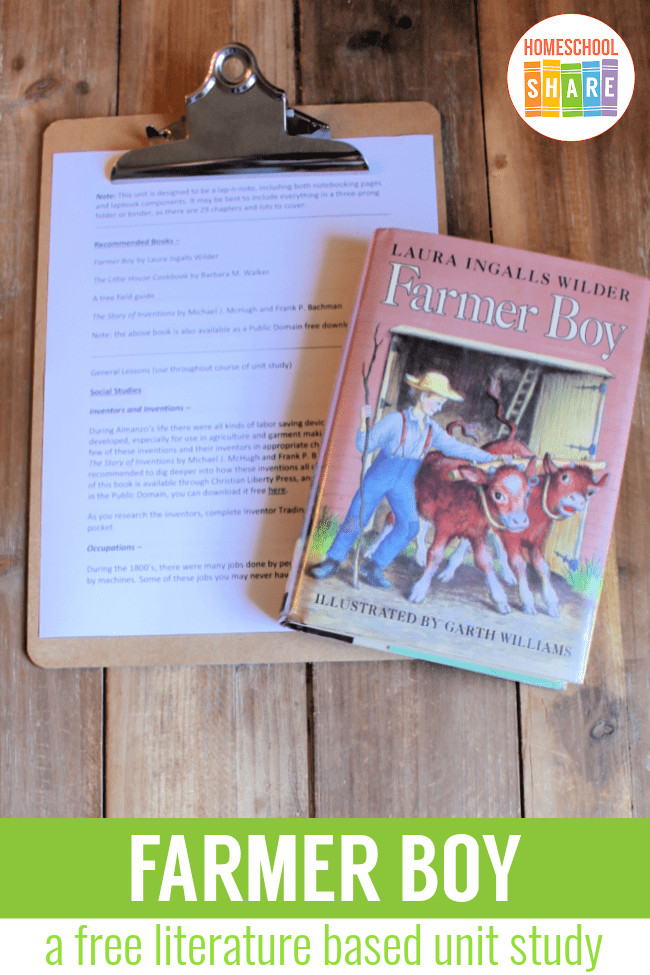 Thanks to Kelly Cooper, Heidi Jasper, Celia Hartmann, Marie, and Wende for preparing this unit study.
Farmer Boy Unit Study Lessons
This Farmer Boy unit study is huge–more than 100 pages! It includes lessons and activities for language arts, science, social studies, math, and art. It is based on the book Farmer Boy by Laura Ingalls Wilder.
Farmer Boy is Laura Ingalls Wilder's beloved story of how her husband, Almanzo, grew up as a farmer boy far from the little house where Laura lived.
Here is a sample of the lessons found in this unit study. You can use them to create a Farmer Boy lesson plan for your students.
Social Studies: New York
This story takes place in the state of New York. New York was admitted to the Union on July 26, 1788, being the 11th of the thirteen original colonies. Have your child find New York on a United States map. What three states border New York to the east? (Vermont, Massachusetts, and Connecticut) What two states border it to the south? (Pennsylvania and New Jersey) What country borders it to the north? (Canada)
New York is home to the biggest city in the United States, New York City. Many immigrants from Europe came to this country via New York City, and you will meet some of these people throughout Farmer Boy. Some other interesting sites in New York include Niagara Falls, Finger Lakes, Adirondack Mountains, 1,300 museums and galleries, 64 performing arts centers, and 230 theaters.
Some more New York facts:
Capital – Albany
State Flower – Rose
State Bird – Bluebird
State Motto – Excelsior, which means Ever Upward
State Nickname – Empire State
State Song – I Love New York
Science: Snow
This chapter takes place in the wintertime when there is lots of snow on the ground. Have you ever seen or played in snow? Snow is formed when ice crystals in a cloud bump together and stick to each other. If the air temperature below the clouds is cold enough, snow will fall. Snowflakes can be made up of as many as 100 ice crystals. They all have six sides, but no two snowflakes are alike. You may have fun doing an experiment to see how much water is actually in snow. If you don't have snow, crushed ice will work as well.
Science: Trees
This chapter mentions a variety of trees. They include the oak, maple, beech, cedar, and spruce. Choose one to further research. Use a field guide or other book about trees to research each individual species.
Oak (Quercus)– There are over 60 species of oak trees, including white, chestnut, scarlet, black, and pin. They are found all over North America. Most varieties are deciduous with simple, alternate leaves. They all produce acorns, some of which are sweet to eat. The oaks are divided into two groups, white oaks and red oaks. The wood from the oak tree is used for flooring, furniture, railroad ties, barrels, and construction. They are also planted for shade trees.
Maple (Aceraceae) – There are nearly 150 species of maple trees. The maples native to New York would be the sugar, red, silver, and Norway maples. The deciduous leaves are all simple and opposite. The winged seeds, or "helicopters", are in pairs. They grow from 75' to 100' tall. The sugar maple has a hard wood that is used for furniture and flooring, and is also the variety to be tapped for maple syrup. The others are a softer wood, and are also used for furniture when strength and hardness are not an issue.
Beech (Fagus) – The beech species present in New York is the American Beech. Their deciduous leaves are simple and alternate, about 3"-4" long. They have a shiny, brown, prickly, triangular nut that is edible. They are large trees, growing up to 100' high. The wood is used for railroad ties, paper pulp, boxes, furniture, and flooring.
Cedar (Juniperus) – The species of cedar found most often in New York is the Eastern Redcedar. It has evergreen, opposite leaves with whitish lines on the under surface. They have a bluish berry-like fruit that is covered with a white powder. Each fruit contains 1-2 seeds. They are small to medium sized, reaching up to 50' tall and 1 – 2 feet in diameter. The wood is used for fence posts and cedar chests.
Spruce (Picea) – In New York, the most commonly found spruce trees are the Norway, red, and black spruce. They have evergreen needles that are spirally arranged on the twigs. They have cones with thin, woody scales. The Norway spruce is the largest of the three, growing up to 125' tall. The wood is used for paper pulp, boxes, crates, and lumber.
Farmer Boy Chapter Questions
Each chapter includes a few comprehension questions to discuss with your student.
Farmer Boy Chapter 1 Comprehension Questions
Why is everyone afraid of the five big boys from Hardscrabble Settlement?
Who is going home with Almanzo after school and why?
How did Almanzo feel when he had to stay in for recess? Why? Why did he have stay in?
To access all of the lessons and printables in this Farmer Boy unit study, subscribe to Homeschool Share's email list using the form in this post.
How to Get Started with the Farmer Boy Unit Study & Lesson Plan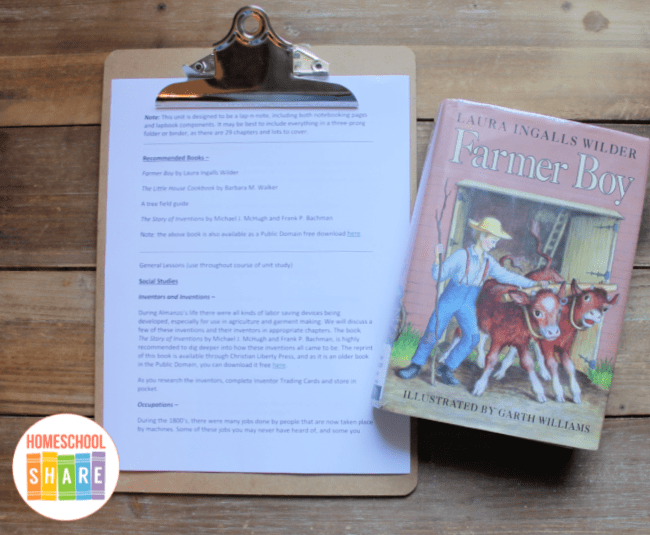 Follow these simple instructions to get started with the Farmer Boy unit study.
Buy a copy of the book, Farmer Boy by Laura Ingalls Wilder, or grab one from your local library.
Print the unit study.
Create a Farmer Boy lesson plan by choosing the lessons and printables you want to use with your student (a highlighter works great for this).
Enjoy a week of book-based learning with your student.
Download Your Farmer Boy Unit Study & Lessons
Use the form below to subscribe to the newsletter. Once you confirm, you'll receive an email with the link to the study. If you are already confirmed, simply enter your name and email address below, and you will receive an email with the link.
Related Little House on the Prairie Resources
If you are looking to dive into the series by Laura Ingalls Wilder, try these additional resources: