Affiliate Disclaimer
We sometimes use affiliate links in our content. This won't cost you anything, but it helps us to keep the site running. Thanks for your support.
Ever since I started creating lapbook templates (about 16 years ago!), Homeschool Share users have been asking me to make a set of editable lapbook templates that you can use with your own fonts and images.
I thought about this for years and wondered how to do it; I finally figured out a way to make this dream a reality, and now you can get your own set of lapbook templates to create custom lapbooks for your students.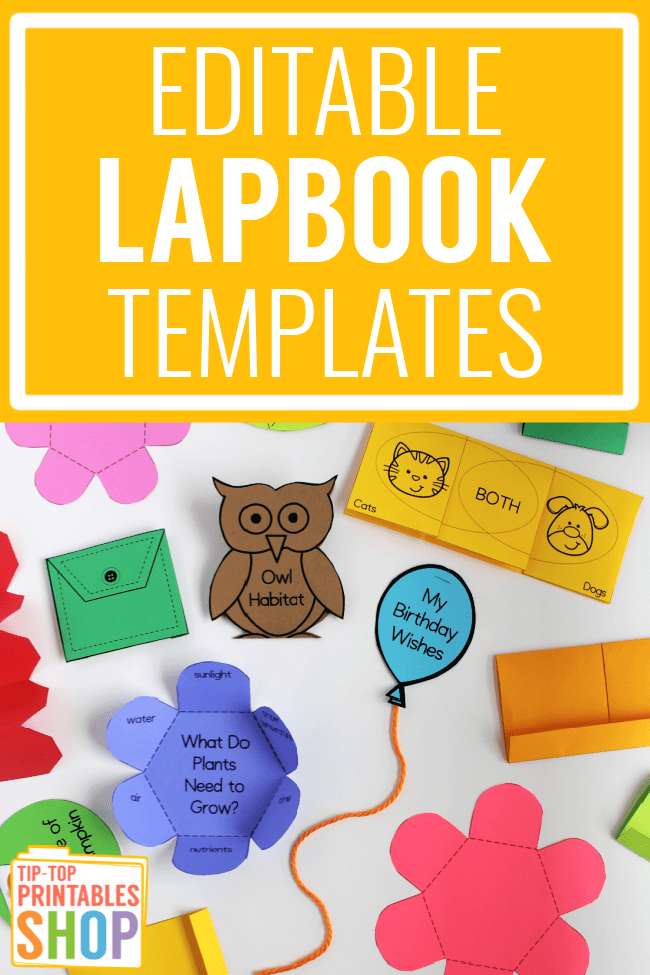 Benefits of the Editable Lapbook Templates
The Editable Lapbook Templates are fantastic!
You can add your own fonts.
You can add your own clipart.
Your students can create templates for their lapbooks by typing directly on the page. This is perfect for kids who struggle with handwriting.
You can create a lapbook for ANY topic. I have had some fun requests for lapbooks, but I can't create every single one. Having templates you can type on and add images to allows you to make a custom lapbook based on the interests of your students.
You can use the templates again and again and again!
I used the templates to create this Living vs. Nonliving Lapbook Example. I simply added my own fonts and my own images.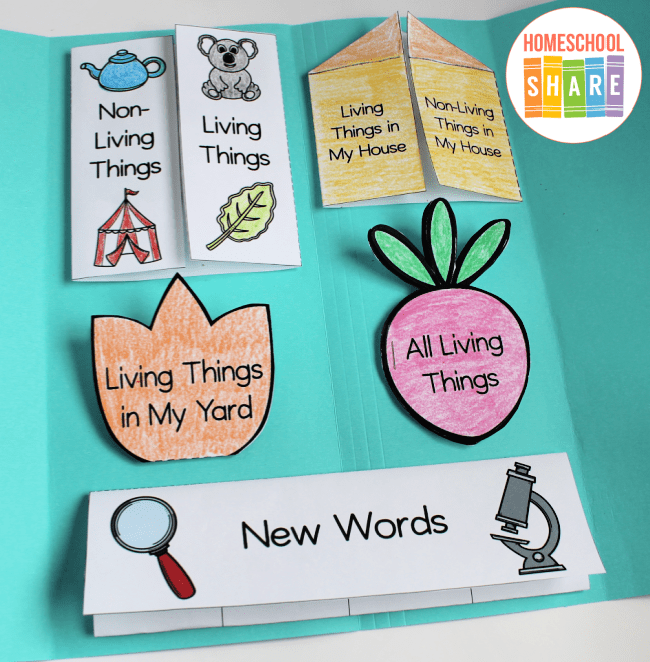 How to Use the Editable Lapbook Templates
I created a short video to demonstrate how to use these templates and how easy they are to use.
Once you get the hang of typing on the templates and adding images, you will be able to create lapbooks quickly and efficiently.
What's Included in the Editable Lapbook Templates?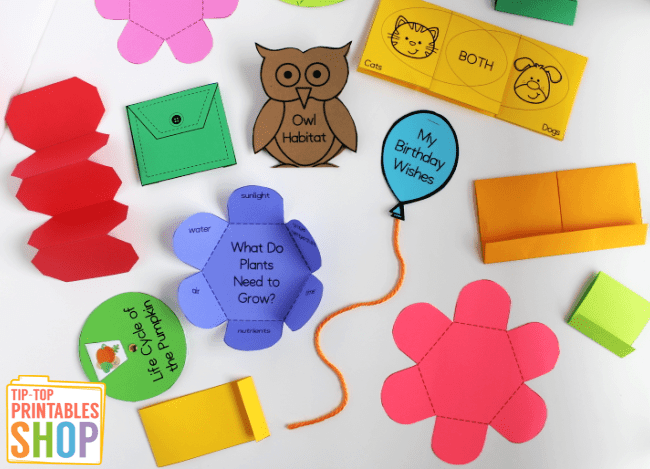 The set of templates you can type on includes over 100 different templates!
Tab Books (5 options)
T-books (2 options)
Matchbooks (5 options)
3/4 Books (4 options)
Petal Books (8 options)
Pockets (7 options)
Tri-fold Books (5 options)
Simple Fold Books (includes a huge variety of shapes and animals; 33 options!)
Shutterfold Books (8 options)
Layer Books (5 options)
Accordion Books (13 options)
Fan Books (7 options)
Flap Books (15 options)
Shape Books (12 options)
Small Wheel
Envelope Book
Venn Diagram Flap
Three Circle Book
Three Heart Book
Pop-up Book
I included a huge assortment of shape books into this set so you can add some extra flair to your holiday and seasonal lapbooks.
For example, you could use the balloon in a birthday lapbook, a New Year's Day lapbook, or end of the school year celebration lapbook. You could also use it to make a birthday card for a friend or family member.
Get Your Set of Editable Lapbook Templates
You can head to the Tip-Top Printables Shop to buy your set of templates, or you can use the buy button below.
Important Reminders About the Editable Templates
Please keep in mind a few things about this set of lapbook templates.
You must have PowerPoint to use the files. I am considering creating another set in Google Slides. If you would love that option, please drop me a note and let me know.
2. These are not for commercial use. This set of lapbook templates is only for your own personal use (classroom, homeschool co-op, public library programs, Sunday School class, etc.). They are not for resale–even if you add your own text and images.
Happy Lapbooking!