Affiliate Disclaimer
We sometimes use affiliate links in our content. This won't cost you anything, but it helps us to keep the site running. Thanks for your support.
Quack! Make way for learning about ducks. Just gather some duck books, your students, and print out our free Duck Lapbook.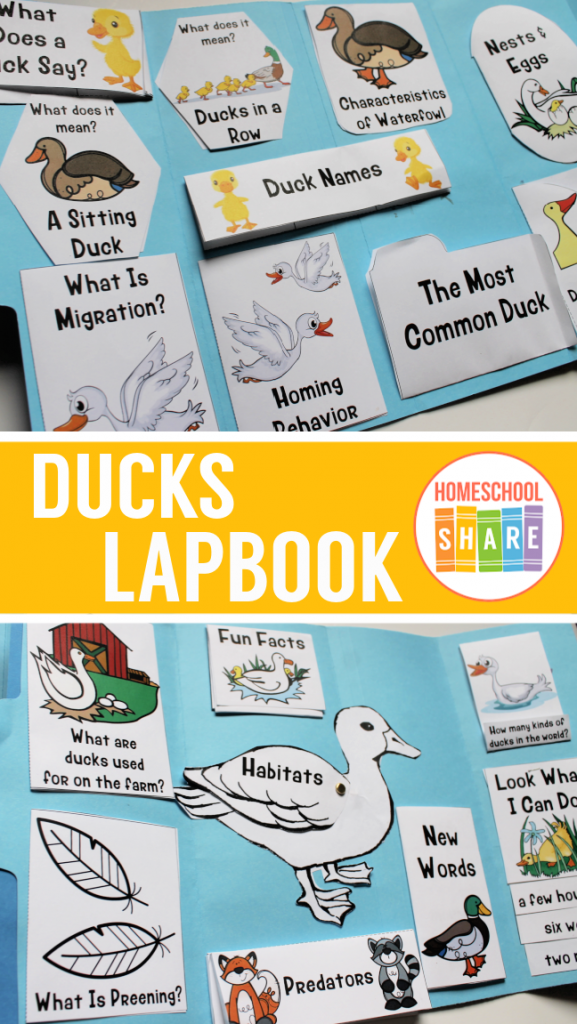 Ducks Lapbook Lessons
Here are some sample lessons from the Ducks Lapbook:
Dabbling Ducks vs. Diving Ducks
Dabbling Ducks like to live in shallow waters, rising quickly when they take off. Their food is close to the surface of the water, and their diet is made up of water plants, seeds, insects, worms, and snails.
Diving Ducks are known for their diving abilities, going down as far as 25 feet to grab their food, which consists of water plants, fish, clams, and snails. They float in the water lower than Dabbling Ducks and also have smaller wings, so in order to take off for flight, they run on the water to gain speed.
Duck Predators
Duck predators include racoons, hawks, foxes, and snapping turtles.
To access all of the lessons in this Ducks Lapbook, subscribe to Homeschool Share's email list using the form in this post.
Ducks Lapbook Printables
In addition to the research and lessons, the file includes these mini-books for your student to create a Duck Lapbook:
Characteristics of Waterfowl Simple Fold
Duck Species Matchbook
Duck Names Flap Book
The Most Common Duck File Folder
Habitats Duck (with moveable wing)
What Does a Duck Say? Flap Book
What Is Migration? Simple Fold Book
Homing Behavior Simple Fold Book
Dabbling Ducks vs. Diving Ducks Shutterfold Book
Nests & Eggs Tri-fold Book
Look What I Can Do (Duck Babies) Layer Book
Predators Accordion Book
New Words Flap Book
Duck Fun Facts T-book
Ducks on the Farm
Duck Phrases Simple Folds
Duck Coloring Page
Note: Some of these mini-books will require additional research.
Lapbook Example
This sample lapbook was created with two file folders. If you are new to lapbooking, check out our Lapbook Guide.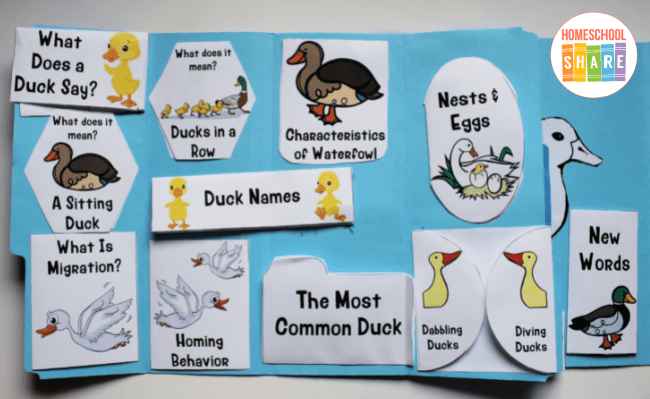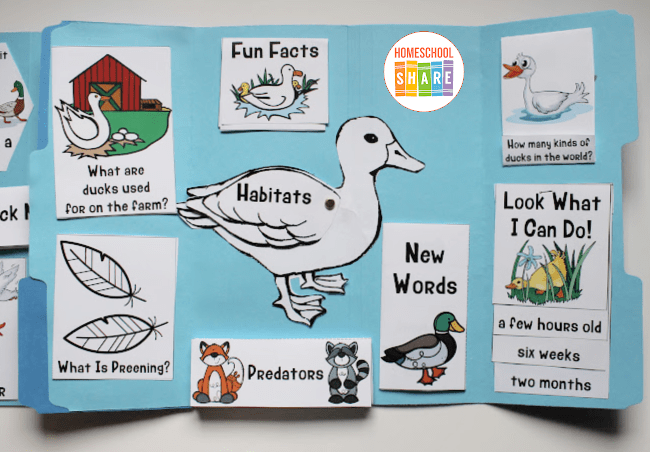 How to Get Started with Your Ducks Lapbook
Follow these simple instructions to get started with the Ducks Lapbook.
If you want, go to your local library and check out books about ducks. Read these books throughout the week with your student.
Print the Ducks Lapbook.
Choose and prepare the mini-books you want to use with your student.
Enjoy a week of reading and learning all about ducks.
Download Your Free Ducks Lapbook
Use the form below to subscribe to the newsletter. Once you confirm, you'll receive an email with the link to the lapbook. If you are already confirmed, simply enter your name and email address below, and you will receive an email with the link.
Learn More About Ducks