Affiliate Disclaimer
We sometimes use affiliate links in our content. This won't cost you anything, but it helps us to keep the site running. Thanks for your support.
Learn all about the humble cow with this Cattle Lapbook. Lessons include classification, anatomy, life cycle, diet, and more!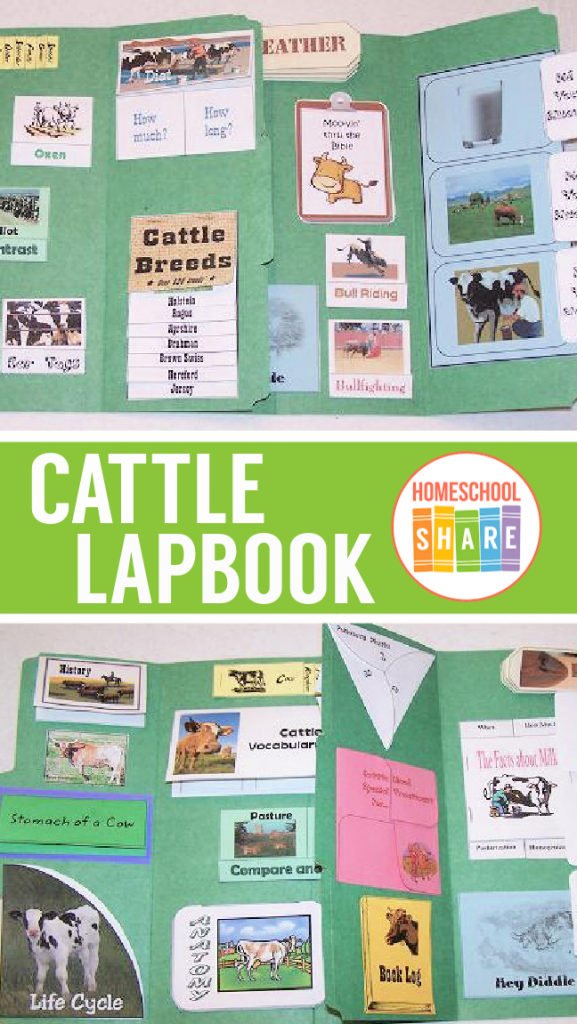 Thanks to Cindi Fry and Wende for collaborating to create this Cattle Lapbook.
Cattle Lapbook Lessons
Here are some sample lessons from the Cow Lapbook:
Cow Names
Cattle go by many names depending on the gender and age:
Calf – young cattle
Heifer – female cattle until they give birth
Cow – female cattle after giving birth
Bulls – male cattle of any age
Steer – castrated male cattle raised for beef
Oxen – large, heavy castrated male cattle raised as draft animals
Herd – a group of cattle, most animals naturally follow the smartest and strongest members of their herd
History of Cattle
Cattle have been domesticated throughout history and originated from Europe, Asia and Africa. Cattle were not native to the Americas, but were in fact brought to the Americas from Europe by Christopher Columbus in 1493. The first cattle in the United States were the Texas longhorns from Mexico. In the 1600s the Pilgrims from Great Britain brought more cattle here. By colonial times, draft oxen were valued quite highly in America.
Cows: Digestive System
Cattle are ruminants, meaning they chew their cud. They have a huge four-chambered stomach. When they eat, the food passes down the esophagus to the rumen where it is broken down and formed into small balls of cud. As it desires, the cattle will return the cud back to its mouth, where it will be chewed up some more to further break up the fibers. It will then re-swallow the food, where it will go through the rumen, on to the reticulum, then to the omasum, and finally to the abomasums, the true stomach. In the abomasums, enzymes are secreted and normal digestion takes place. All their chewing also produces a lot of saliva.
To access all of the lessons in this Cattle Lapbook, subscribe to Homeschool Share's email list using the form in this post.
Lapbook Photos
Here are some sample lapbook photos for the Cattle Lapbook.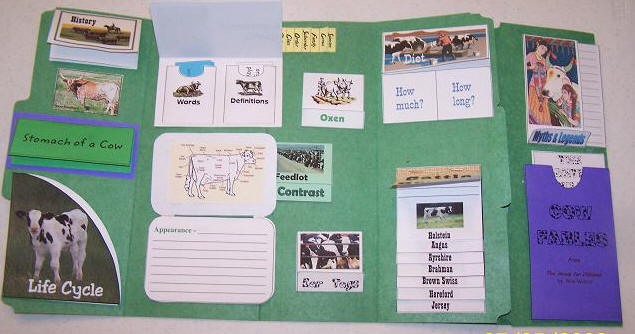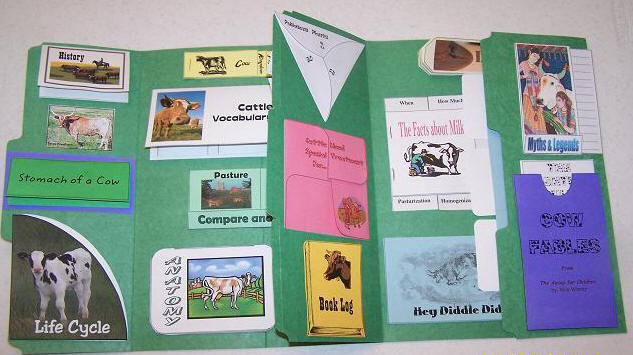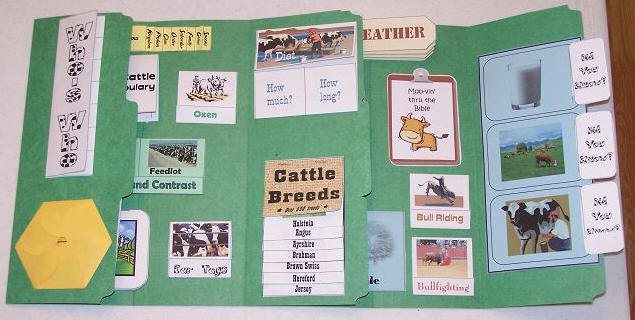 Cattle Lapbook Templates
In addition to the research lessons, the file includes these mini-books for your student to create a Cattle Lapbook:
Who's Who? (in the cow family) Flap Book
Cattle Products and Uses
"Pretty Cow" Poem for Copywork
Pasture vs. Feedlot Compare and Contrast Matchbook
The Facts About Milk Tab Book
Leather Accordion Fold
Did You Know? Pull-tab Books
Stomach of a Cow Flap Book
Cow Life Cycle Circle Book
Cow Classification Layer Book
Cow Anatomy Mini-book
Cattle Vocabulary Mini-book
Ear Tags Matchbook
Bullfighting Matchbook
Oxen Matchbook
Bull Riding Matchbook
Cattle Breeds Layer Book
Book Log
Moo'vin Through the Bible Clipboards
And more!
How to Get Started with Your Free Cow Lapbook
Follow these simple instructions to get started with the Cattle Lapbook.
If you want, go to your local library and check out books about cows, cowgirls, and cowboys.
Print the Cattle Lapbook.
Choose and prepare the mini-books you want to use with your student.
Enjoy a week of reading and learning all about cows.
Download Your Free Cattle Lapbook
Use the form below to subscribe to the newsletter. Once you confirm, you'll receive an email with the link to the lapbook. If you are already confirmed, simply enter your name and email address below, and you will receive an email with the link.
Explore More Animal Lapbooks
Grab another animal lapbook and learn more about farm animals.