Affiliate Disclaimer
We sometimes use affiliate links in our content. This won't cost you anything, but it helps us to keep the site running. Thanks for your support.
This comprehensive Cooking Lapbook includes all the lessons and printables you need to add this as an elective course for your homeschool.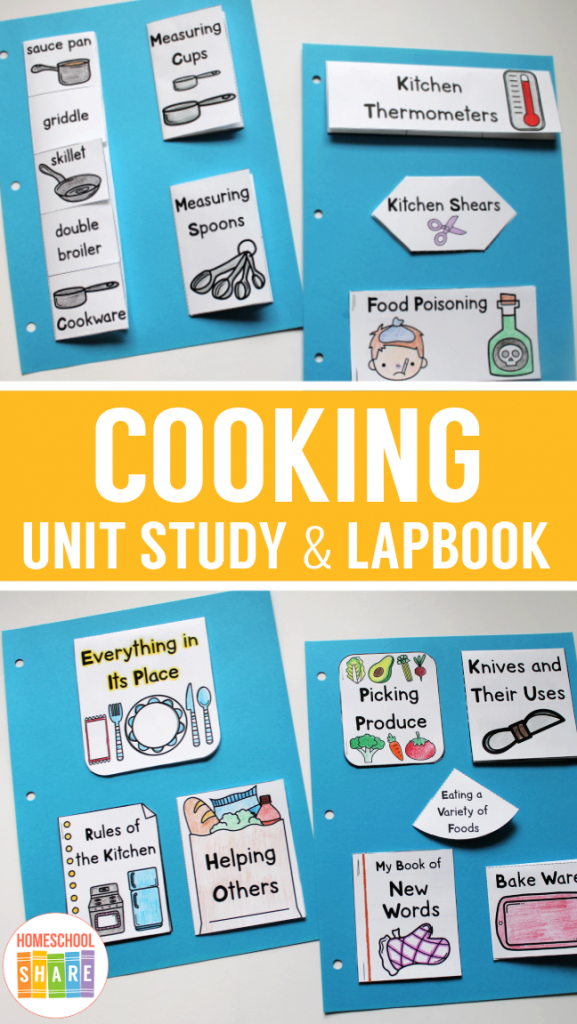 Cooking Lapbook Lessons
You'll find the following units in this Cooking Lapbook:
Introduction: Safety First
Includes these lessons: Rules of the Kitchen, Food-borne Illnesses, and Dressing the Part
Unit 1: Around the Kitchen
Includes these lessons: Kitchen Appliances, Kitchen Tools, Cookware, and Bakeware
Unit 2: Why We Eat & The Food Pyramid
Includes these lessons: Balanced Diet, and Food Pyramid
Unit 3: What's the Plan?
Includes these lessons: Cooking Vocabulary, Recipes, Planning a Menu, Shopping Trip, and Picking Produce
Unit 4: Let's Get Cookin'!
Includes these lessons: Beverages, Breakfast, Bread Baking, Appetizers and Snacks, Desserts, Lunch, Dinner, Setting the Table, and Garnishes
Unit 5: Sharing Your Cooking Talents
Includes these lessons: Good Manners, Hospitality, and Helping Those in Need
Unit 6: Career Opportunities
Includes these lessons: Food Service Industry, Food Handling Industry, and Food Education and Business
To access all of the lessons and printables in this cooking unit study, subscribe to Homeschool Share's email list using the form in this post.
Cooking Lapbook Printables
In addition to the lessons, this Cooking Lapbook study includes all the printables you need. We suggest you use a notebook since there are so many mini-books. You don't have to use all of the printables–pick and choose what suits your student.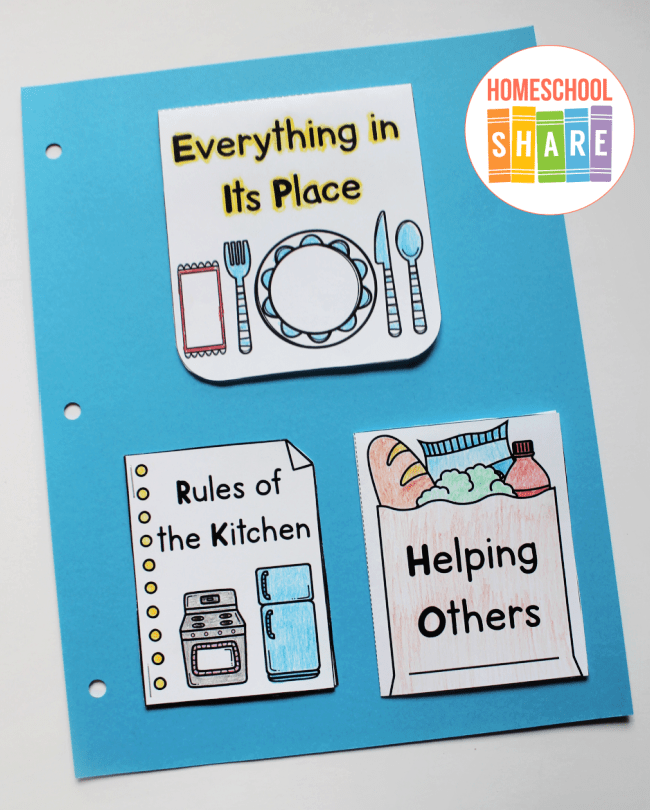 Examples of mini-books you'll find in this Cooking Lapbook:
Kitchen Thermometers Flap Book
Knives and Their Uses Mini-book
Measuring Spoons Flap Book
Measuring Cups Flap Book
Liquid Measuring Flap Book
Place Setting Simple Fold Book
Food Poisoning Tab Book
Blender vs. Mixer Venn Diagram
Baking Tools Spatula Shape Book
Bake Ware Flap Book
Appliance Report Form & Pocket
Minding My Manners Fan Book
Cooking Careers Bound Book
Kitchen Shears Tri-fold
Nutrients Tab Book
And more!
Lapbook Example
This unit study has gobs and GOBS of mini-books. Instead of a traditional lapbook, consider using three-hole punched cardstock for the mini-books. Simply paste the mini-books to the cardstock and put the pages in a three-ring binder.
Here are a few sample pages: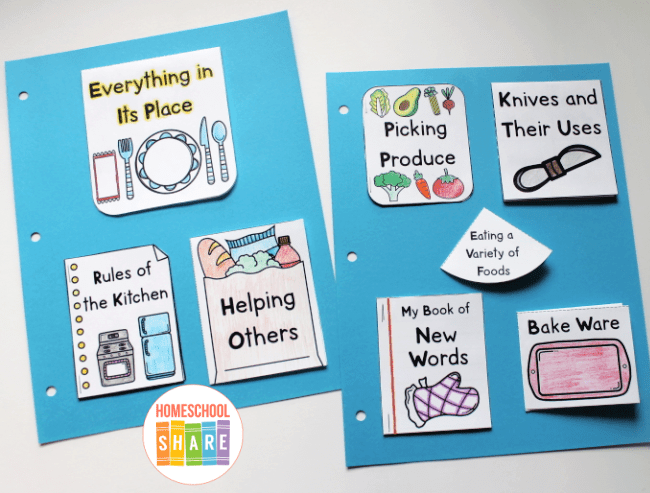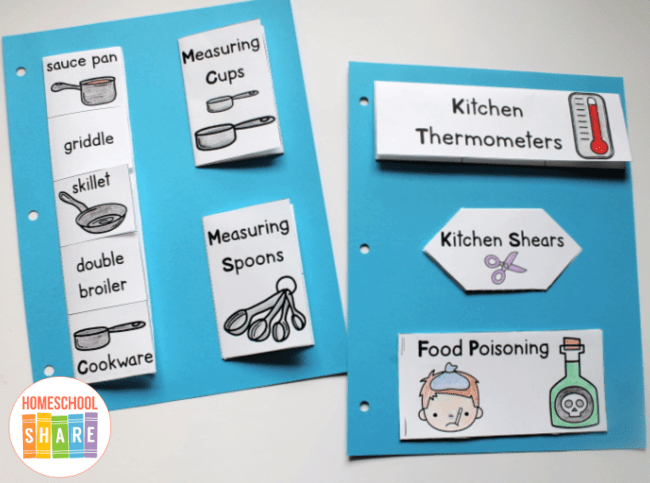 How to Get Started with Your Cooking Lapbook
Follow these simple instructions to get started with the Cooking Lapbook.
Print the Cooking Lapbook lessons.
Choose the lessons you want to use with your student.
Print the corresponding lapbook mini-books.
Decide how long you want to use the unit and divide the lessons by weeks, so you will know how many lessons and mini-books to complete each week.
Have fun! Our Cooking Lapbook is a delicious way to learn.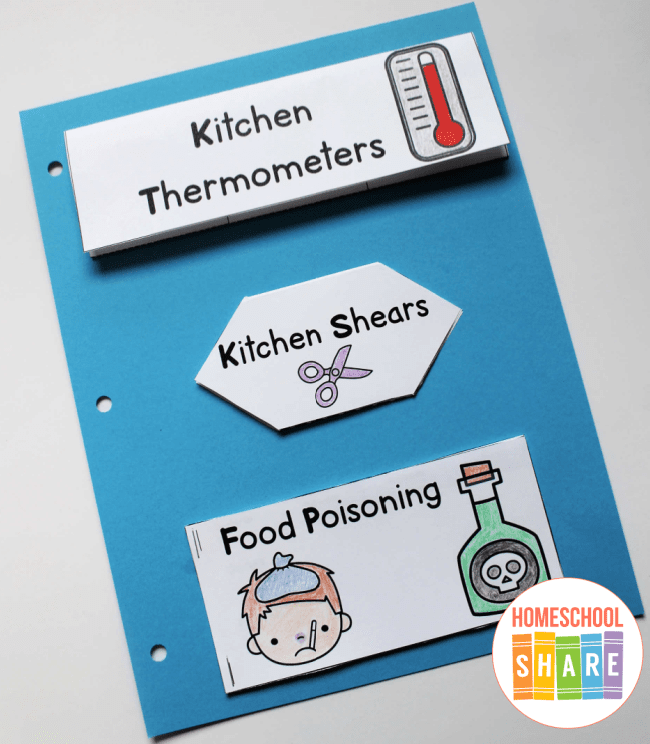 Download Your Free Lapbook
Use the form below to subscribe to the newsletter. Once you confirm, you'll receive an email with the link to the lapbook. If you are already confirmed, simply enter your name and email address below, and you will receive an email with the link.
Try Some of These Unit Studies (Books with Recipes!)