Affiliate Disclaimer
We sometimes use affiliate links in our content. This won't cost you anything, but it helps us to keep the site running. Thanks for your support.
This unit study includes lessons and activities based on the book Fatuma's New Cloth by Leslie Bulion.
Fatuma is excited to go to the market with Mama because she gets to pick out a new kanga cloth! Along the way, she asks Mama what makes her chai the best that Fatuma has tasted. Various vendors on the road offer their suggestions, but Fatuma can't see how their offerings make chai so good. When they get to the kanga shop, Fatuma finds a kanga in the perfect color, and the words on it say, "Don't be fooled by the color. The good flavor of chai comes from the sugar." With Mama's wise guidance, Fatuma learns that it's what's on the inside that counts, rather than outward appearances.

from Fatuma's New Cloth summary at amazon.com
Learn more about African culture with our Fatuma's New Cloth unit study. It includes lessons in a variety of subjects including social studies, language arts, science, math, and art.
Thanks to Mary Machado for preparing this Fatuma's New Cloth unit study.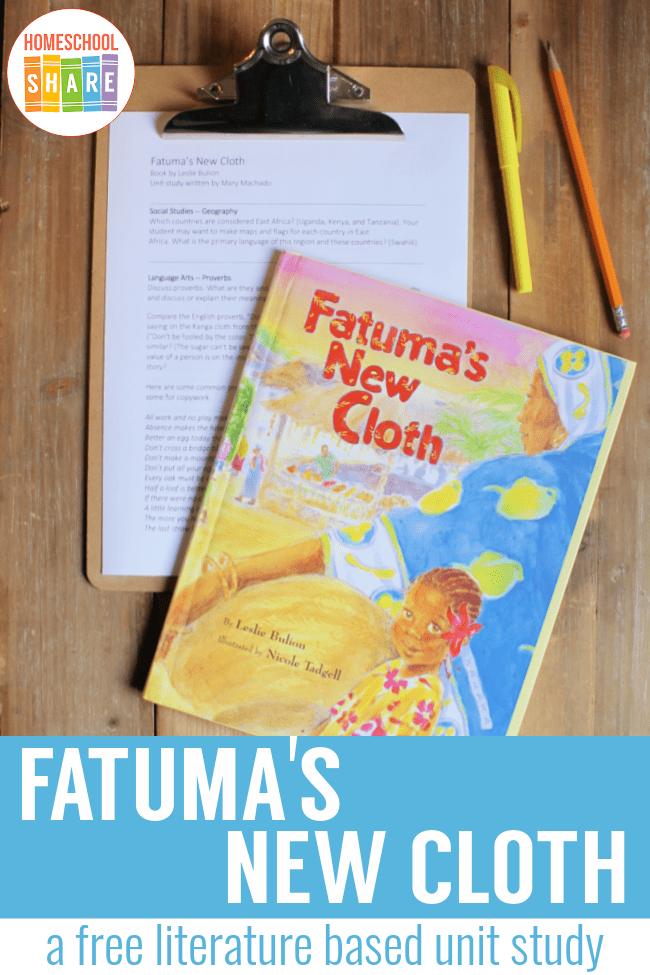 Fatuma's New Cloth Unit Study Lessons
Here is a sample of the lessons found in this Fatuma's New Cloth unit study:
Language Arts: Proverbs
Discuss proverbs. What are they and how are they used? Share common proverbs and discuss or explain their meanings. Compare the English proverb, "Don't judge a book by its cover" with the Swahili saying on the Kanga cloth from the book "Usihadaike na rangi tamu ya chai sukari" ("Don't be fooled by the color. The good flavor of tea is the sugar.") How are they similar? (The sugar can't be seen as the inside of the book is also unknown. The value of a person is on the inside) How does this saying relate to the girl in the story?

Here are some common proverbs to discuss with your student. You could also use some for copywork.

All work and no play make Jack a dull boy.
Absence makes the heart grow fonder.
Better an egg today than a hen tomorrow.
Don't cross a bridge till you come to it.
Don't make a mountain out of a molehill.
Don't put all your eggs in one basket.
Every oak must be an acorn.
Half a loaf is better than no bread.
If there were no clouds, we should not enjoy the sun.
A little learning is a dangerous thing.
The more you have, the more you want.
The last straw breaks the camel's back.
One is never too old to learn.
No news is good news.
They brag most who can do least.
Time and tide wait for no man.
When in doubt, leave it out.
You can't have your cake and eat it, too.
Where there is smoke, there is fire.
When all men speak, no man hears.
Math: Cooking
There is a recipe for African Chai tea in the book. Use the recipe for discussing the concepts of doubling & halving. How much of each ingredient would you need if you doubled the recipe? How much of each ingredient would you need it you halved the recipe? Make a recipe card for each (one for the recipe doubled, one for the recipe halved). Determine which recipe (the original, the halved, or the doubled) would be the best one to make for your family.
You can grab a copy of the entire — unit study in an easy-to-print file at the end of this post.
How to Get Started with the Fatuma's New Cloth Unit Study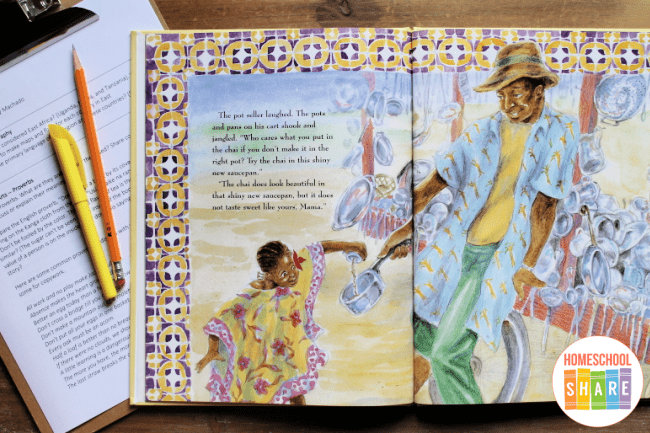 Follow these simple instructions to get started with the Fatuma's New Cloth unit study:
Buy a copy of the book, Fatuma's New Cloth, or borrow one from your local library.
Print the Fatuma's New Cloth unit study.
Choose the lessons you want to use with your student (a highlighter works great for this).
Enjoy a week of learning (and cooking!) with your student.
Download Your Fatuma's New Cloth Unit Study
Simply click on the image below to grab the free Fatuma's New Cloth unit study.
Learn More About Africa
Check out these unit studies and lapbooks and learn more about the diverse and beautiful continent of Africa.