Affiliate Disclaimer
We sometimes use affiliate links in our content. This won't cost you anything, but it helps us to keep the site running. Thanks for your support.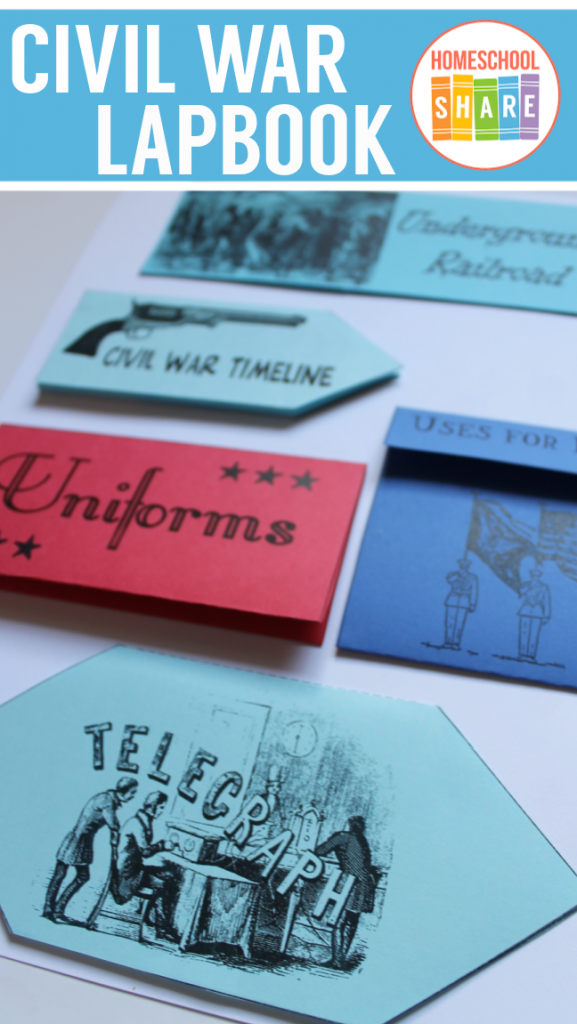 This Civil War Lapbook study is a little bit unique as it is based on a book of projects. However, the book, Great Civil War Projects You Can Build Yourself, includes more than just projects. It includes a variety of information about the war. Of course, it's also great if you want some hands-on projects for your students.
Here is a description of the book:
From uniforms and submarines to potato cannons and regimental flags, this interactive book explores the history and inventions of the Civil War through building projects and activities. Finished products include a set of Civil War drums, secret codes, and a Civil War spy glass. Detailed step-by-step instructions, diagrams, and templates for each project are interspersed with historical facts, biographies, anecdotes, and trivia about the real-life models. Most of the building can be done using simple household supplies: construction paper, tape, markers, glue, cardboard tubes, string, yarn, aluminum foil, and cardboard boxes.
Thanks to Jennifer McCumbers, Charity, Celia, and Ami for preparing this Civil War Lapbook.
Civil War Lapbook Printables
The following printables are included for your Civil War Lapbook:
The Buglers Flap Book
Harriet Tubman Simple Fold
Underground Railroad Simple Fold
Uses for Flags Matchbook
Zouaves of the American Civil War Notebook Page
Vivandieres of the American Civil War Notebook Page
Civil War Vocabulary Pocket
Uniforms Mini-book
Civil War Timeline Accordion
Telegraph Tri-fold
Taps Shutterfold
A Soldier's Shelter Simple Fold
Three Types of Signal Flags Tri-fold
Ships Tab Book
Civil War Quilts Simple Fold
Periscopes Fan
Morse Code Folder
Different Flags Used in the Civil War Tab Book
Flag Protocol Shape Book
Eat Like a Soldier Side by Side Book (includes Johnny Cake, Cornbread, and Hardtack)
Drums Shape Book
Cornhusk Doll Layer Book
Important People of the Civil War Side by Side Book (includes Abraham Lincoln, Robert E. Lee, Jefferson Davis, and Ulysses S. Grant)
A Nation Divided Map
Civil War Lapbook Sample
The Civil War Lapbook file contains a TON of mini-books. You might want to consider using cardstock and a notebook for this lapbook (instead of the traditional file folders).
Here is a sample of some Civil War Lapbook pages (these cardstock pages would then be added to a three-ring binder).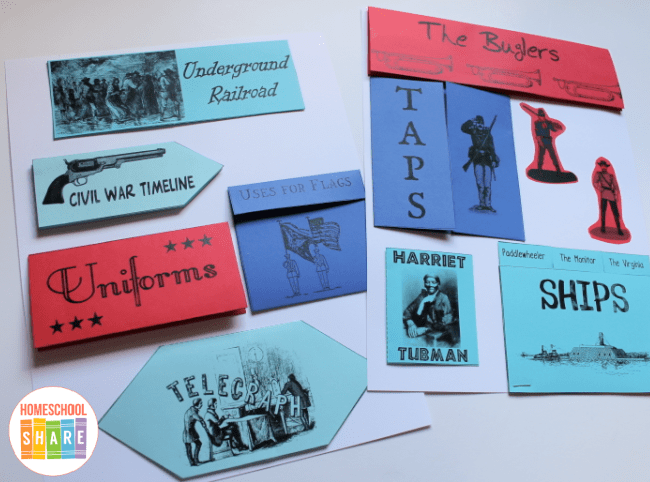 How to Get Started with Your Free Civil War Lapbook
Follow these simple instructions to get started with the Civil War lapbook.
Buy a copy of the book, Great Civil War Projects You Can Build Yourself, or find it at your local library.
Print the Civil War lapbook.
Choose and prepare the lapbook mini-books you want to use.
Enjoy a week of learning American History with your student.
Download Your Free Civil War Lapbook
Civil War Related Resources