Affiliate Disclaimer
We sometimes use affiliate links in our content. This won't cost you anything, but it helps us to keep the site running. Thanks for your support.
This unit study includes lessons and printables based on the book Casey Over There by Staton Rabin.
Seven-year-old Aubrey's older brother, Casey, sails away to fight in the Great War and when there is no word from Casey, Aubrey writes a letter to Uncle Sam.
This gentle introduction to World War I also includes lessons about Uncle Sam, Woodrow Wilson, Coney Island, Life in 1917, and so much more! Grab the Casey Over There unit study and lapbook and get started.
Thanks to Wende for writing the lessons for this Casey Over There unit study.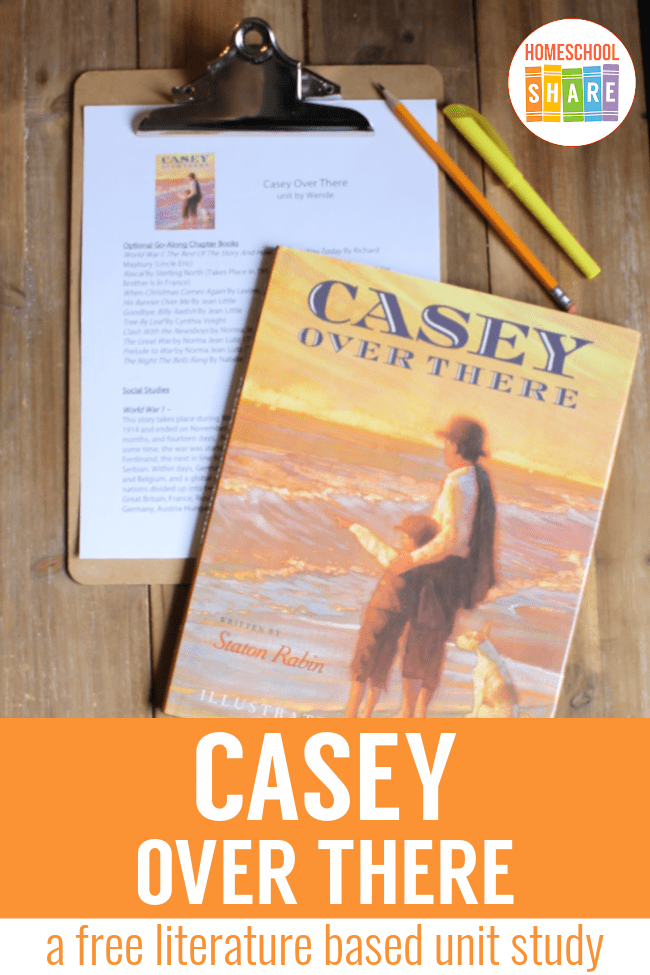 Casey Over There Unit Study Lessons
Here are some sample lessons from the Casey Over There Unit Study.
World War 1 – This story takes place during World War 1. The First World War began on July 28, 1914 and ended on November 11, 1918, lasting a total of four years, three months, and fourteen days. Although tensions were brewing in Europe for some time, the war was started by Austria-Hungary when Archduke Francis Ferdinand, the next in line for the throne of Austria-Hungary, was assassinated by a Serbian. Within days, Germany got involved and declared war on Russia, France, and Belgium, and a global war involving thirty nations ensued. The rivaling nations divided up into two groups, the Allied Powers and the Central Powers. Great Britain, France, Russia, and Italy were part of the Allied Powers, while Germany, Austria-Hungary, Turkey, and Bulgaria were the Central Powers. United States was neutral during the first part of the war, but in April 1917 it joined the Allied powers, and declared war on Germany, and then on Austria-Hungary.
World War 1 was different than any previous war as there were now aircraft and submarine operations. Airships, airplanes, and balloons were used for both observation and bombing. Submarines were used by the Germans to sink many Allied ships, including purportedly unarmed passenger ships. Up until that point in history, World War 1 had seen the loss of more human life (over 47 million people died, including both soldiers and civilians) and material destruction (in excess of 186 billion dollars) than the world had ever seen.
The war ended at 11:00am on November 11, 1918 when the last of the fighting nations agreed to a truce, called an armistice. In 1919, on the first anniversary of the truce, President Woodrow Wilson proclaimed November 11 as Armistice Day to honor those who died in the war, and in 1926 it was made a legal holiday. In 1954 the holiday was renamed Veterans Day. Religious services, parades, and the closing of most government offices have marked the day.
If you keep a timeline, place a piece on 1918, the end of the war.
Life in 1917 – This story took place almost one hundred years ago. In 1917, World War I was in full force. Woodrow Wilson was the President of the United States. $10 in 1917 is equivalent to approximately $195 today. A lot has changed since then. As you read through the story, discuss some of the characteristics of living in the early 1900's.
Scan through the pages and ask your child how people traveled in 1917. In a city such as Brooklyn, people usually walked or took public transportation, such as a trolley car. Did your child notice there are very few cars? Just three years before this story takes place Henry Ford started assembly line production of the Model T, and they were becoming more and more common. A new Model T, available only in the color black, could be purchased for around $500.
Examine the clothing in the illustrations. Boys in the early 1900's commonly wore knickers, which were short pants. Women wore long dresses, and both men and women wore hats when in public.
Children didn't have televisions, computers, or video games to occupy their time. Children in the early 1900's played games like kick the can and kickball, and went to matinees. The matinees were called moving pictures, which had no sound. Mary Pickford was a famous stage and moving picture actress, and was known as "America's sweetheart."
You can grab a copy of the entire Casey Over There Unit Study and Lapbook in an easy-to-print file at the end of this post.
Casey Over There Lapbook Printables
In addition to the unit study lessons, the file also includes these mini-books for your student to create a Casey Over There lapbook:
World War I Tab Book
Woodrow Wilson Flap Book
Woodrow Wilson Copywork
Saltwater Taffy Accordion Book
Saltwater Taffy Recipe Card & Pocket
Trench Foot Sock Shape Book
Motion Sickness Simple Fold Book
Coney Island Map Matchbook
Coney Island Facts Simple Fold Book
New York Report Form & Pocket
Timeline Accordion Book
Newspaper Scavenger Hunt
Letter Writing Activity
And more!
Casey Over There Video
This book is hard to find. You can try interlibrary loan, or you can watch a YouTube reading of it.
How to Get Started with Your Casey Over There Unit Study & Lapbook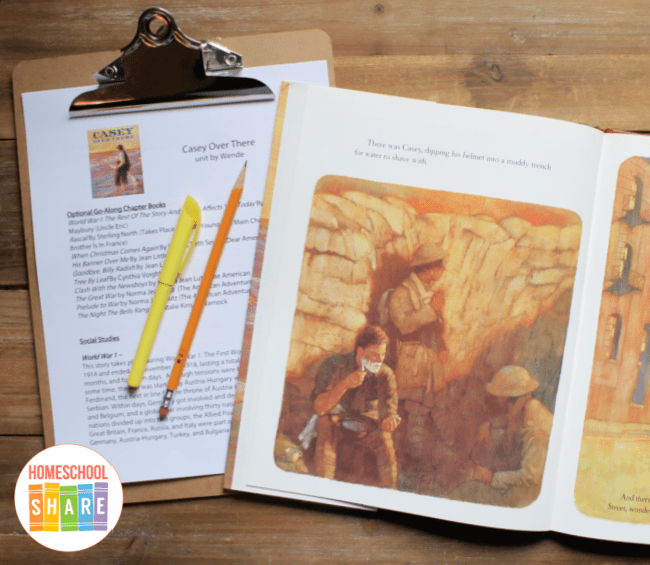 Follow these simple instructions to get started with the Casey Over There Unit Study:
Buy a copy of the book, Casey Over There, or borrow one from your local library.
Print the Casey Over There unit study.
Choose the lessons you want to use with your student (a highlighter works great for this).
Choose and prepare the lapbook printables you want to use with your student.
Enjoy a week of learning about World War I.
Get Your Free Casey Over There Unit Study & Lapbook
Simply click on the image below to access your free Casey Over There Unit Study and Lapbook.
More Resources for Learning About the World Wars