Affiliate Disclaimer
We sometimes use affiliate links in our content. This won't cost you anything, but it helps us to keep the site running. Thanks for your support.
No matter where in the world you live, you have birds somewhere close by. Learn more about these beautiful creatures with our free bird printables for preschool and kindergarten.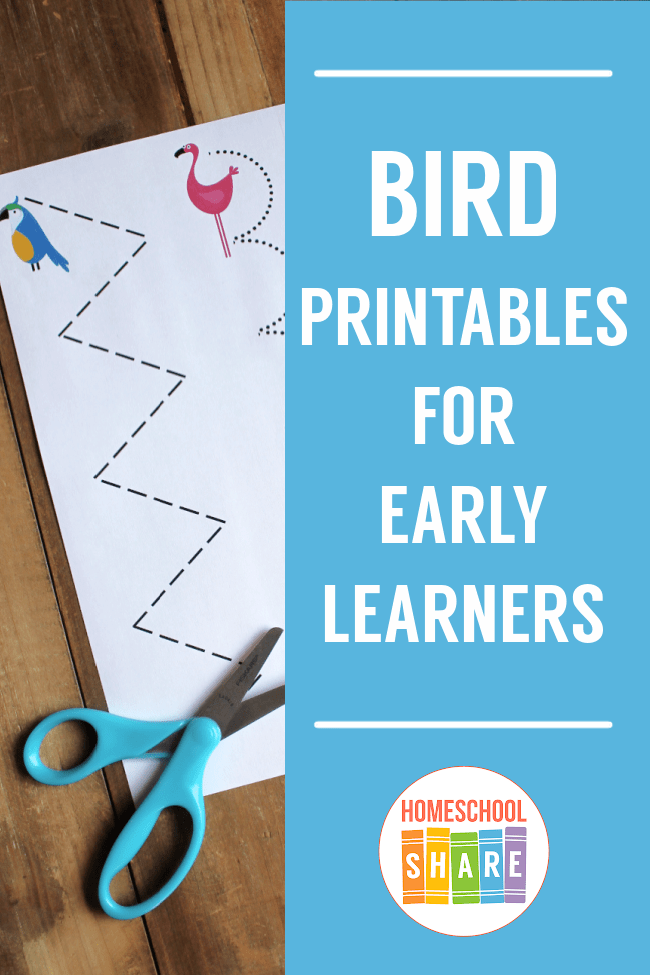 Bird Themed Printables and Activities
Where is the Little Bird Hiding? Game
Practice number recognition and counting by 5s with this fun bird game.
Cut apart the cards. Put them in order. Hide the little bird under one of the cards. Your student should guess which one it's under by calling out a number name.
Continue until your student has found it. Let your student hide the bird from you. Play a few rounds, but try to stop before your student is bored with this. Before you put the game away, practice counting by 5s.
You can also have your student put the cards in order (5, 10, 15, 20) once he is familiar with counting by 5s.
Classifying Birds Activity
Let your student use classification skills to sort the animal cards. Put the birds at the top of the chart and the non-birds at the bottom.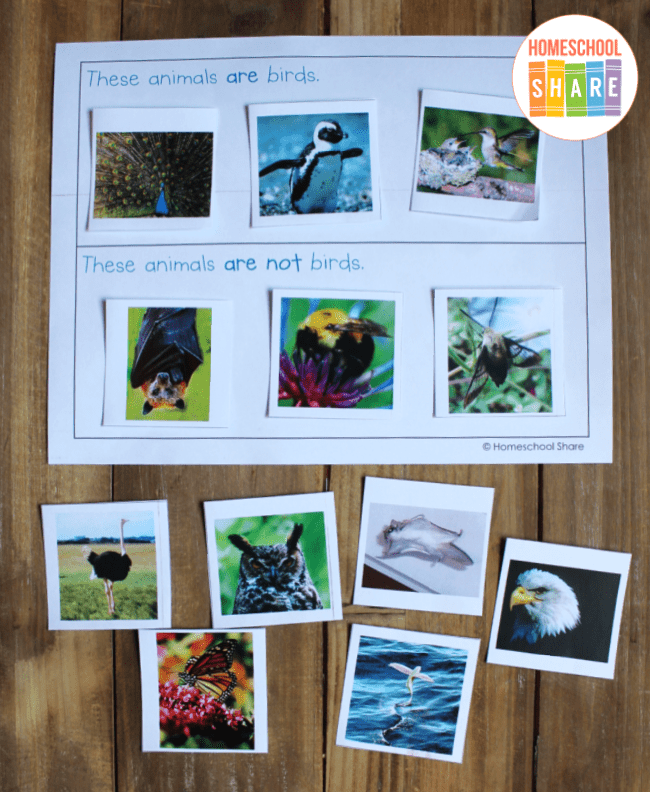 Cards include these animals: bat, bee, flying squirrel, peacock, owl, eagle, penguin, ostrich, butterfly, hummingbird, hummingbird moth, and flying fish.
Bird BINGO Game
Use scientific observation skills to complete the bird BINGO board.
Go to the pet shop or zoo and take a bingo dauber and the printable BINGO page with you. Let your student dot each bird he finds.
My Bird Story
Let your student boost her creative thinking and storytelling skills while writing a bird story.
Mom can type right on this page! Let your child dictate his bird story to you while you type. This makes story writing easy for young children. They can write a great story without having to worry about handwriting, spelling, punctuation, etc. Kids usually write better stories when someone scribes for them.
What I've Learned
Mom can type right on this page! At the end of your bird study, ask your student what he has learned. As he uses communication skills to recall information, record the information on the printable page and put it in his notebook.
Beautiful Birds Pet Shop
This activity is a fun introduction to money and another opportunity to reinforce counting by 5s.
Take turns choosing birds to buy from the pet shop. Count by 5s (using the money) to purchase the birds. This activity might pave the way to reading a book about how to take care of a pet bird. It also might spark ideas for the bird story mentioned above. (What would you student do if she had a pet bird?)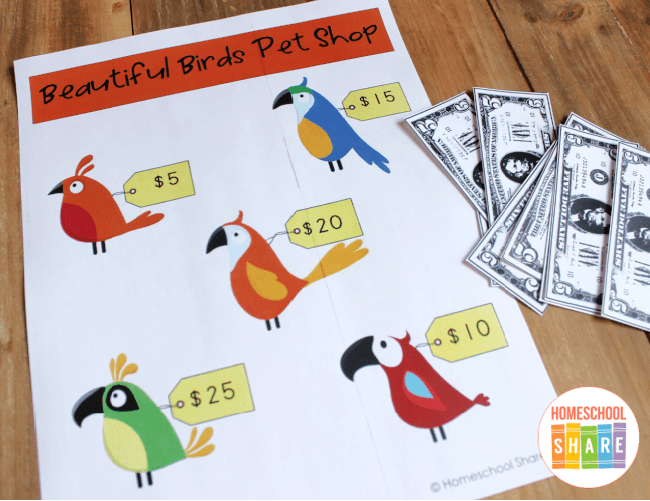 Learning Directions: Left or Right?
Discuss the directions left and right with your student. Help her sort the birds (Which ones are pointing left? Which ones are pointing right?)

ABC Magnet Match Activity
Phonics meets science in this engaging ABC activity.
Get out your alphabet magnets. Set the printable page on a cookie sheet, if desired.
Tell your student the names of the birds (Page 1: robin, cardinal, goldfinch. Page 2: mourning dove, downy woodpecker, hummingbird. Page 3: blue jay, turkey vulture, starling) and have your student place the corresponding letters in the boxes next to the birds.

Scissor Skills Activity
Put your student's fine motor skills to work.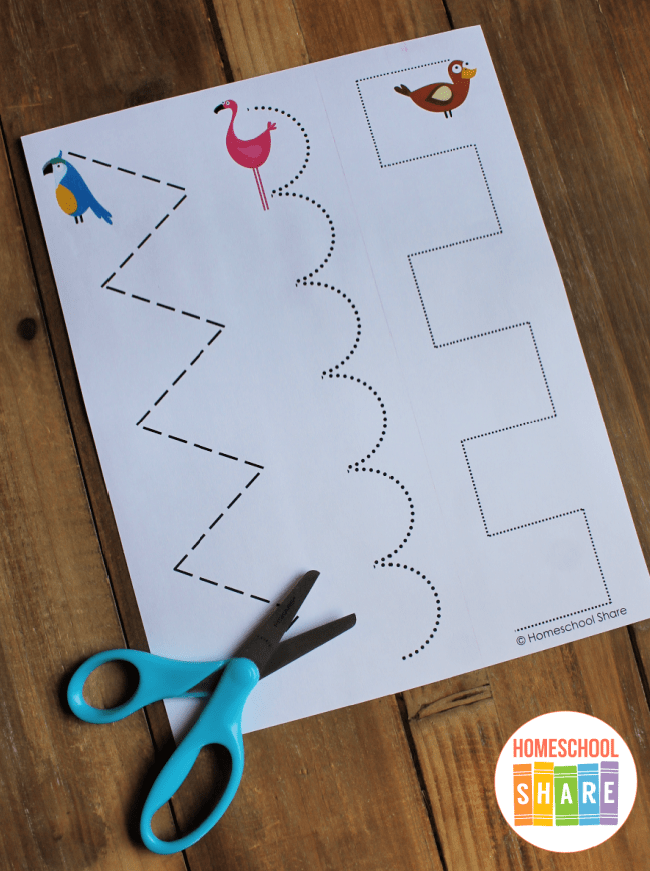 Cut on the dotted lines to find your way to the birds! Alternatively, your student could use the lines as tracing lines.

Bird Poem
Read the poem together and memorize it, if desired.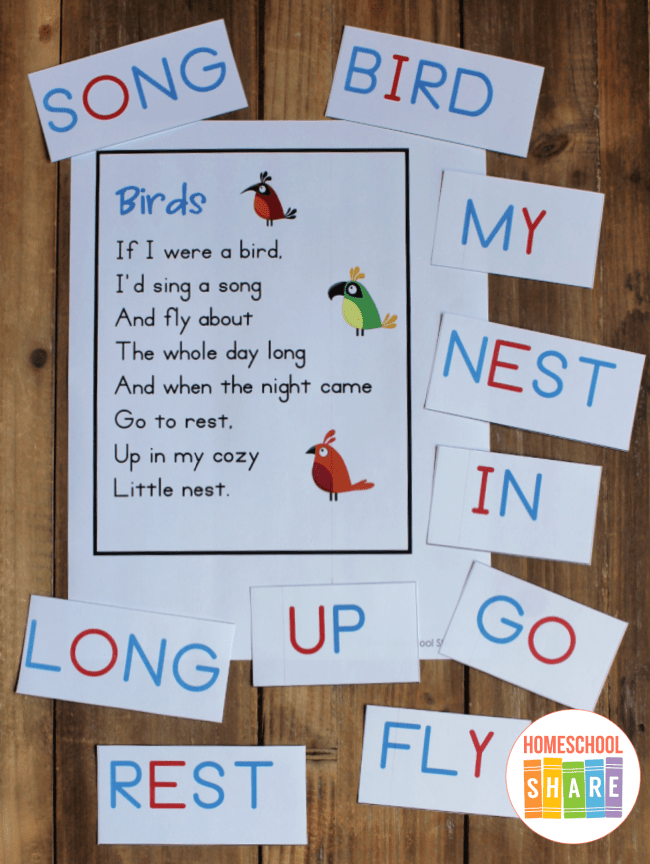 Use letter magnets to build the words from the poem.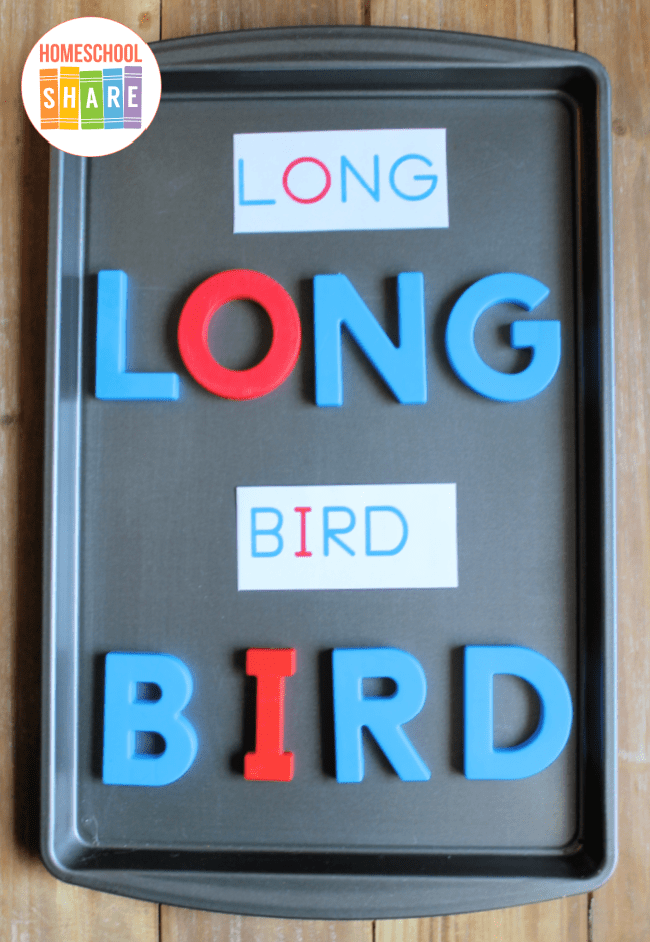 Birds Library List
You do not need these exact books for the Bird Printables.
Please use whatever bird books your library has available and read, read, read to your child!
Reading is great for language development, literacy skills, and snuggling; it is the best thing you can do with your young student.
Beaks by Sneed B. Collard

Wings by Sneed B. Collard

Birds by Kevin Henkes

In the Nest by Anna Milbourne

How Do Birds Find Their Way? By Roma Gans

A Nest Full of Eggs by Priscilla Belz Jenkins

The Best Nest by P.D. Eastman

Make Way for Ducklings by Robert McCloskey

Birds, Nests, and Eggs by Mel Boring

Just Plain Fancy by Patricia Polacco
Download Your Free Bird Printables for Preschool & Kindergarten
Simply subscribe to the newsletter using the form below to snag your set of free bird printables.
More Bird Themed Resources
Looking for more bird themed resources? Try these: