Affiliate Disclaimer
We sometimes use affiliate links in our content. This won't cost you anything, but it helps us to keep the site running. Thanks for your support.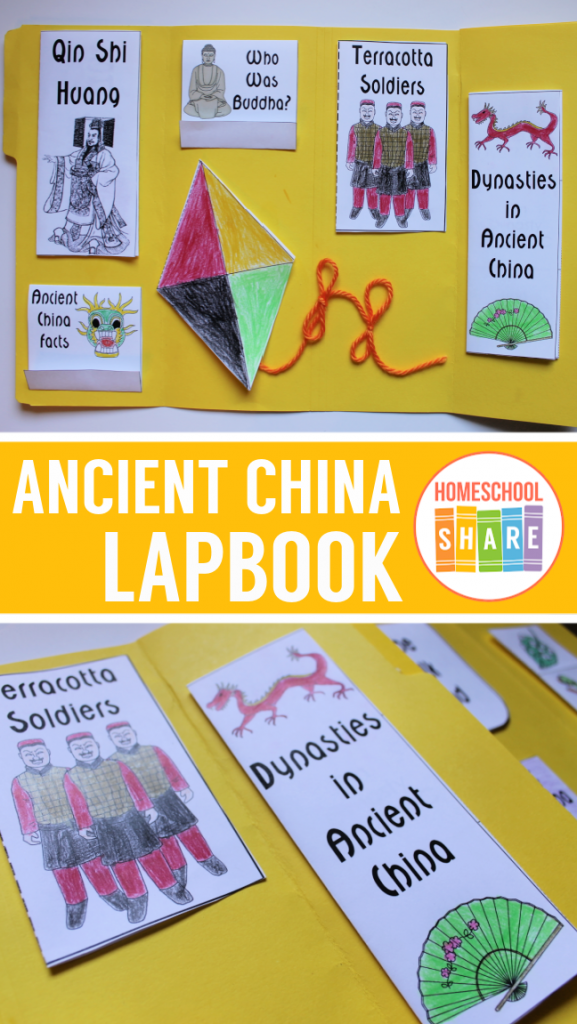 Thanks to Jimmie for writing the lessons and creating the original printables for this Ancient China Lapbook.
Ancient China Lapbook Lessons
Here are some sample lessons from the Ancient China Lapbook.
Emperor Qin
When you think of Ancient China, probably top on your list of associations are The Great Wall and the Terracotta Soldiers. Both of these monuments were built under the reign of Qin Shi Huang Di. At the end of the Zhou Dynasty, many states were warring against each other and taking each other's lands until only seven states remained. One of those was the Qin Kingdom. In 221 BC the ruler of the Qin Kingdom took over the other six kingdoms and pronounced himself the first emperor with the title Qin Shi Huang Di. He is also known as the Yellow Emperor because he chose that color for his royal clothes. Qin Shi Huang Di's major accomplishments were to unify China with standard measures, coin-age, weights, and Chinese characters.
He also ordered the construction of irrigation systems, bridges, roads, and canals. Legislating these changes brought more unity to China than had ever been experienced before. Trade and communication within China became easier than before. He wanted to do away with feudalism and old ways of thinking. Qin Shi Huang Di took away the nobles' land and forced them to live with him at his capitol so that he could control them. The land was available for sale and officials were sent to each area to collect taxes and to rule ac-cording to Qin Shi Huang Di's strict legalist government. Those who broke the laws were punished severely – often being forced to serve as slave labor for his projects, including the Terra-cotta Army and the Great Wall. Books of literature, philosophy, and history were burned under his rule. He also ordered the execution of more than 400 Confucian scholars. Qin is pronounced "Chin." This is the sound from which the modern name China comes.
Terracotta Soldiers
Qin Shi Huang Di was superstitious and afraid of death. He hired fortune tellers and magicians to find the secret to immortality. They gave him elixirs of immortality. Ironically it is thought that his death at age 49 was brought on by the consumption of mercury, a common ingredient in these elixirs. The greatest evidence of his obsession with death is his construction of his tombs. Thousands of laborers worked for up to 40 years to make clay models of an entire army –7000 soldiers, 600 horses, 10 chariots, and a multitude of weapons and suits of armor. This army was meant to protect him in the afterlife. His own body is buried in a replica of his palace in a yet unexcavated underground tomb. The terracotta warriors were made with local clay pressed in molds of body parts. These molded parts were assembled with a clay paste and facial and armor details were added. Finally, each warrior and horse was fired in a huge kiln, painted in brilliant colors and assembled in ranks in the underground tombs.
To access all of the lessons and printables in this Ancient China lapbook study, subscribe to Homeschool Share's email list using the form in this post.
Ancient China Lapbook Printables
Dynasties in Ancient China Flap Book
Qin Shi Huang Tri-fold Book
Terracotta Soldiers Simple Fold Book
The Silk Road Map
Life Cycle of the Silk Worm Flap Book
The Great Wall of China 3/4 Book
Confucius Shutterflap Book
Confucius Copywork Pages
Chinese Inventions Kite Shape Book
And more!
Ancient China Lapbook Sample
Here is an Ancient China Sample Lapbook. It was made with two file folders.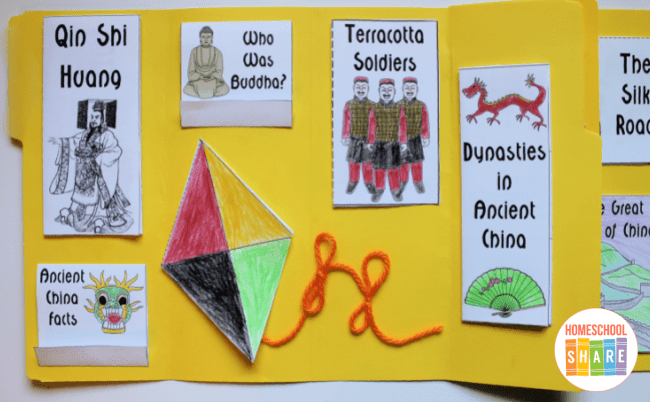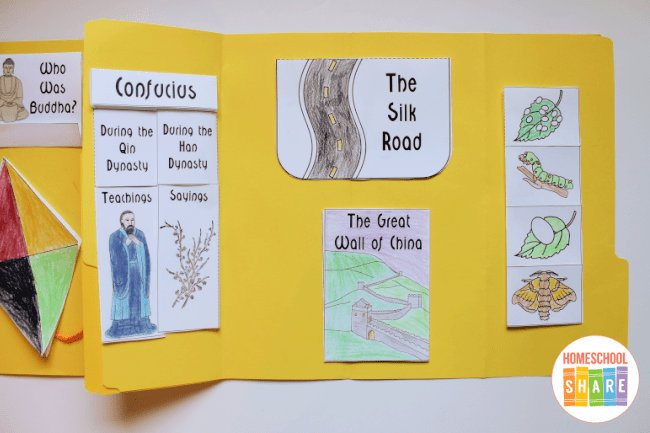 Ancient China Book List
Spend some time reading books together as you create your Ancient China Lapbook.
How to Get Started with Your Ancient China Lapbook
Follow these simple instructions to get started with the Ancient China Lapbook:
Check out books about Ancient China.
Print the Ancient China lessons.
Choose the lessons you want to use with your student (a highlighter works great for this).
Choose and prepare the lapbook printables you want to use with your student.
Enjoy learning all about Ancient China.
Get Your Free Lapbook
Use the form below to subscribe to the newsletter. Once you confirm, you'll receive an email with the link to the lapbook. If you are already confirmed, simply enter your name and email address below, and you will receive an email with the link.
China Related Resources