Affiliate Disclaimer
We sometimes use affiliate links in our content. This won't cost you anything, but it helps us to keep the site running. Thanks for your support.
This unit study includes lessons and activities based on the book When Africa Was Home.
After returning to the United States, Peter's whole family misses the warmth and friendliness of their life in Africa; so Peter's father looks for another job there.

summary from When Africa Was Home at amazon.com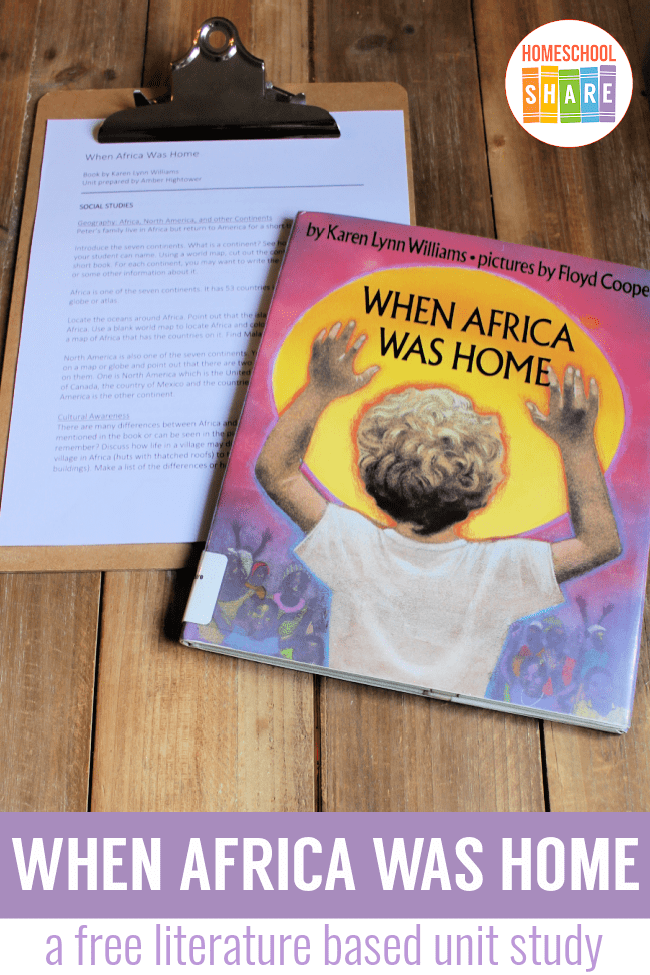 Thanks to Amber Hightower for preparing this When Africa Was Home unit study. This book is out of print, but you may be able to find it at your local library.
When Africa Was Home Unit Study Lessons
Here is a sample of the lessons found in this When Africa Was Home unit study:
Geography: Africa, North America, and other Continents
Peter's family live in Malawi in Africa but return to America for a short time.
Introduce the seven continents. What is a continent? See how many continents your student can name. Using a world map, cut out the continents and make a short book. For each continent, you may want to write the countries found there or some other information about it.
Africa is one of the seven continents. It has 53 countries in it. Find it on a wall map, globe or atlas.
Locate the oceans around Africa. Point out that the island of Madagascar is part of Africa. Use a blank world map to locate Africa and color it in. You may want to print a map of Africa that has the countries on it. Find Malawi on it and color it. North America is also one of the seven continents. You may want to find America on a map or globe and point out that there are two continents that have America on them. One is North America which is the United States of America, the country of Canada, the country of Mexico and the countries of Central America. South America is the other continent.
Science: African Animals
What kind of animals do you see in the pictures of Africa? Take notice of the giraffe in the picture of Peter walking in the snow. Make a list of the animals or draw pictures of them. Pick one to do an animal report on. Visit a zoo and look for the animals in the book. Are any of the animals native to the US?
Science: Airplanes
The book says they boarded a plane bigger than a house with hundreds of seats and buttons and switches. Does your child know what kind of plane this is? Read library books about passenger planes and airports. Draw a picture of a plane they think Peter may have flown in. Visit an airport or plane museum if possible.
Older children may like to research the different types of planes and their uses.
Language Arts: Vocabulary Words
nanny- a child's nurse or caregiver (usually someone other than the mom)
paw-paw trees- common name for a tropical and subtropical tree and its fruit
maize- corn
riverbed- channel occupied by a river
mango tree- tree which grows the mango fruit which is sweet
antelope- slender deer like animal that usually has horns
paste- dough (there were several definitions but this fits the use in the story)
mosquito net- a net or screen used for keeping mosquitoes out
sugar cane- a tall grass usually grown as a source of sugar
statue- representation of a person, thing or animal made by casting, molding or sculpture
You can grab a copy of the entire When Africa Was Home unit study in an easy-to-print file at the end of this post.
How to Get Started with the When Africa Was Home Unit Study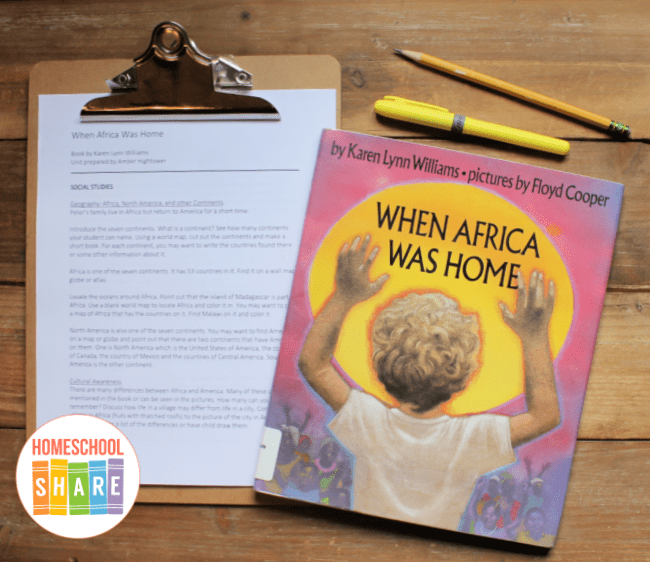 Follow these simple instructions to get started with the When Africa Was Home unit study:
Buy a copy of the book, When Africa Was Home, or grab one from your local library.
Print the When Africa Was Home unit study.
Choose the lessons you want to use with your student (a highlighter works great for this).
Enjoy a week of book-based learning with your student.
Download Your When Africa Was Home Unit Study
Simply click on the image below to access your free When Africa Was Home unit study.
More Resources for Learning About Africa