Affiliate Disclaimer
We sometimes use affiliate links in our content. This won't cost you anything, but it helps us to keep the site running. Thanks for your support.
This unit study includes lessons and printables based on the book Viking Adventure by Clyde Robert Bulla.
Sigurd, a Viking boy, cannot see the value of learning to read and write. All he can think of is adventure. But then he has an adventure that he cannot help but tell. And to do that, he decides, he must learn to write.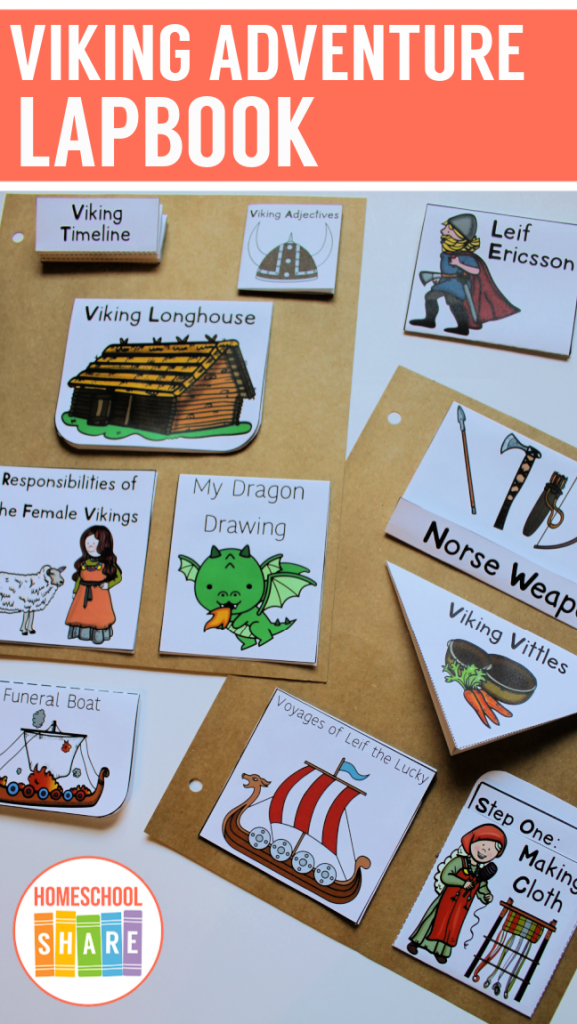 Thanks to Wende for writing the lessons and creating the printables for this Viking Adventure Unit Study and Lapbook. You can still buy this book new through Sonlight.
Viking Adventure Unit Study Lessons
Here are some sample lessons from the Viking Adventure Unit Study.
Chapter 1: Olaf the Strong

Scandinavia –This story takes place long ago in the land of Norway. Norway is located in northern Europe, along with Sweden and Denmark, in what is known as Scandinavia. Scandinavia was home to the Vikings of the Middle Ages. Research Scandinavia. Use a children's world atlas as necessary. Where is it located? What bodies of water surround it? What are Norway, Denmark, and Sweden like today?
Adjectives –An adjective is a word that describes a noun. What adjectives does the author use in this chapter to describe Vikings? Look up and define the words bold and brave.
Female Vikings' Responsibilities – The mother taught the daughters to cook, make cloth and sew. Other duties would have included cleaning the house, churning butter, milking the cow, taking care of the baby, making sails for the ships, raising the animals, helping to smoke and salt the meat and fish, making cheese, and storing berries and fruit for winter.
How did they make cloth?
The men sheared the sheep.
The women cleaned the wool at a stream.
The women used iron combs to get rid of tangles in the wool.
The women would use looms to spin the wool into cloth, which was often dyed different colors.
Thread was woven on a loom.
Oral Thought Question – What did you think of the way Sigurd was taught to swim? How does this compare to the way you were taught to swim?
Written Thought Question – Sigurd does not understand why he has to work so hard on his lessons. His father says that someday he will see. Without reading ahead, why do you think Sigurd has to work so hard?
To access all of the lessons in this Viking Adventure Lapbook, subscribe to Homeschool Share's email list using the form in this post.
Viking Adventure Lapbook Printables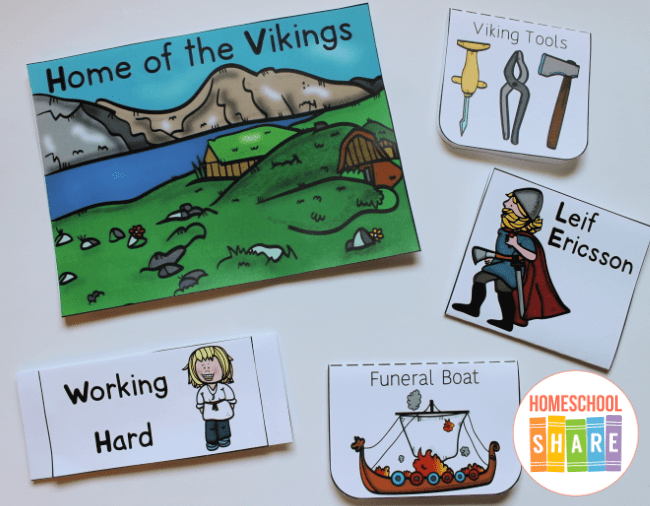 In addition to the lessons for each chapter, the file also includes mini-books for your student to create a Viking Adventure lapbook or notebook. Since there are a gazillion mini-books, you may want to consider a notebook for this. Simply three-hole punch cardstock pieces and add them to a binder.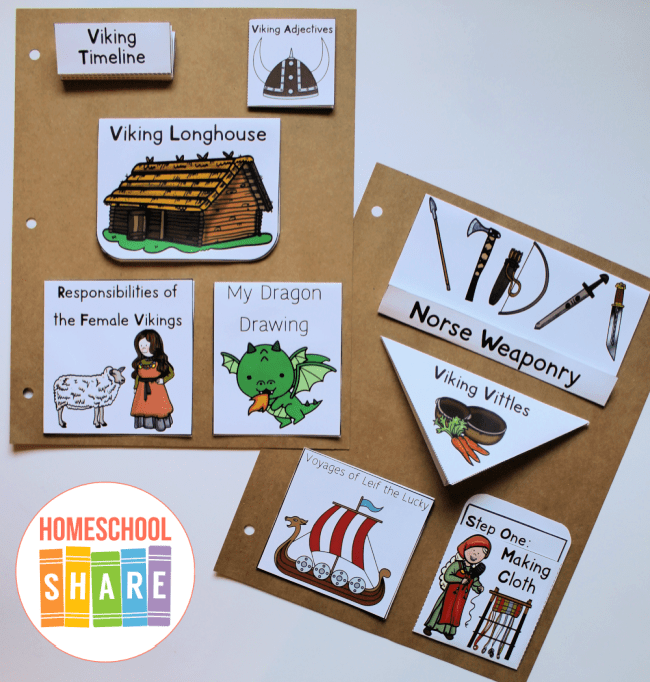 Home of the Vikings Map
Responsibilities of the Female Vikings Simple Fold
Making Cloth Cards & Pocket
Viking Adjectives Accordion
Viking Vittles Envelope Fold Book
My Dragon Drawing Simple Fold Book
Viking Timeline Accordion Book
Viking Longhouse Simple Fold Book
Viking Tools Simple Fold Book
Norse Weaponry Matchbook
Voyages of Leif the Lucky Map
Leif Ericsson Accordion Book
Viking Clothing Matchbook
Fighting Clothes Flap Book
And SO much more!
How to Get Started with Your Viking Adventure Unit Study & Lapbook
Follow these simple instructions to get started with the Viking Adventure Unit Study:
Buy a copy of the book, Viking Adventure, or borrow one from your local library.
Print the Viking Adventure unit study.
Choose the lessons you want to use with your student (a highlighter works great for this).
Choose and prepare the lapbook printables you want to use with your student.
Enjoy learning with Viking Adventure.
Get Your Free Viking Adventure Unit Study & Lapbook
Use the form below to subscribe to the newsletter. Once you confirm, you'll receive an email with the link to the lessons and lapbook. If you are already confirmed, simply enter your name and email address below, and you will receive an email with the link.
Related Resources