Affiliate Disclaimer
We sometimes use affiliate links in our content. This won't cost you anything, but it helps us to keep the site running. Thanks for your support.
Toot and Puddle is full of adventure! Grab our free unit study and start off on an adventure of your own.
Toot and Puddle are the best of friends. But when Toot leaves Woodcock Pocket to travel and see the world, Puddle chooses to stay at home. Just when Puddle begins to miss his old friend, he embarks on some of his own adventures-right at home. Finally, after Toot returns from his year-long trip, the two discover that true friendship knows no boundaries.

from Toot and Puddle at amazon.com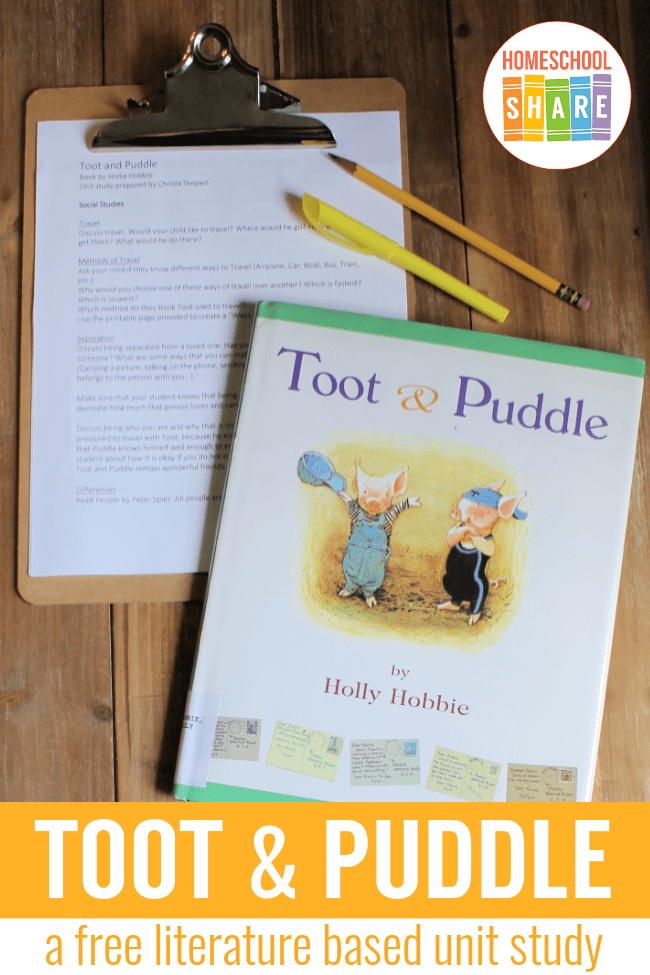 Toot and Puddle Unit Study Lessons
Here are a few sample lessons from the Toot and Puddle unit study:
Social Studies
Travel
Discuss travel. Would your child like to travel? Where would he go? How would he get there? What would he do there?
Methods of Travel
Ask your child if they know different ways to Travel (Airplane, Car, Boat, Bus, Train, etc.) Why would you choose one of these ways of travel over another? Which is fastest? Which is slowest? Which method do they think Toot used to travel?
Separation
Discuss being separated from a loved one. Has your child ever been apart from someone? What are some ways that you can make the separation easier? (Carrying a picture, talking on the phone, sending letters, carrying something that belongs to the person with you…)
Make sure that your student knows that being separated from someone does not decrease how much that person loves and cares about them!
Mapping the Journey
Discuss some of the locations that Toot traveled to, and explore as there is interest. Take out a map and find these places!
Suggestions include Cape Cod, Grand Canyon, Redwood Forests, Egypt, Solomon Islands, India, the Alps, Spain.
Track Toot's travels around the world!
You can grab a copy of the entire Toot and Puddle unit study at the end of this post.
Toot and Puddle Printable Activities
This Toot and Puddle unit study includes a few printable activities to enhance the lessons:
Puddle at Home & Toot on Vacation Venn Diagram
Where I Live Oval Book
Winter Activity Page
Spring Activity Page
Summer Activity Page
Fall Activity Page
Ways to Travel Activity Page
How to Get Started with the Toot and Puddle Unit Study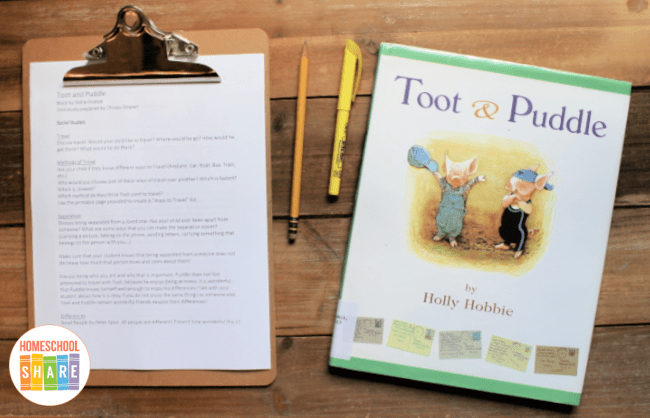 Follow these simple instructions to get started with the Toot and Puddle unit study:
Buy a copy of the book, Toot and Puddle, or grab one from your local library.
Print the Toot and Puddle unit study.
Choose the lessons you want to use with your student (a highlighter works great for this).
Choose and prepare the printables you want to use with your student.
Enjoy a week of fun-filled learning with your student.
Download Your Toot and Puddle Unit Study
Simply click on the image below to grab your free Toot and Puddle unit study.
More Transportation Themed Resources