Affiliate Disclaimer
We sometimes use affiliate links in our content. This won't cost you anything, but it helps us to keep the site running. Thanks for your support.
This unit study includes lessons and printables based on the book Time of Wonder by Robert McCloskey.
Out on the islands that poke their rocky shores above the waters of Penobscot Bay, you can watch the time of the world go by, from minute to minute, hour to hour, from day to day . . .
And so begins this beautiful book. This story helps us learn to pause and appreciate all that is around us. Grab a copy of the book and the Time of Wonder unit study and lapbook and enjoy your own time of wonder.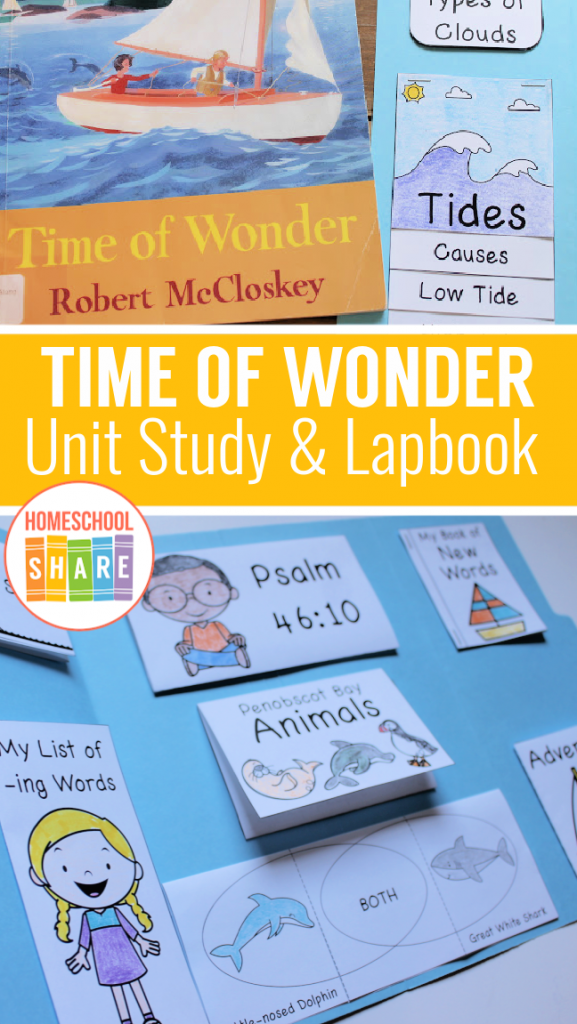 Thanks to Wende, Lee Ann Slosar, and Debbie Palmer for collaborating with me to write the lessons for this Time of Wonder unit study.
Time of Wonder Unit Study Lessons
Here are some sample lessons from the Time of Wonder Unit Study.
Geography: Landforms
An island is a piece of land surrounded by water. You may want to take this opportunity to teach your student about other various landforms that are similar to islands yet different.
island: a piece of land surrounded by water
isthmus: a narrow strip of land connecting two larger landmasses. An isthmus has water on two sides
atoll: a ring (or partial ring) of coral that forms an island in an ocean or sea
archipelago: a group or chain of islands clustered together in a sea or ocean.
peninsula: a peninsula is a body of land that is surrounded by water on three sides
cape: a pointed piece of land that sticks out into a sea, ocean, lake, or river
Geography: Maine
The story takes place in Maine. Can your student find it on a map? Maine's capital city is Augusta and the most eastern capital in the country. It is our 23rd state and was adopted into the Union in 1820. There are numerous lighthouses along its coast including Portland Head Light, which is the oldest lighthouse in Maine.
Some fun facts on Maine include:
Maine produces 99% of the blueberries in our country!
Maine's nickname is the Pine Tree State since 90% of its land is covered in forests.
Maine is the only state that shares its border with only one other state. Which one?
Maine used to be a part of the Massachusetts Colony.
Maine is the most northeasterly state in the Union.
McCloskey wrote three books about Maine while living there– Time of Wonder, Blueberries for Sal, and One Morning in Maine. You may want to check the other books out from the library and read them on the day you study Maine.
Art: Stars (Splash Technique):
On pages 28-29, the background appears to be watercolors possibly painted over a textured fabric. The stars are painted using a splash technique. Have your student paint a watercolor scene. After it is completely dry, dab an old toothbrush into acrylic paint; flick the bristles at the picture to duplicate the speckled stars in Time of Wonder. Your student may want to practice this on a scrap piece of paper first (so he learns how to do it before he accidentally ruins his beautiful watercolor scene).
You can grab a copy of the entire Time of Wonder Unit Study and Lapbook in an easy-to-print file at the end of this post.
Time of Wonder Lapbook Printables
In addition to the unit study lessons, the file also includes these mini-books for your student to create a Time of Wonder lapbook:
Map of Maine Shutterfold Book
Wonders of Creation Petal Book
Hurricane Names Tri-fold Book
Psalm 46:10 Copywork
What Is a Hurricane? Matchbook
Tides Layer Book
My List of -ing Words Simple Fold Book
Adverbs Flap Book
Dolphin vs. Shark Venn Diagram Flap Book
My Book of New Words
Water Current Experiment Simple Fold
Types of Sailing Ships T-book
Types of Landforms Flap Book
Types of Clouds Mini-book
Penobscot Bay Animals Accordion
Time of Wonder Lapbook Sample
Here is a sample Time of Wonder Lapbook to give you some ideas to create your own. This Time of Wonder sample lapbook includes two file folders, glued together.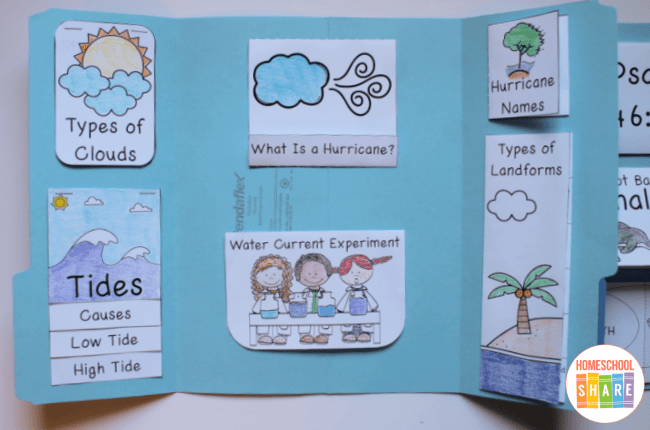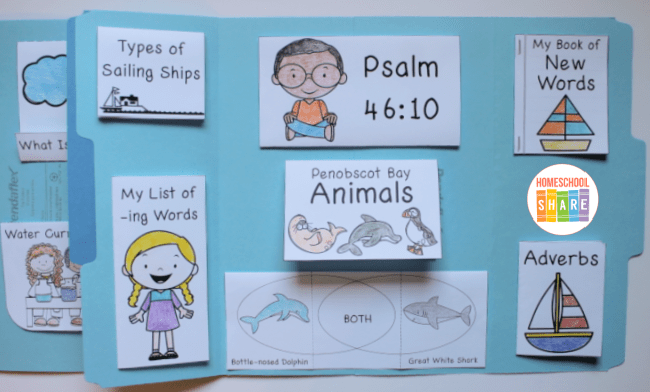 How to Get Started with Your Time of Wonder Unit Study & Lapbook
Follow these simple instructions to get started with the Time of Wonder Unit Study:
Buy a copy of the book, Time of Wonder, or borrow one from your local library.
Print the Time of Wonder unit study.
Choose the lessons you want to use with your student (a highlighter works great for this).
Choose and prepare the lapbook printables you want to use with your student.
Enjoy a week of wonder.
Get Your Free Time of Wonder Unit Study & Lapbook
Simply click on the image below to access your free Time of Wonder Unit Study and Lapbook.
Resources Related to Time of Wonder
Check out these other unit studies and lapbooks.