Affiliate Disclaimer
We sometimes use affiliate links in our content. This won't cost you anything, but it helps us to keep the site running. Thanks for your support.
This unit study includes lessons and printables based on the book The Three Snow Bears by Jan Brett.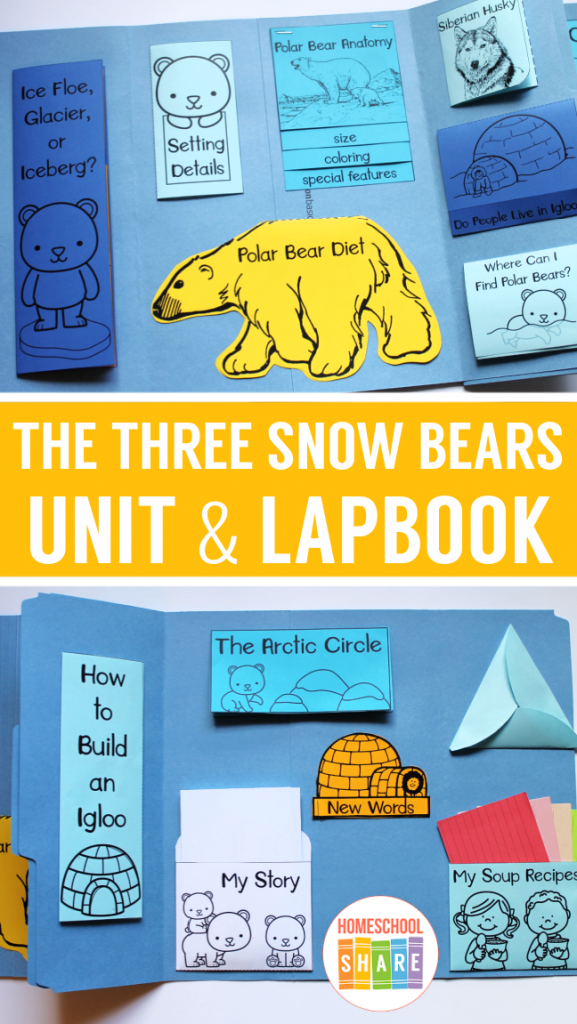 When Aloo-ki glances up from fishing and sees her sled dogs floating off on an ice floe, she races after them. She comes upon an igloo with no one home and goes inside.

Turns out the polar bear family who lives there is out walking while their breakfast cools off. Aloo-ki eats some soup, tries on their boots, and finally crawls into the smallest bed for a nap. Meanwhile, Papa, Mama, and Baby Bear see her dogs adrift, swim out to rescue them and return home to find Aloo-ki fast asleep in Baby Bear's bed.

from The Three Snow Bears summary at amazon.com
The Three Snow Bears Unit Study Lessons
Here are some sample lessons from the The Three Snow Bears Unit Study.
Biomes: Tundra
A biome is a group of plants and animals living in a certain environment. Discuss the environment in this story. What's it like? The type of biome is called tundra which is the coldest and driest of all the biomes; it is also very large covering about one fifth of the land on earth. A tundra is characterized as being a treeless plain especially of arctic regions having a permanently frozen layer below the surface soil. Even though you think plants wouldn't survive, plants do exist! Plant life made up mostly of mosses, lichens, herbs, and very small shrubs. (See next lesson for animals that can survive in this type of biome.) With an interested student, explore the biome that you live in. What is it called, and what is your environment like?
Art: Facial Expressions
Jan Brett does a wonderful job with facial expressions. Look through the illustrations through the book and discuss the different facial expressions of the characters. Ask your student, "How do you think this bear feels right now?" If you have other Jan Brett books, you may want to look through other books (Daisy Comes Home is another good example), and pick out characters with great facial expressions. What kind of expressions can you see on the faces of the characters? Surprise? Wonder? Confusion?
To access all of the lessons in this The Three Snow Bears unit study, subscribe to Homeschool Share's email list using the form in this post.
The Three Snow Bears Lapbook Printables
In addition to the unit study lessons, the file also includes these mini-books for your student to make a The Three Snow Bears Lapbook:
New Words Igloo Shapes
Do People Live in Igloos? Matchbook
Polar Bear Anatomy Layer Book
The Arctic Circle Simple Fold
Polar Bear Diet Shape Book
Ice Floe, Glacier, or Iceberg? Mini-book
My Soup Recipes Pocket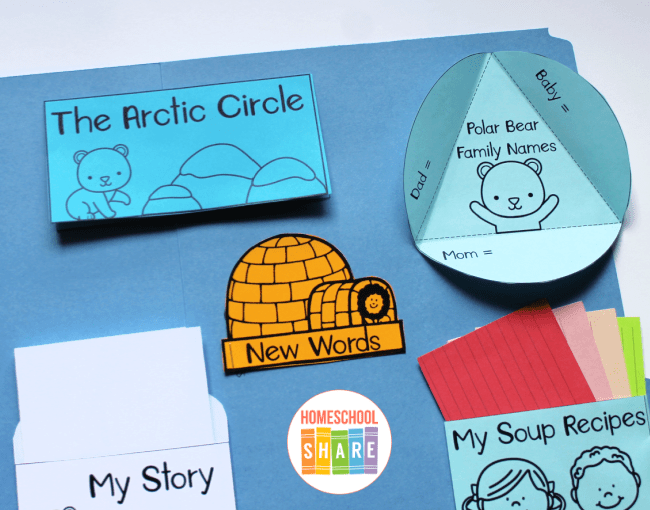 Maps of Canada Twice Folded Book
Setting Details Simple Fold
Siberian Husky Tri-fold
How to Build an Igloo Flap Book
Polar Bear Family Names Petal Book
Where Can I Find Polar Bears T-book
Prewriting Page (write your own story similar to Goldilocks and the Three Bears)
My Story Pocket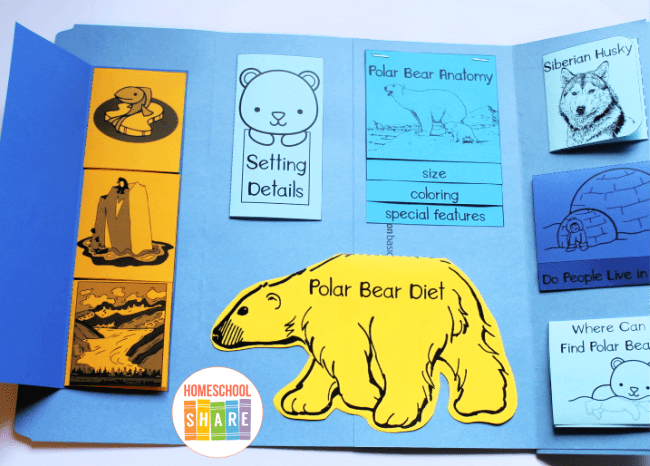 The Three Snow Bears Lapbook Example
This lapbook was made with two file folders glued together. If you need more instructions, try How to Make a Lapbook.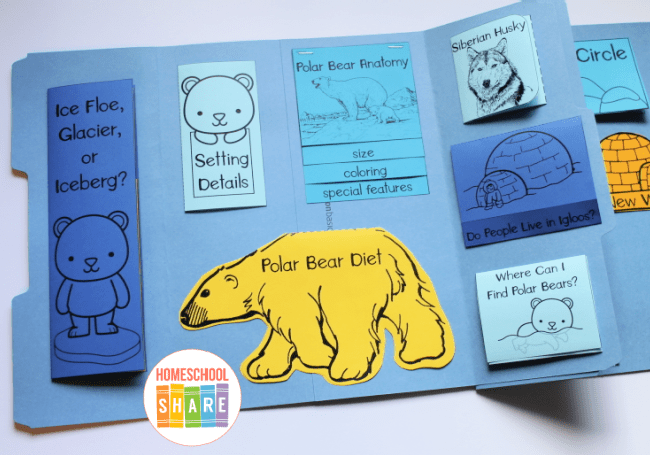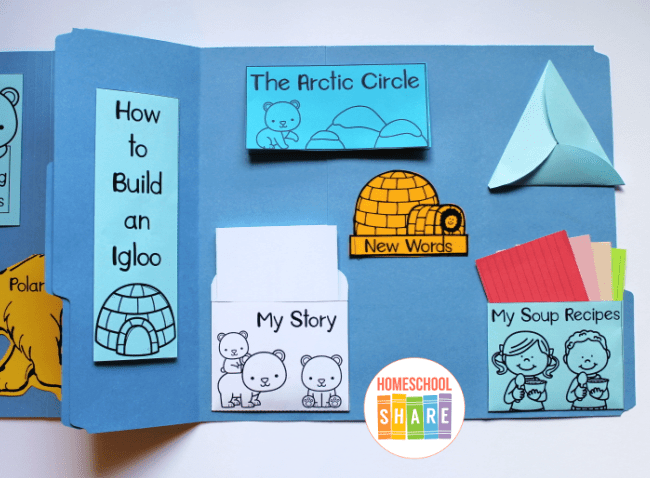 How to Get Started with Your The Three Snow Bears Unit Study & Lapbook
Follow these simple instructions to get started with the The Three Snow Bears Unit Study:
Buy a copy of the book, The Three Snow Bears, or borrow one from your local library.
Print the The Three Snow Bears unit study.
Choose the lessons you want to use with your student (a highlighter works great for this).
Choose and prepare the lapbook printables you want to use with your student.
Enjoy a week of learning with The Three Snow Bears.
Get Your Free The Three Snow Bears Unit Study & Lapbook
Use the form below to subscribe to the newsletter. Once you confirm, you'll receive an email with the link to the lapbook. If you are already confirmed, simply enter your name and email address below, and you will receive an email with the link.
More Literature Based Unit Studies
If your student enjoyed The Three Snow Bears, check out these other unit studies and resources.