Affiliate Disclaimer
We sometimes use affiliate links in our content. This won't cost you anything, but it helps us to keep the site running. Thanks for your support.
Grab Beatrix Potter's classic tale, read it to your kids, and explore our free Peter Rabbit lessons and lapbook printables.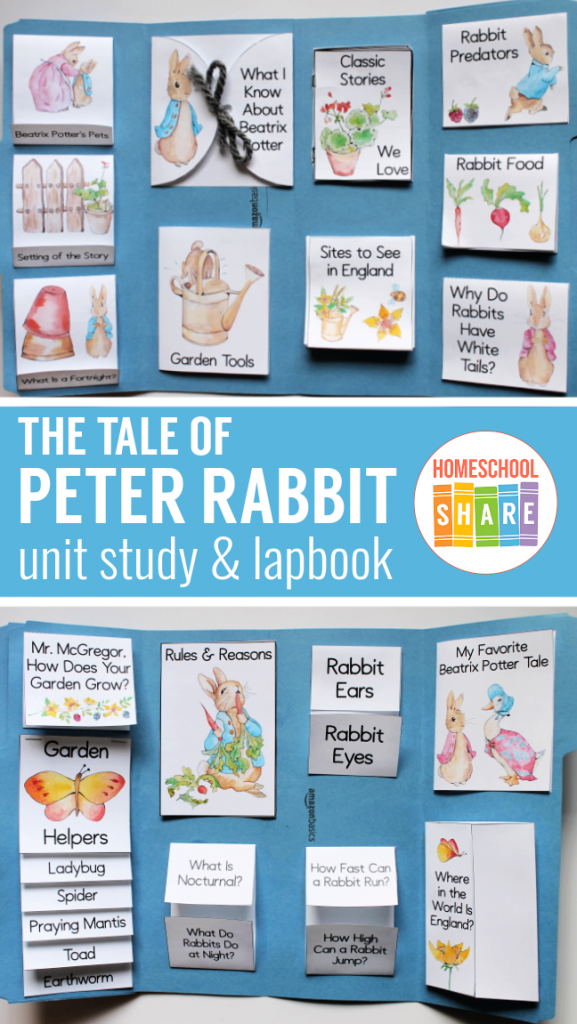 Thanks to Jolanthe Erb and Tamara for collaborating with me to create this The Tale of Peter Rabbit unit study and lapbook.
The Tale of Peter Rabbit Lessons
This unit study includes lessons and printables based on the book The Tale of Peter Rabbit by Beatrix Potter.
Here are some sample lessons from the unit study.
Author Study: Beatrix Potter
Beatrix Potter was an English author who wrote many animal fantasy stories, including the very popular The Tale of Peter Rabbit. Beatrix Potter's parents were interested in nature.
She had one brother, Bertram, and they were allowed numerous pets as children. At one time they had a frog, two lizards, water newts, a snake, a tortoise, and a rabbit. All the pets were carefully studied by the children, and Beatrix sketched and painted the animals over and over again.
They were also allowed to explore the fields and woods, and in doing so, they learned about plants and animals from their own observations. They even trapped and tamed some animals! Potter learned to love nature at a young age.
Her love of nature is evident in her stories and paintings. If you can, locate books in your library about Beatrix Potter's life and read them with your student throughout your study.
Language Arts: Classic Story
The story of Peter Rabbit was first found in a letter written by Beatrix Potter to Noel Moore (the son of her former tutor). Seven years after Beatrix wrote the letter to Noel, she remembered it and tried to get it published into a little picture book. She was finally successful in 1902. Children have been enjoying the story ever since! Determine, with your student, how long The Tale of Peter Rabbit has been in print. Is that a long time?
Does your student know anyone as old as this story? When literature stands the test of time, it is called classic. What other classic literature do you have on your shelves? Pull some books down and look at the copyright dates with your student. Can you find books that have been in print for 30 years? 40 years? Wow! Those are true classics.
This unit study includes TONS more! You can grab a copy of the lessons and the lapbook printables when you subscribe to the newsletter using the form in this post.
The Tale of Peter Rabbit Lapbook Printables
In addition to the unit study lessons, the file includes these mini-books for your student to create a The Tale of Peter Rabbit lapbook:
What I Know About Beatrix Potter Shuttertied Book
Classic Stories We Love Mini-book
The Tale of Peter Rabbit Copywork Page
Setting Matchbook
Beatrix Potter's Pets Matchbook
My Favorite Beatrix Potter Tale Simple Fold Book
Garden Tools Simple Fold Book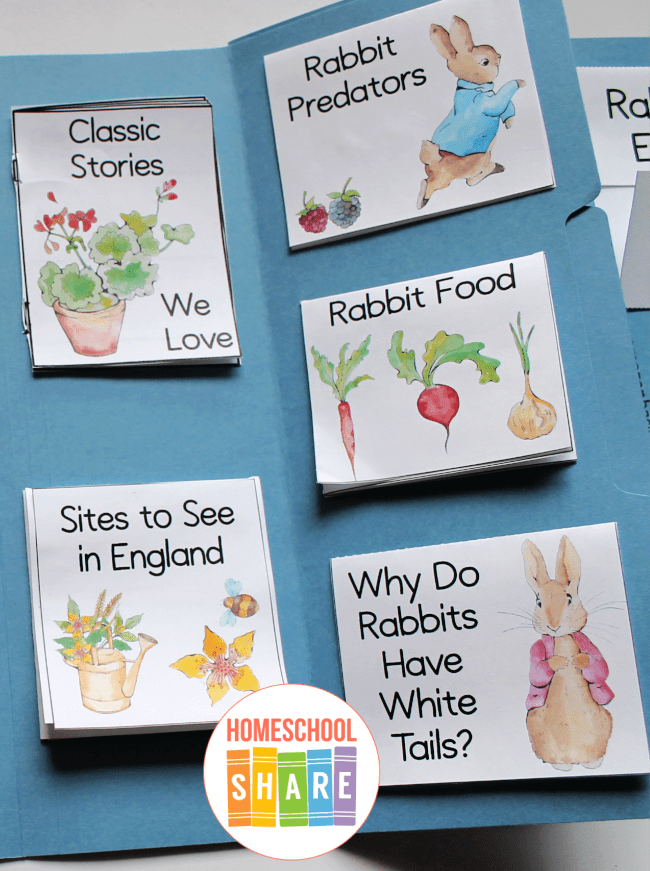 How Does Your Garden Grow? Accordion
Garden Helpers Layer Book
Sites to See in England T-book
England Map Shutterfold Book
Rules Chart
Rabbit Mini-books
Planning Mr. McGregor's Garden Activity
And more!
Peter Rabbit Lapbook Example
If you are new to lapbooking, check out this How to Make a Lapbook Guide.
This lapbook was made with two file folders.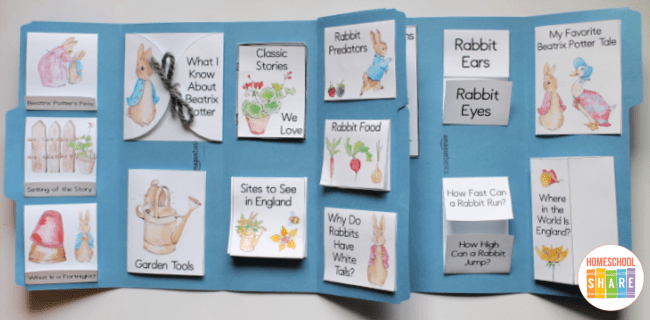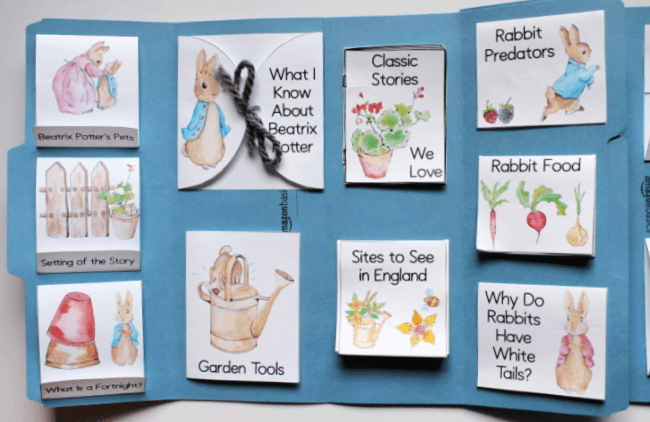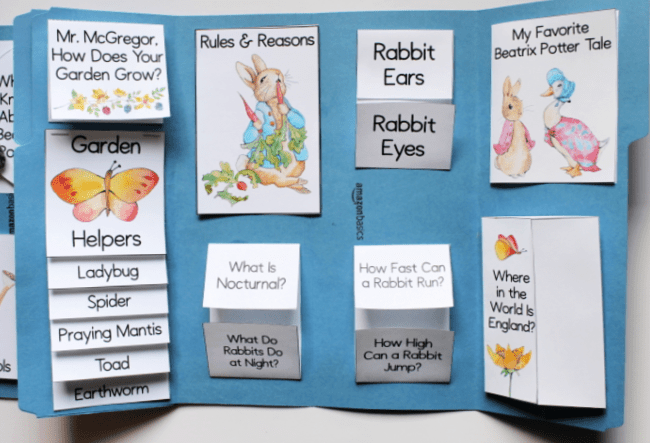 How to Get Started with Your Peter Rabbit Lessons & Lapbook
Follow these simple instructions to get started with the The Tale of Peter Rabbit Unit Study:
Buy a copy of the book, The Tale of Peter Rabbit, or borrow one from your local library.
Print the The Tale of Peter Rabbit unit study.
Choose the lessons you want to use with your student (a highlighter works great for this).
Choose and prepare the lapbook printables you want to use with your student.
Enjoy a week of hopping along the learning trail with Peter Rabbit!
Get Your Free Peter Rabbit Lessons & Printables
Use the form below to subscribe to the newsletter. Once you confirm, you'll receive an email with the link to the unit study and lapbook. If you are already confirmed, simply enter your name and email address below, and you will receive an email with the link.
Peter Rabbit Related Resources
If your student would like to learn more about rabbits, try our Rabbit Lapbook.
If your student enjoyed The Tale of Peter Rabbit, read more Beatrix Potter stories together and explore this Beatrix Potter unit study and notebook.