Affiliate Disclaimer
We sometimes use affiliate links in our content. This won't cost you anything, but it helps us to keep the site running. Thanks for your support.
Are you looking for a quick, engaging activity for Saint Patrick's Day? Try this free St. Patrick's Day Scavenger Hunt for kids. Your students will love hunting for the various objects on the list, finding them, and coloring them in on their pages.
If you would like to browse all of our printable scavenger hunts, try our Scavenger Hunts for Kids page.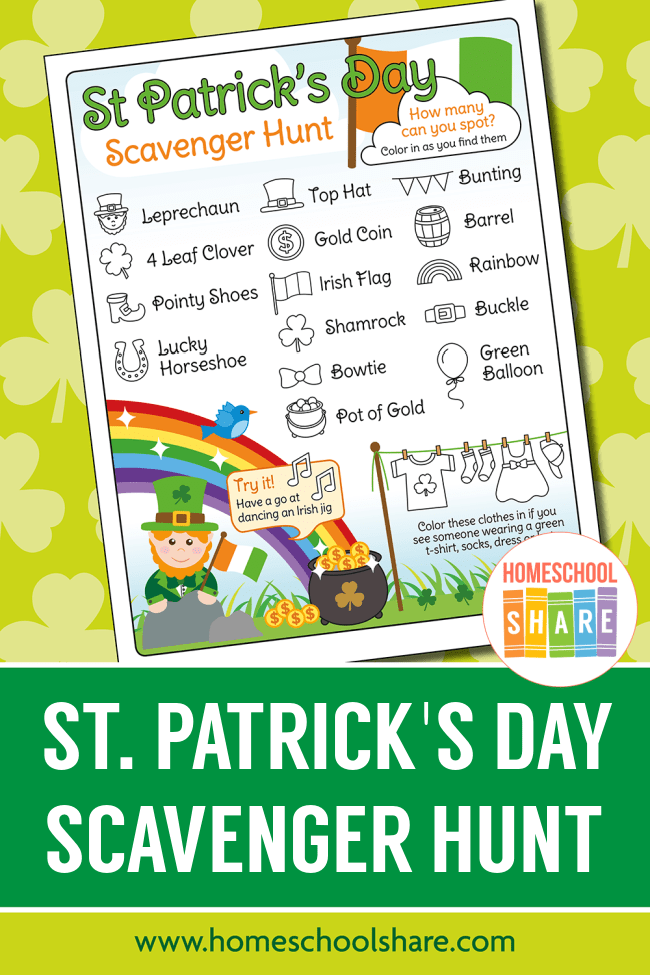 Items You Will Look for with the Saint Patrick's Day Scavenger Hunt for Kids
Your student will search around your house or around the classroom for these items. Alternatively, you could also hunt for the items in a St. Patrick's Day themed picture book.
As your student locates each item, have her color it on the printable page provided.
Leprechaun
Four Leaf Clover
Pointy Shoes
Lucky Horseshoe
Top hat
Gold Coin
Irish Flag
Shamrock
Bowtie
Pot of Gold
Bunting
Barrel
Rainbow
Buckle
Green Balloon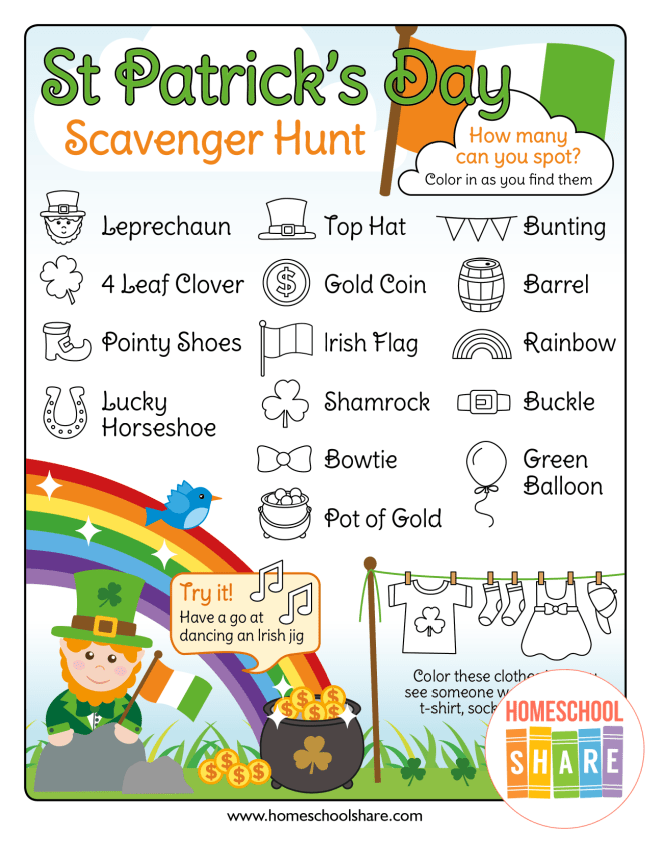 Bonus items to look for: The hunt also includes a clothesline with clothes and asks the student to color in the clothes if they see someone wearing green! Clothes on the line include a shirt, socks, a dress, and a hat.
For extra fun, give your student a magnifying glass and allow him to carefully examine the items as he finds them.
Benefits of the St. Patrick's Day Scavenger Hunt
This Saint Patrick's Day scavenger hunt is great as a go-along with your leprechaun or rainbow theme, or just to enjoy on St. Patrick's Day! It provides many benefits for your student.
Scavenger hunts boost observation skills. As your child looks for objects, he will develop better observation skills.
Scavenger hunts require movements; this promotes gross motor development.
The scavenger hunt gives fine motor skills a boost as the student colors in each item on the page.
If you work on the scavenger hunt as a team, it will promote cooperation and social skills development. The entire family could work on this together!
Grab Your Free St. Patrick's Day Scavenger Hunt for Kids
Grab the free printable scavenger hunt by clicking on the image below.
More Saint Patrick's Day Printables and Resources
We have more fun waiting for you for St. Paddy's Day! Our St. Patrick's Day in the Morning study even includes another scavenger hunt (a GREEN Scavenger Hunt!).