Affiliate Disclaimer
We sometimes use affiliate links in our content. This won't cost you anything, but it helps us to keep the site running. Thanks for your support.
Do you need a scavenger hunt for kids who are stuck indoors?
Get your kids up and moving with this free printable indoor scavenger hunt. Your kids will love running around your house looking for the objects pictured on the printable.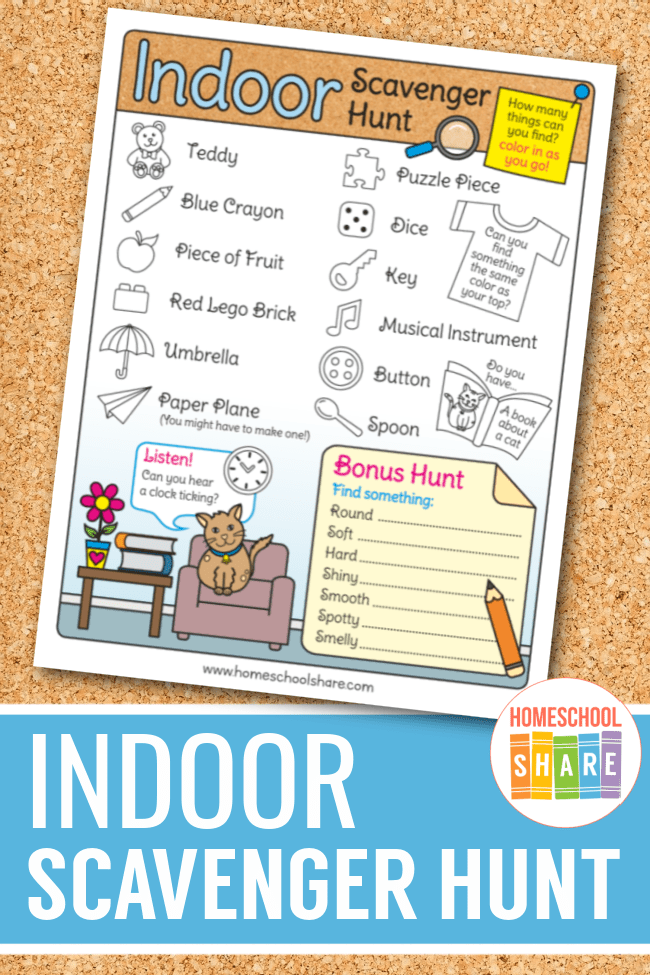 Items You Will Look for with the Printable Indoor Scavenger Hunt
Your student will search around your house for these items:
Teddy Bear
Blue Crayon
Piece of Fruit
Red Lego Brick
Umbrella
Paper Plane
Clock
Puzzle Piece
Dice
Key
Musical Instrument
Button
Spoon
A Book About a Cat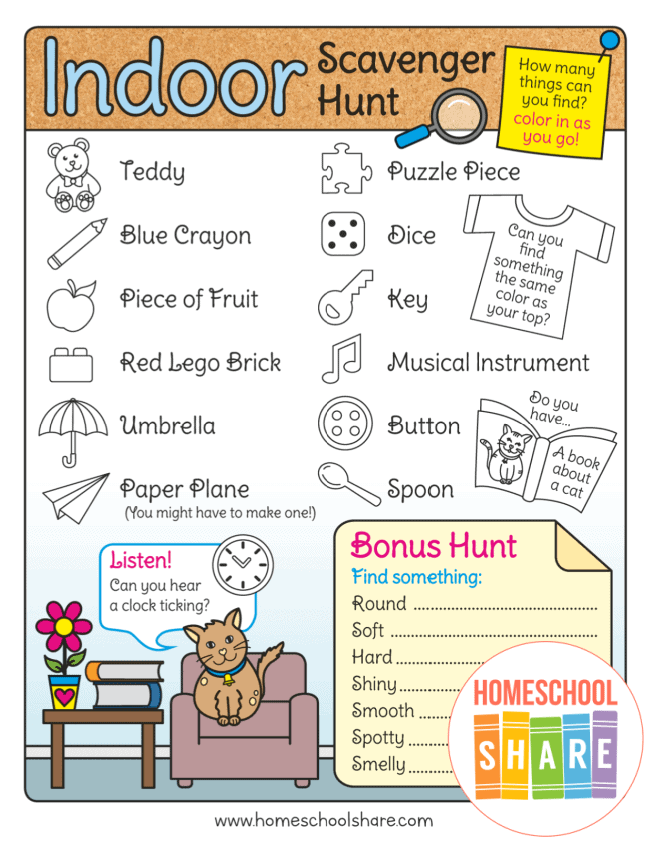 Bonus items to look for:
Something Round
Something Soft
Something Hard
Something Shiny
Something Smooth
Something Spotty
Something Smelly
As your student locates each item, have her color it on the printable page provided.
For extra fun, give your student a magnifying glass and allow him to carefully examine the items as he finds them.
Benefits of the Indoor Scavenger Hunt for Kids
Going on a scavenger hunt indoors is great as a go-along with your house theme. It provides many benefits for your student.
Scavenger hunts boost observation skills. As your child looks for objects, he will develop better observation skills.
If you are stuck indoors, looking for items around the house will help your student get the wiggles out.
A scavenger hunt can provide safe sensory input for your student (feel the fuzzy teddy bear, taste the sweet fruit, smell something stinky or strong, listen to a musical instrument, etc.)
If you work on the scavenger hunt as a team, it will promote cooperation and social skills development.
Additionally, the bonus items will increase creative and critical thinking skills as your child has to determine what is soft, what is shiny, what is spotty, etc.
Grab Your Free Printable Indoor Scavenger Hunt
Subscribe to the newsletter using the form below to have your inside scavenger hunt for kids delivered to your inbox.
More House Themed Resources for Young Learners
You'll find more scavenger hunts inside the Houses and Homes Unit Study.