Affiliate Disclaimer
We sometimes use affiliate links in our content. This won't cost you anything, but it helps us to keep the site running. Thanks for your support.
Add a field trip to your school day and explore the Pet Shop with your kids. Print the free printable Pet Store Scavenger Hunt and challenge your student to spot all of the items on the page!
If you would like to browse all of our printable scavenger hunts, try our Scavenger Hunts for Kids page.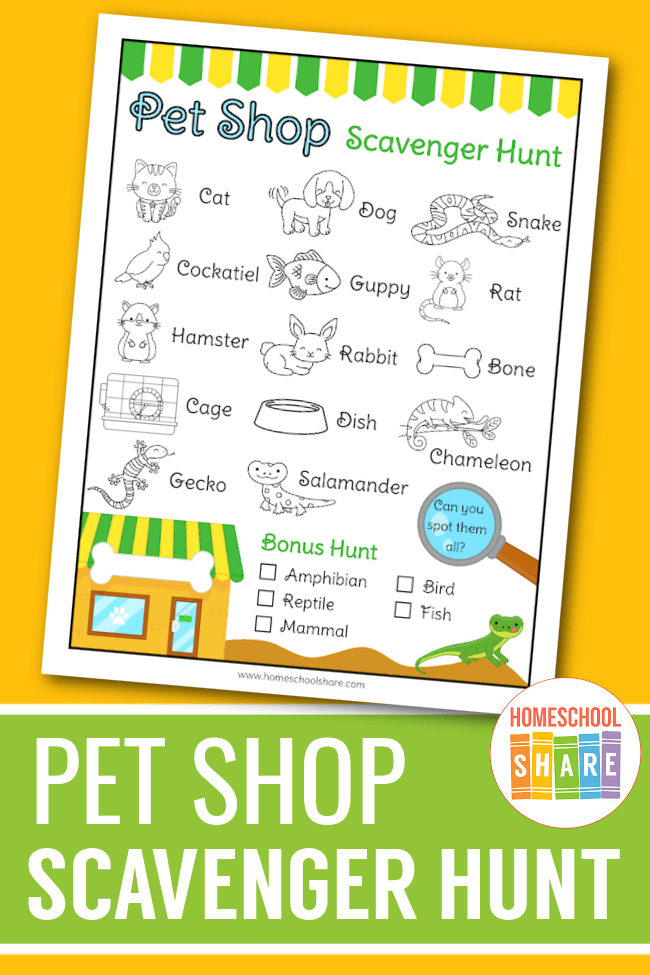 Items You Will Look for with the Pet Shop Scavenger Hunt
Head to the pet shop and let your student search for these animals and items:
cat
dog
snake
cockatiel
guppy
rat
hamster
rabbit
bone
cage
dish
chameleon
gecko
salamander
As your student finds the items on the list, she can color the images on the scavenger hunt printable page.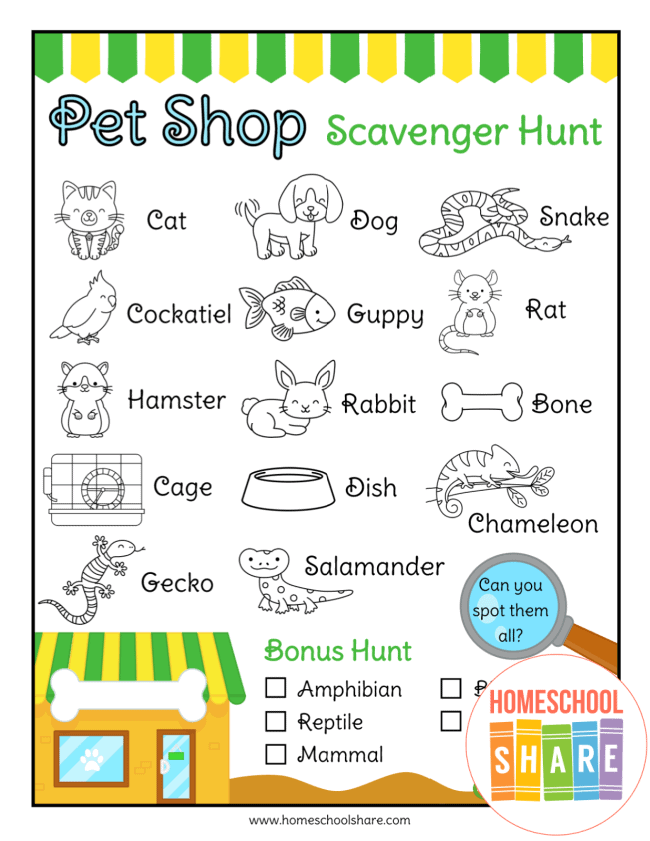 Use the bonus items as an opportunity to introduce or review animal classification.
Bonus items to look for:
a mammal
a fish
a bird
a reptile
an amphibian
Amphibians and reptiles can be tricky to classify. Remind your student that amphibians usually have smooth, slimy skin and start their lives in the water (frogs and salamanders) while reptiles have scales and dry skin.
As your student locates each item, have her color it on the printable page provided.
For extra fun, give your student a magnifying glass and allow her to carefully examine the items as she finds them.
Benefits of the Pet Store Scavenger Hunt
This pet shop scavenger hunt is great as a go-along with your pets theme. It provides many benefits for your student.
Scavenger hunts boost observation skills. As your child looks for objects, she will develop better observation skills.
Scavenger hunts require movements; this promotes gross motor development.
A scavenger hunt can provide safe sensory input for your student (feel the fuzzy teddy bear, taste the sweet fruit, smell something stinky or strong, listen to a musical instrument, etc.)
If you work on the scavenger hunt as a team, it will promote cooperation and social skills development.
Additionally, the bonus items will increase creative and critical thinking skills as your child has to classify the various animals into the five main groups of vertebrates.
Grab Your Free Scavenger Hunt for Kids
Grab the scavenger hunt by subscribing to the newsletter using the form below and have a great time exploring the pet store!
More Pet Themed Printables
Learn more about pets with these pet themed printables and activities: